Best hostels in Malaysia for solo or budget travellers
Hi there wonderful souls! Ho are you going? Apologies, it's been a minute since last time I published a new post on here. Truthfully, I didn't really know what to talk about and I haven't really travelled at all lately due to both sudden lockdowns happening in Australia and me feeling a bit lost with my life. However, I really wanted to share something with you and that's why I decided to write a post about the best hostels in Malaysia for solo or budget travellers. I know that Malaysia is still closed at the time of writing, but I read that it might reopen soon so I keep my fingers crossed!
Malaysia was the first real Asian country I've ever visited and I didn't know what to expect at all. I knew it might have been very different from my previous experiences but it ended up being a crazy and incredible discovery. This country mixes big cities packed with cars, scooters, congestion and people with stunning landscapes and relaxing nature. Moreover, it's very affordable, easy to move around, relatively safe, and has plenty of great hostels to choose from! You can find countless options anywhere you go. That's why I want to share with you my list of the best hostels in Malaysia for solo or budget travellers!
Whether you are young or old, travelling solo or as a family, there will be a budget hostel to suit your needs. Most of them offer you friendly hospitality and staff, free breakfast, a cool vibe and access to the internet.
All the prices are in AUD$ and based on my research on Agoda. They can vary depending on the season and type of room chosen. Also, this list of the best hostels in Malaysia may contain affiliate links. If you use these links I receive a commission, at no expense to you, that helps this blog run. All opinions are always my own.
Also, feel free to read a similar list I wrote about the best hostels in Thailand as it's very easy and quick to get to the land of smile from Malaysia!
How to choose a good hostel
Just like with Thailand, I truly enjoyed my hostel time in Malaysia. Some of them were so beautiful that the price seemed too cheap to be true!
I especially look for:
A location that can be convenient and safe to be around at night. Places like Kuala Lumpur are massive, so it can take time to move around and get to see everything they have to offer. So staying at places in a convenient area for your needs is very helpful. All the hostels below are very central.
Good and clean facilities are essential, especially when sharing a place with lots of people. When staying at the hostels below, I always saw the staff busy cleaning and making sure everything was appealing to us.
An affordable price that won't break the budget. Many hostels, even brand new ones, are extremely affordable. But, of course, this can vary based on the type of room you choose and when you go.
Reviews can often play a big role in choosing the hostel to book. For sure, it's good to read a lot of positive ones, but they are not always true. Often, I found discrepancies between some reviews and the actual hostel. Let's not forget that they are personal so someone's opinion and experience are different from yours!
Whether you know it already or not, I tend to book all my hostels with Agoda. That's because Agoda has the best match and deal on hostels. It always provided me with the cheapest price for the room I wanted along with giving me cash-back and rewards! It's a great tool to save money on hostels, guesthouses and B&B's.
So, without further ado, these are the best hostels in Malaysia for solo or budget travellers.
Best hostel in Kuala Lumpur
Amethyst Love Guesthouse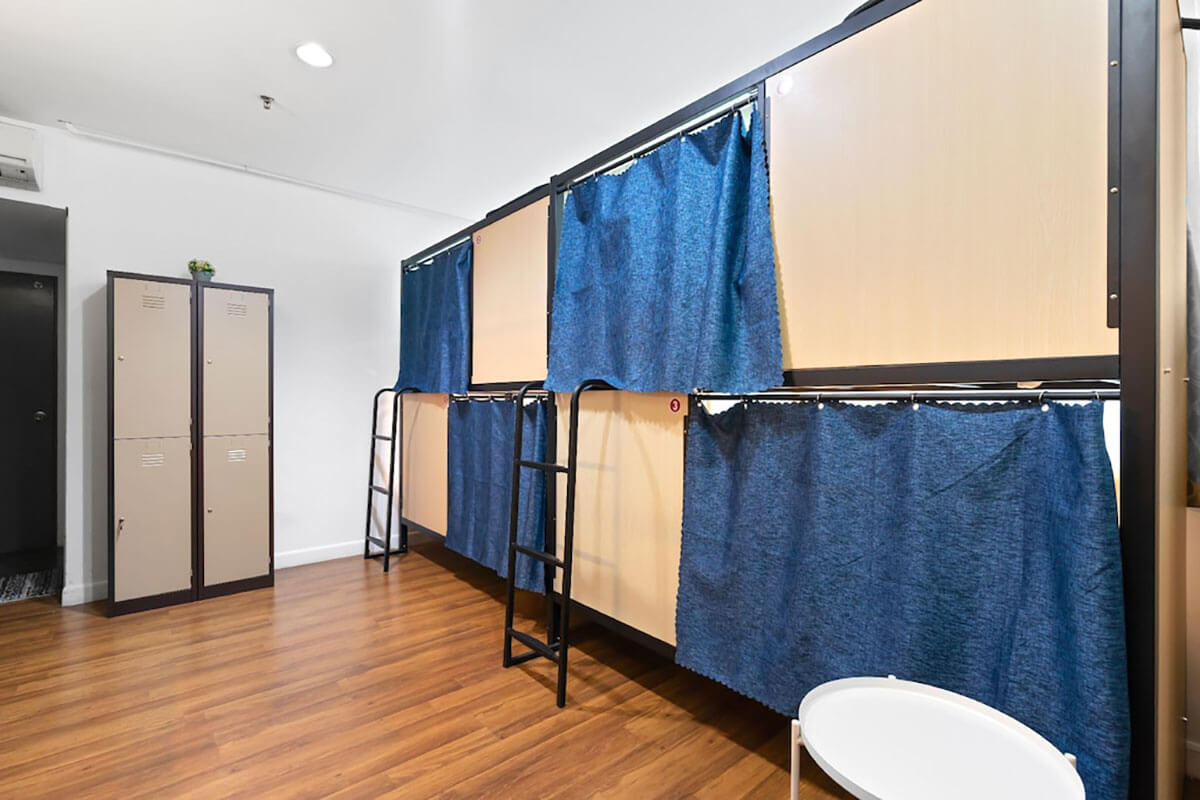 Let's kick off this Malaysia budget hostel list with Kuala Lumpur. A modern city overlooked by the iconic Petronas Twin Towers offers a ton of memorable experiences and places to visit. From museums, parks, Batu Caves and iconic temples like the Sri Mahamariamman Temple, I'm sure you'll find something to enjoy!
When I visited it I stayed at the Amethyst Love Guesthouse which is located right in the city centre and close to Raja Chulan train station. You can easily move around using the train, otherwise the Twin Towers are only 1.7 km away and it's also very close to Plaza Low Yat which is a shopping mall where you can buy anything you might need. Moreover, I remember that there were a lot of street food markets around as well. The hostel itself is very clean and quiet, it offers free internet and it has a lovely common area where you can meet other travellers. 
At the time of writing, prices start at $13 per night! Book your stay at Amethyst Love Guesthouse!
City Central Hotel @ KL Sentral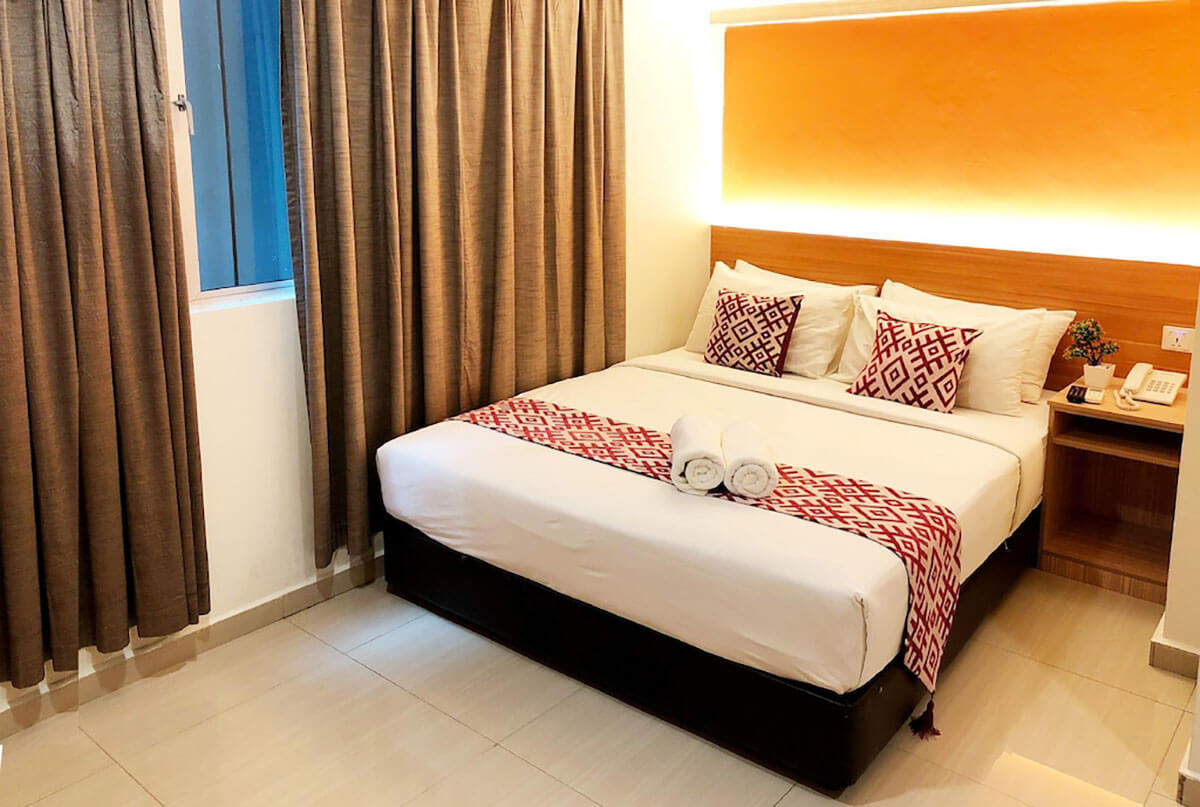 If you'd like to treat yourself and stay at a fancier place and have your own room and private bathroom and look no further than City Central Hotel @ KL Sentral! This hotel is located right next to KL Sentral which is the main train station in the city. The hotel offers free Wi-Fi in all rooms, 24-hour room service, 24-hour security and daily housekeeping. Moreover, it's very elegant and, more importantly, still very affordable even for budget travellers!
At the time of writing, prices start at $6 per night for a private room! Book your stay at City Central Hotel @ KL Sentral!
Best hostel in Malacca
Lavender Guesthouse
Malacca is a town that I'm so glad and grateful to have visited and it was completely different from anything I could have ever imagined! With its deep red buildings, relaxing canals and very narrow streets where it feels like time has stopped, this is definitely a place worth visiting!
Lavender Guesthouse is a great accommodation in Malacca! It's conveniently located less than 1km from the Dutch Square and the Night Markets, managed by some lovely stuff and very quiet and relaxing and it's surrounded by many delicious restaurants!
At the time of writing, prices start at $9 per night for a private room! Book your stay at Lavender Guesthouse!
Best hostel in George Town
Red Inn Court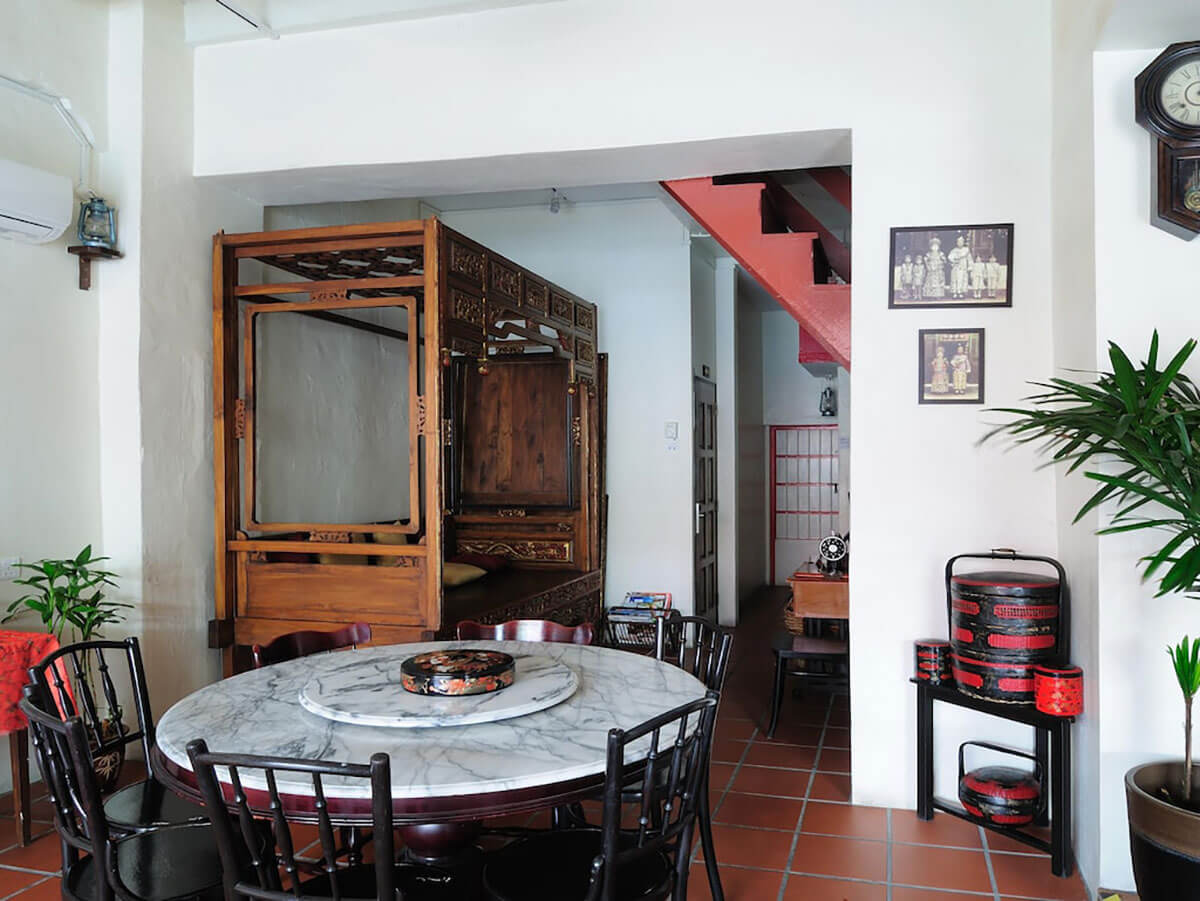 George Town is the capital of the Malaysian state Penang at the very top of the country. This lovely city is known as Malaysia's gastronomic capital, it hosts many significant cultural sites along with beautiful sandy beaches. I can still remember the smell and taste of the food I had there and how cheap it was!
Red Inn Court is located right in the city centre and it's close to Penang Mall, the Esplanade and delicious food stalls and markets. Right around the corner from it, there's an Indian place where you pay a flat price and fill your plate with all the food available and it's truly amazing! The hostel is clean, offers a wide range of rooms, free breakfast, the wifi is free and fast and the staff very helpful. There is also an indoor and outdoor common area.
At the time of writing, prices start at $6 per night ! Book your stay at Red Inn Court!
Final Thoughts
This is my personal list for the best hostels in Malaysia based on my own experience as a solo and budget traveller. However, they are perfect for anyone as they are safe, affordable, clean and perfect to chill or meet other travellers.
Have you ever stayed in one of them? Feel free to add your favourite ones in the comments!
Pin it for later!