Best hostels in Thailand for solo or budget travellers
Thailand, also known as the land of smiles, is one of the most popular destinations of the last decade. Especially among young, solo and/or budget travellers. Its affordability, rich culture, a wide variety of landscapes and delicious food make it a perfect country to explore, admire and fall in love with. So, it's no surprise that the hostel lifestyle is so popular here. You can find countless options anywhere you go. That's why I want to share with you my list of the best hostels in Thailand for solo or budget travellers!
Whether you are young or old, travelling solo or as a family, there will be a budget hostel to suit your needs. Most of them offer you friendly hospitality and staff, free breakfast, a cool vibe and access to the internet.
All the prices are in AUD$ and based on my research on Agoda. They can vary depending on the season and type of room chosen. Also, this list of the best hostels in Thailand may contain affiliate links. If you use these links I receive a commission, at no expense to you, that helps this blog run. All opinions are always my own.
Also, feel free to read a similar list I wrote about the best hostels in New Zealand.
How to choose a good hostel
Being a solo and avid budgeteer traveller, I loved staying at hostels in Thailand. Some of them were so beautiful that the price seemed too cheap to be true!
I especially look for:
A location that can be convenient and safe to be around at night. Places like Bangkok are massive, so it can take time to move around. So staying at places in a convenient area for your needs is very helpful. All the hostels below are very central.
Good and clean facilities are essential, especially when sharing a place with lots of people. When staying at the hostels below, I always saw the staff busy cleaning and making sure everything was appealing to us.
An affordable price that won't break the budget. This is not hard to achieve in Thailand. Many hostels, even brand new ones, are extremely affordable. But, of course, this can vary based on the type of room you choose and when you go.
Reviews can often play a big role in choosing the hostel to book. For sure, it's good to read a lot of positive ones, but they are not always true. Often, I found discrepancies between some reviews and the actual hostel. Let's not forget that they are personal so someone's opinion and experience are different from yours!
While doing my solo Asia tour on a budget, I discovered Agoda for the first time and fell in love with it immediately. I used it to book every hostel in every country I went to. That's because Agoda has the best match and deal on hostels. It always provided me with the cheapest price for the room I wanted along with giving me cash-back and rewards! It's a great tool to save money on hostels, guesthouses and B&B's.
So, without further ado, these are the best hostels in Thailand for solo or budget travellers.
Best hostel in Bangkok
Born Free Hostel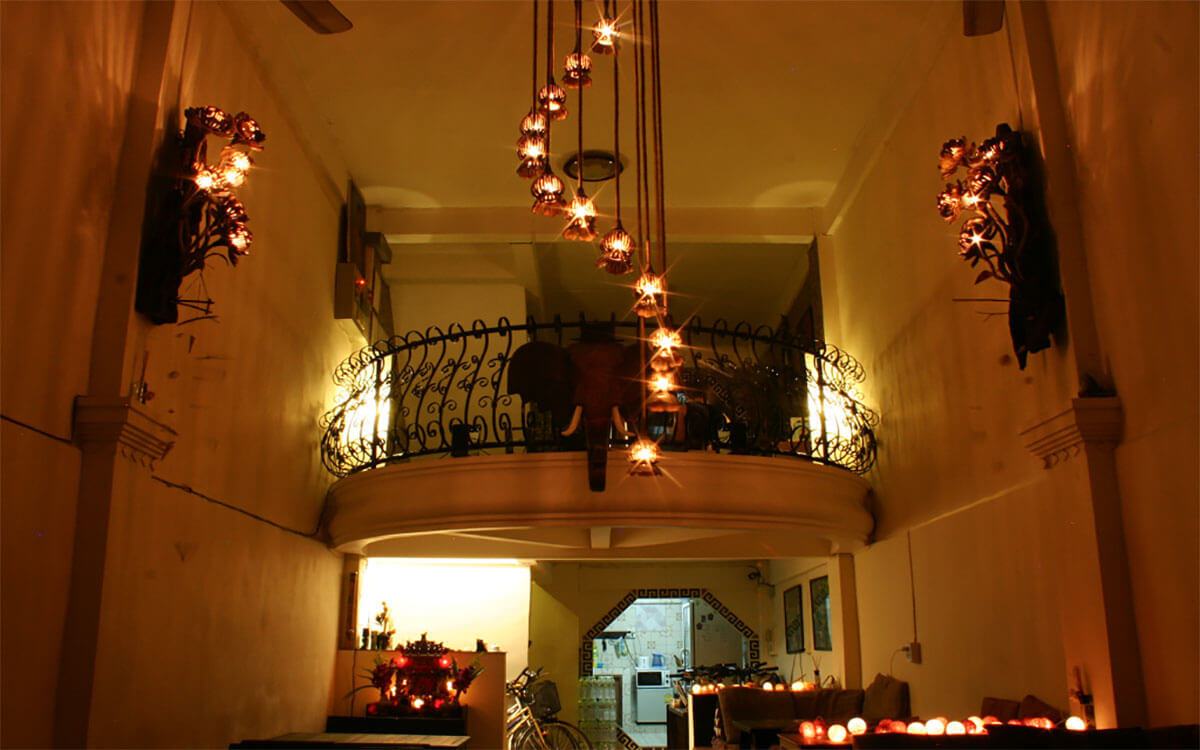 Let's kick off this Thailand budget hostel list with Bangkok. This city is truly unique. It's a full immersion of chaos, lights, golden temples, culture and food. Here, you can find everything you could possibly want. Many people can't get enough of it while others can't stand it. Bangkok is a place to experience at least once and it's hard to forget!
Born Free Hostel is located in the heart of Bangkok. From here, you can get to Khao San Road in a few minutes. Khao San Road is a very popular road full of restaurants and street food stalls. The vibe and style of this hostels are second to none. It's perfect if you want to chill, do you stuff but also meet new people. I met so many great travellers while there. Born Free Hostel offers free and fast internet, ticket services and a good variety of rooms. The staff and the owners are also very helpful and friendly.
Prices start at $7 per night. Book your stay at Born Free Hostel!
Best hostel in Pai
Pai Cut Hut Guesthouse
Pai is a one of a kind place which I highly recommend visiting. Even though it's not the smoothest ride to get there, it's worth it! This little town has its own energy and it's great if you need to recharge yourself.
To do so, Pai Cut Hut Guesthouse is the best accommodation in Pai! It's surrounded by lush vegetation, in a quiet area and with an inviting common area. It's located in the centre of Pai (which is not a big town) and next to some tasty restaurants. The beds are comfortable, there is free internet and well-kept facilities.
Prices start at $5 per night. Book your stay at Pai Cut Hut Guesthouse!
Best hostel in Kanchanaburi
Asleep Hostel
Kanchanaburi is home of the famous Bridge River Kwai and the Death Railway. It has this name because thousands of slave workers lost their lives while building it. So it's a historically interesting town to visit.
Let me start by telling you that I love this hostel and it truly is one of the best hostels in Thailand! I love it because this is where I spent my 23rd birthday. The owner of Asleep Hostel in Kanchanaburi is the best as she truly loves her guests. Also, she does her best to share her Thai culture with them.
The other guests and I cooked Thai food with her and learnt about the culture. She also brought us to a pub to celebrate my birthday! However, I'll talk about it more in another post.
Asleep Hostel is located 2km from the town centre but close to the night market. The facilities are always clean, the wifi is free and fast and the staff very helpful. There is also an indoor and outdoor common area. On top of that, there's 24-hour security and breakfast included.
Prices start at $8 per night. Book your stay at Asleep hostel!
Best hostel in Phuket
Ai Phuket Hostel
Phuket is not only famous but also a beautiful place. Tropical beaches, great weather and lots to do. This is actually where my Thailand adventure started!
Ai Phuket Hostel was my hostel of choice when staying in Phuket. It's located in the heart of Phuket town. Not close to the beaches but you can get there on a budget via a public van. It's very modern, it has a kitchen and very clean facilities. The staff go over and beyond to help you and meet your needs. There is a small backyard where you can relax and a cozy common area. They also offer free tea and coffee. The rooms are spacious, comfortable and quiet.
Prices start at $7 per night. Book your stay at Ai Phuket Hostel!
Best hostel in Chiang Mai
Stay with Hug Poshtel & Activities
Chiang Mai, a buzzing city where old and modern, nightlife and culture combine. Chiang Mai has become a major hub for digital nomads. Many people move there because of its services and quality of life.
My personal choice when it comes to where to stay in Chiang Mai is Stay with Hug! This accommodation is right in the centre of the old city and surrounded by temples. It's exquisitely modern, new and clean. They offer free wifi, complimentary breakfast for some bookings and great staff ready to help.
Prices start at $9 per night. Book your stay at Stay with Hug Poshtel & Activities!
Best hostel in Chiang Rai
Mercy Hostel
Chiang Rai, home of the white temple, blue temple, a golden clock tower and more. I didn't see a lot of what this place has to offer, but I'll never forget the white temple. It might be very touristy but it's truly beautiful! Also, the gold clock tower was a surprise to see. This proves my lack of researching the place before going!
When it comes to the best hostel in Chiang Rai, Mercy Hostel is the one. It's extremely clean, modern and it has a lot of facilities. Located around the corner from the Clock Tower, it's hard to be more central. It offers free wifi, a 24-hour front desk, great staff, free water, coffee, cookies and AC. On top of that, they also offer a wide range of rooms to choose from.
Prices start at $9 per night. Book your stay at Mercy Hostel!
Final Thoughts
This is my personal list for the best hostels in Thailand based on my own experience as a solo and budget traveller. However, they are perfect for anyone as they are safe, affordable, clean and perfect to chill or meet other travellers. Or even to celebrate your birthday!
Have you ever stayed in one of them? Feel free to add your favourite ones in the comments!
Pin it for later!