Travel for free and create experiences with Workaway
Raise your hand if you have ever wanted to travel for free! Chances are that you have. I would raise both my hands and feet for this! Travelling for free is a dream/goal shared by many people around us.
Being able to explore our beautiful Mother Nature and other cultures can be pricey. However, it doesn't have to be that way! Personally, trying to travel on a budget or for free is my preferred kind of travelling. I'm always on the hunt for new ways to merge low costs with memorable experiences.
There are a lot of tools that you can use to turn your holiday into a free one. From credit cards or frequent flyer points to housesitting, Couchsurfing, volunteering and more. I'm planning on writing a post about all the ones I use and recommend. However, today, I will focus on talking about Workaway and how it can help you travel for free and dive into a country's real culture!
What is Workaway and how can you travel for free with it?
Workaway is a big community-based platform that allows volunteers and hosts to arrange help and cultural exchanges. More specifically, their goal is to create a community of travellers and hosts who want to actively see the world, learn and give back.
On their website, you can find hosts all over the world, an incredibly wide variety of volunteering opportunities and even meet new travel buddies! You can even use it to learn new languages or help NGOs across the world. The relationship between host and volunteer is simple, you work for a set amount of hours in exchange for food and accommodation.
Who is Workaway for?
Workaway is for literally everyone. As long as you are 18 or over, then you are allowed to join the website. Also, you can sign up as a family as there are many family-friendly projects on the website.
If you struggle with anxiety or shyness or don't feel comfortable around people you don't know, I totally understand you. Whether it was my first or 20th experience, I still felt mixed emotions at first. There were times when I wanted to give up and leave on the second day. Or when a big sense of awkwardness, doubt, low self-esteem or overthinking would take over me once the meeting day would come.
Even if I had chatted with them or read their reviews, I still didn't know them personally. So the not knowing what to expect would make me doubt everything. But I'm glad I still went ahead.
Workaway really allowed me to learn more about myself, grow, become stronger and more confident. When I did my first experience, I was petrified. Many what if questions were going crazy in my mind along with countless possible scenarios. My brain was moving from meeting a possible murderer to completely forget how to even make a tea if asked to. Oh, the mind! What a crazy and weird place it is! In the end, I didn't die and the real situation turned out to be absolutely amazing.
So, try and go ahead at least once. Find a host that needs something you enjoy and feel good when doing. Maybe start for a short period of time and see how you go. I'm sure this experience will help you understand more about you and discover capabilities you didn't know about! Also, if you travel solo and need more suggestions on how to do it, have a read at How to travel solo: tips from an anxious solo traveller.
How to join Workaway and start exploring our planet for free
Joining Workaway is very easy. You do have to pay for a yearly membership, however, it is super affordable. The reason for this fee is to keep the website up and running and pay the staff behind it. That's it. It's not like an agency fee or such. Once you join, you are free to contact as many hosts or travel buddies as you want.
As I sad, the registration process of Workway is super simple and straightforward:
Time needed: 5 minutes
How to join Workaway
Head over to Workway 

Click where it says "Join Now" and choose whether you want to join as a single workawayer or as a couple

Fill out the form, pay the membership fee and you are in!
Now you are able to fill out your profile, where you are going, what skills you have and get in touch with hosts.
How to travel for free and create memorable experiences with Workaway
Now that you are part of this wonderful community, you are ready to live some of your best travel experiences. I decided to write a post specifically for Workway because I truly love and believe in this platform. It allowed me to live a lot of unforgettable experiences, see less touristy places and meet people that I still cherish in my heart.
Usually, Workaway hosts require you to work around 5 hours per day 5 days a week and you get free food and accommodation in return. Also, you are usually required to stay for at least two weeks. However, depending on the host, location or needs this agreement may vary. I stayed at some hosts where I worked fewer hours but 7 days a week or did housesit where I was in charge of my time and tasks.
Alongside the convenience of saving money on food and shelter, you also gain a lot more than that. My favourite part of doing Workaway is the connections you create with the hosts and the places you volunteer at. Most of the times, you are welcomed into people's houses and lives and end up becoming a member of the family.
You gain the privilege of learning information, tips and the history of the culture and country you are visiting. Moreover, many hosts would gladly take time to take you around and show you spots only known to locals.
My most memorable Workaway experiences
Since I joined this platform in 2018, I did Workaway in almost every place I travelled to. However, the country where I used it the most was New Zealand. At first, my main goal was to do some volunteering experiences to save money to spend on experiences. However, in the end, my overall trip would have been half as interesting if it wasn't for this community! Along with my knowledge about the country and the Maori culture.
If you are planning on visiting New Zealand and want some ideas on how to do it on a budget, you can read New Zealand on a budget: it is possible!
It was hard to choose my most memorable Workaway experiences. They all left some marks on my soul and are still saved in my brain. But I still wanted to talk to you about two that I cherish very deeply.
Helping at a suicide prevention retreat in Taranaki
I always talk about this experience to everyone. It was just so good, amazing and un unique that it's so unforgettable.
The Taranaki Retreat is a suicide prevention retreat located at the bottom of Mount Taranaki around New Plymouth. They offer free accommodation, support and help to people who have been through challenging times. It's run by a group of people with some of the biggest hearts and souls I have ever met.
This place is one of a kind in New Zealand. No matter your background, past experiences or struggles, they are always ready to help and support everyone in need. They also helped me understand more about my anxiety or overthinking because I felt safe to talk to them about it.
The guests staying there were also an absolute blast. We all couldn't stop laughing, talking, making jokes and sharing experiences, suggestions or stories. The hard part was having to stop to go to bed!
Waking up with the view of Mount Taranaki was priceless. And knowing that all the animals were waiting for me to get fed was the motivation I needed to leave the bed. The goats, ducks, rabbits, chickens, dogs and cats were always ready to play or even try to run away!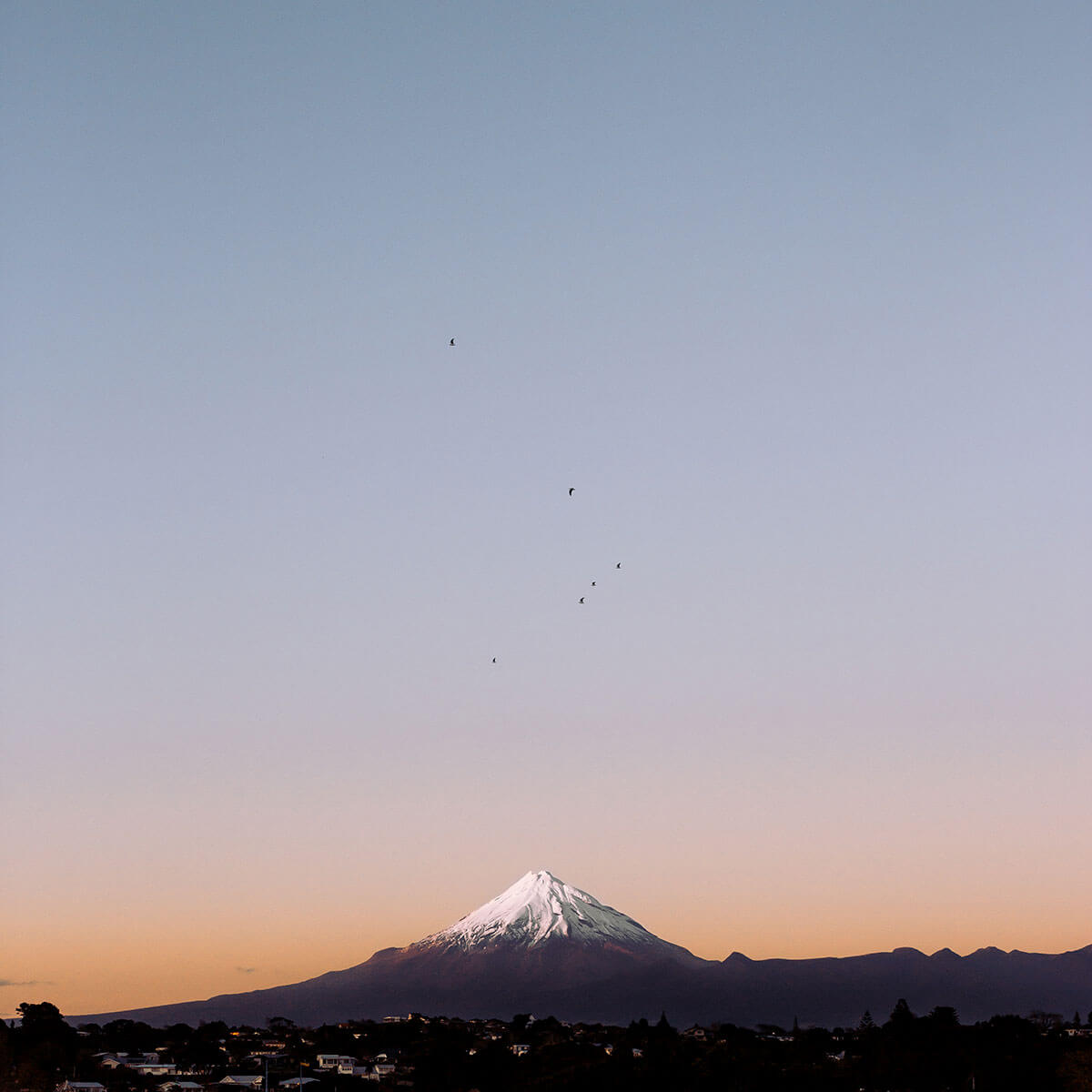 You weren't treated like an employee but like family. You were in charge of what you wanted to do, when and for how long. The minimum amount of hours to do was 5 and there was a list of things to do. The rest was in your control. They also give you access to a car if you want to explore the surrounding areas.
There are a lot of memories that come up to my mind when thinking about Taranaki Retreat. The nights spent singing Maori songs. Learning Maori traditions and stories hardly found in books. Experiencing a traditional Maori funeral memorial. And building some very strong friendships. This is what you gain with Workaway. A deep dive into cultures, stories and people.
When the day to leave this place came, I cried a lot. This was proof that this experience was very meaningful and impactful to my soul. And all thanks to Workaway.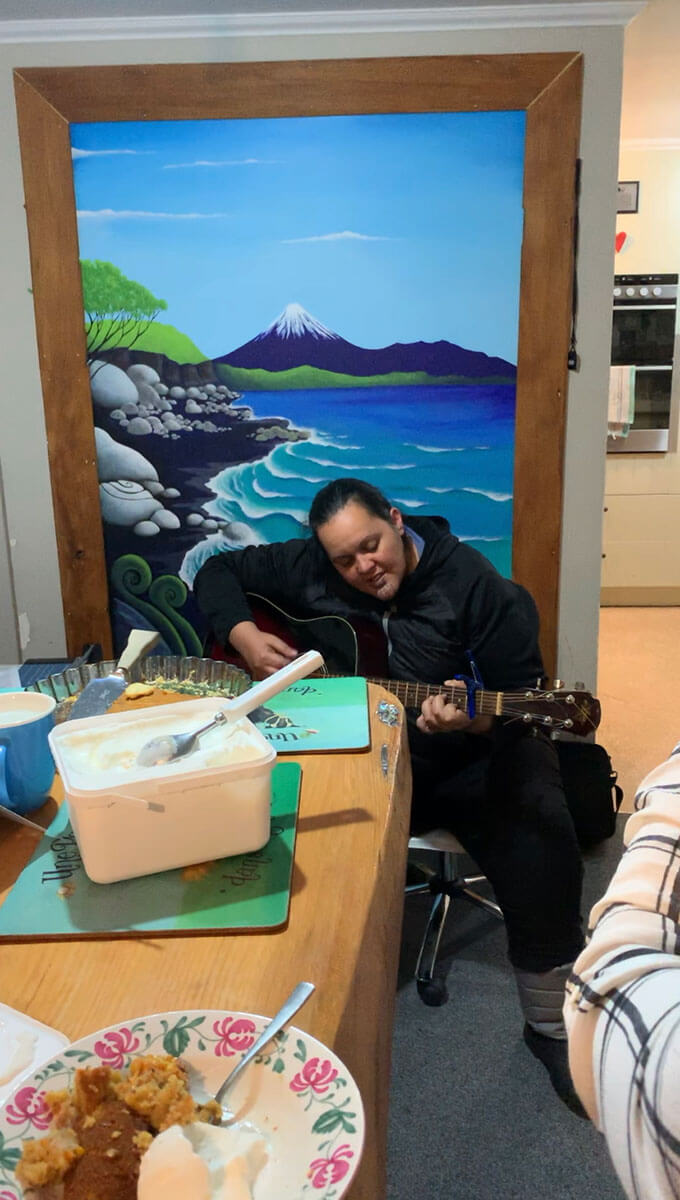 Looking after a tropical heaven on the beach
The next memorable experience I had with Workaway happened near Tauranga in the Bay of Plenty. I was staying at Tom and Marie's house which had one of the most beautiful gardens ever. It was like a tropical oasis with so many different types of plants and trees. However, the best part for me was the location of the house. Overlooking the ocean and only one minute from the beach! It was truly heaven for an ocean lover like me!
The jobs were various and enjoyable. It was mostly working in the garden and helping them taking care of it. We were always working together but I was free to take breaks or go to the beach if I wanted to.
Marie's cooking was very tasty and they completely made me feel at home. Food was always available and I could eat everything that was in the kitchen. After dinner, we always spent time around the heater drinking tea and talking about Italy or New Zealand. They taught me the Springbok Tour, a series of protests that happened in 1981 which I had no idea about! They were actively involved in it so it was even more interesting to learn about.
I also had the pleasure to meet their extended family which was very nice! In fact, I'm very thankful to all of them. When I went to Tauranga, Marie's sister let me stay at her house for free and showed me around the city.
Then, her husband and she drove me to Auckland where I stayed at Marie's daughter's house for the first week! Marie and Tom are truly some of the kindest people I've ever met!
All of this happened thanks to the Workaway experience I did at their house!
Learning Maori at a self sustainable farm
Last memorable experience, but definitely not the least one, happened at a Maori owned self-sustainable farm. This place is located in Titirangi, a town near Taupo, and it's owned by a very interesting Maori woman.
There's no proper heating and electricity as everything is generated by solar panels. Also, the wifi is almost non-existent. This allowed me and the other volunteers to take a break from our "comfortable" lives and immerse in a new environment.
In all honesty, I was super scared about this at first. I didn't know if I was going to be able to survive without the comforts of hot water, electricity and internet. It sounded scary but I wanted to give it a go and test these worries for myself.
At times, I felt like giving up or that I wasn't fitting in with the other people. I was also dealing with the loneliness that wasn't making the situation too comfortable. However, when one night I saw the Milky Way exploding over my head, I felt at peace.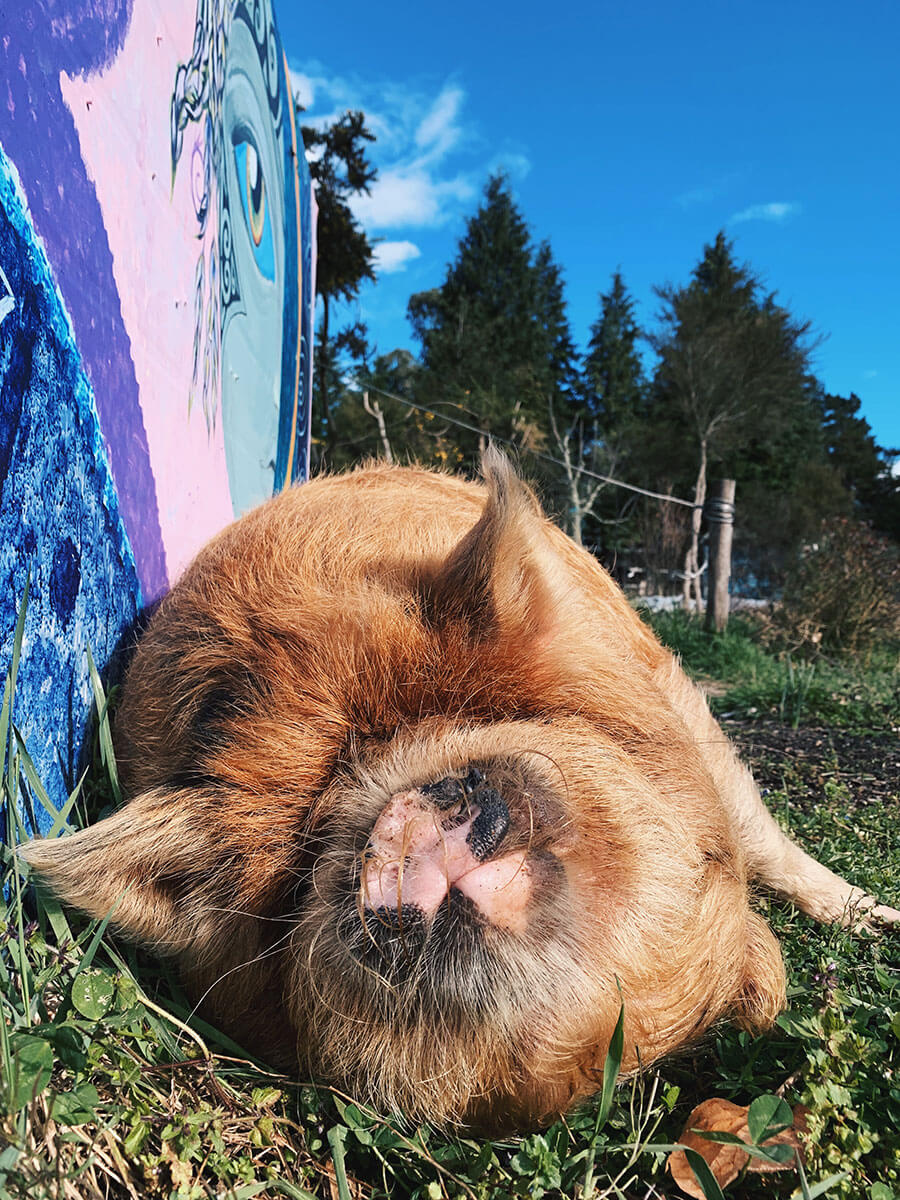 The work was interesting and various. One day we made honey, the other day candles and another one we went to a Maori speaking school! What a unique experience it was. I presented myself in Italian and then did the Haka with all the students! It was truly memorable!
At night, the other volunteers, me and the owner would have dinner around the fire along with the dog and the pig. While also sharing stories, laughter and curiosities about our own countries.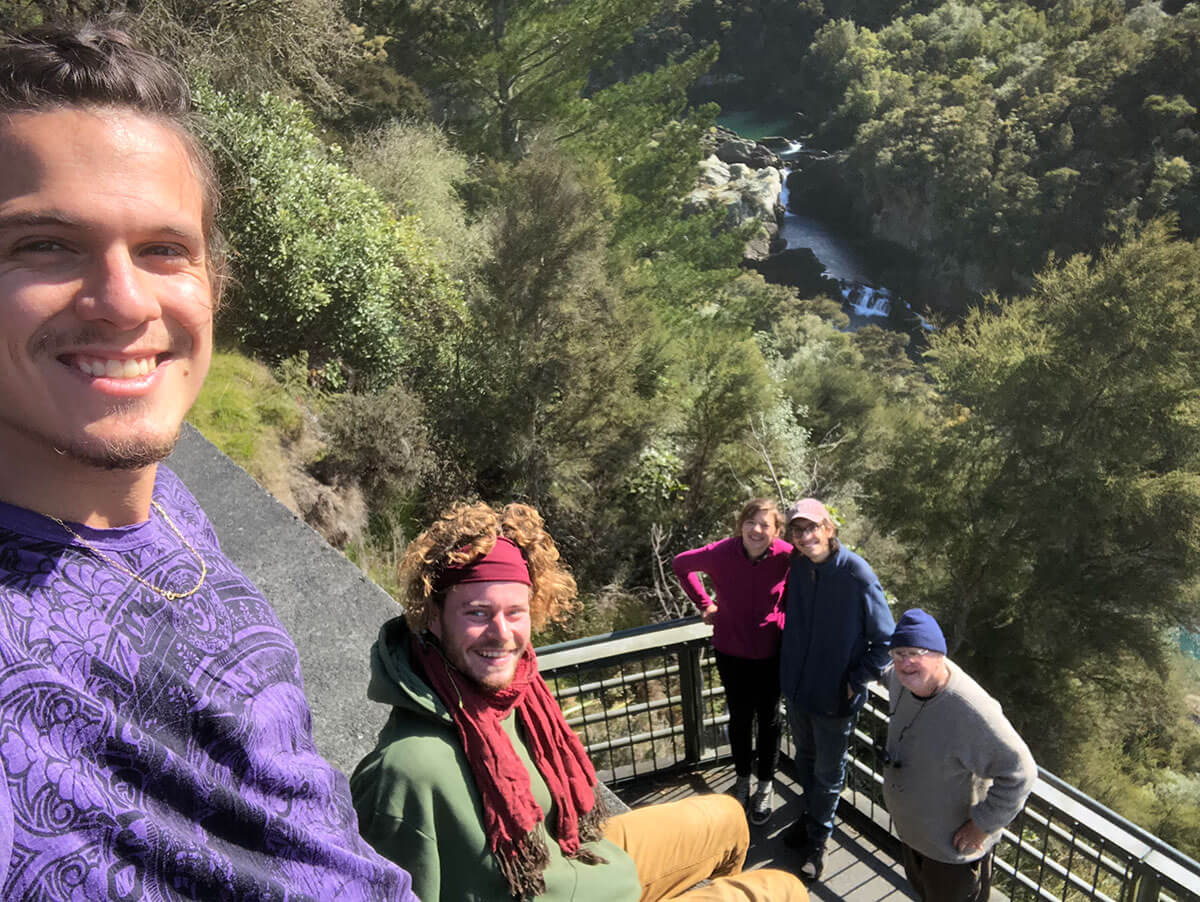 Final thoughts on Workaway
As you can see, Workaway is an incredible tool not only to help you travel for free but to also live meaningful experiences. Along with helping you learn more about yourself, grow and discover new sides of your personality.
For sure, negative ones might happen, but their team is always ready to intervene and there are reviews to help you choose the best hosts. Moreover, never forget to trust your gut. If you don't feel comfortable, then don't do it.
If you want to know more tools on how to travel for free or on a budget, feel free to read my travel resources page.
Have you ever used Workaway? Will you? Feel free to share your experience in the comments!
Pin it for later!