The 6 best lookouts in the Blue Mountains
Only 2 hours away from the business and uniqueness of Sydney you can find the Blue Mountains. A UNESCO World Heritage Site home to an endless stretch of Eucalyptus trees and breathtaking views. As there endless breathtaking viewpoints around the area, I wanted to share with you my list of the best lookouts in the Blue Mountains.
Their name Blue Mountains originates from the peculiar reaction that happens between the Eucalyptus oil and the sunshine. The oil reflects the blue colour and it creates a "blue haze" over the trees!
However, this optical effect is only seen from the distance. So what's better than a lookout to admire it? Keep reading to find out the best 6 lookouts in the Blue Mountains suggested by my local friend.
This post may contain affiliate links. If you use these links I receive a commission, at no expense to you, that helps this blog run. All opinions are always my own.
How to get to the best lookouts in the Blue Mountains
Public Transport
Unfortunately, most lookouts are not served by public transport. Depending on which one you want to visit, you might need a car. Unless you enjoy walking or want to spend more days in the area.
Public transport is good for getting to the main town in the Blue Mountains, the lookouts around Katoomba and Scenic World, but that's about it. From Sydney, trains leave Central Station to Katoomba every hour. The trip only takes a couple of hours and it's very enjoyable. Then, the bus 686 will take you to either Echo Point or Scenic World.
My suggestion is to start early as this bus ends at 5.30 pm. Also, remember to get an Opal Card to pay the cheapest fare or only $2.80 if you go on a Sunday.
To plan your journey, you can either use the NSW transport trip planner, Google Maps or download the app TripView.
Renting a car
Getting there and around by car is the most flexible option. You can explore all the lookouts and not having to worry about making it in time for the bus or train. If you prefer, you can also take a taxi as the drivers often drive people to these lookouts.
Camping
Hiking and camping in the area are also very popular among tourists and locals. There are a lot of hostels and campgrounds between Springwood and Mount Victoria with staff always willing to give you tips and suggestions.
To find affordable hostels, Agoda is my personal favourite and suggestion. It always gives you the best price-quality combination.
To find campsites, have a look at Aircamp where you can easily find the countless campsites from all across Australia.
Tours
Full guided tours are also a great option to explore the area. Most of them also include tickets to Featherdale Wildlife Park or Scenic World! This way, you can have the most complete option.
Blue Mountains Explorer Bus
Finally, you can also take the Blue Mountains Explorer Bus. It offers you unlimited hop on/hop off rides and it covers some of the lookouts mentioned below. Along with some other ones and live commentary.
Now, let's dive into the best lookouts in the Blue Mountains.
Best lookouts in Katoomba
Echo Point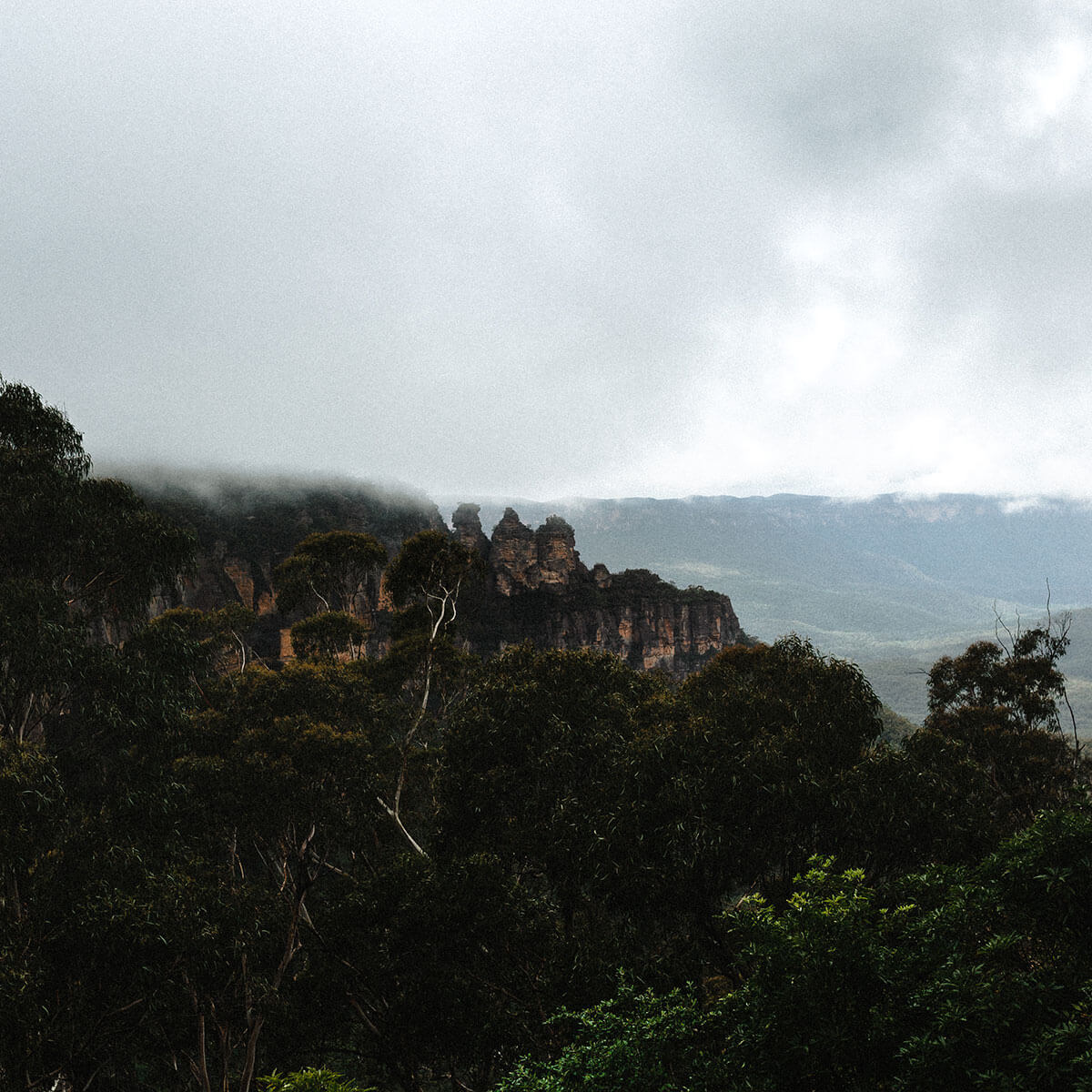 This is definitely the most popular lookout in the Blue Mountains region among tourists. It's located in Katoomba and you can easily get there with the 686 bus or the Explorer Bus.
Echo Point boosts a view of over 180° overlooking the Jamison Valley and the worldwide famous Three Sisters. Along with them, you can also see the Ruined Castle, Mount Solitary and Scenic World.
You can spend so much time admiring an endless stretch of Eucalyptus trees while listening to the sound of the birds and admiring the famous "blue haze". If you visit it at night, you will be able to see the Three Sisters lit up.
Moreover, if you are into hiking, walks like the Three Sisters Walk, Prince Henry Cliff Walk and the Giant Stairway start from here.
Even though this is often a busy and popular lookout, it's definitely worth one or more visits!
Eagle Hawk Lookout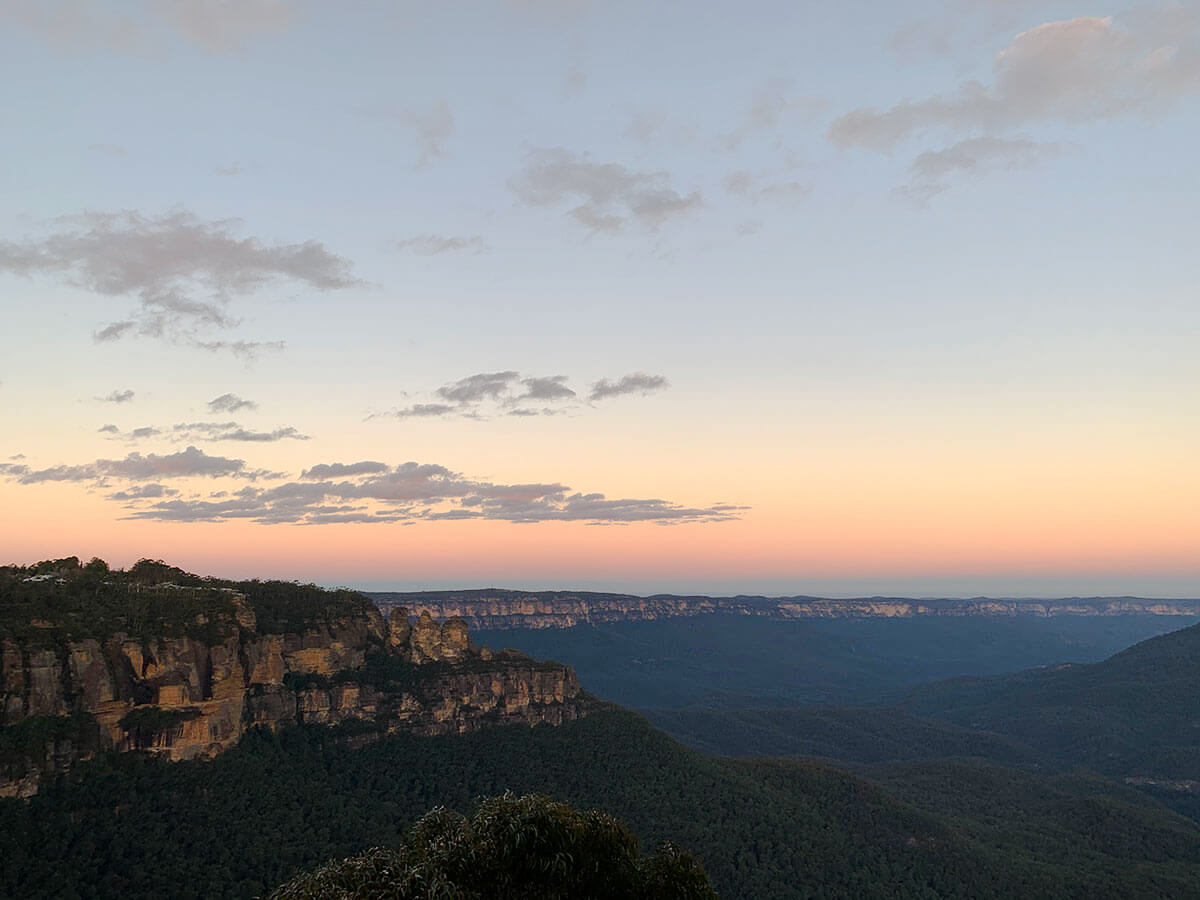 This lookout is perfect to admire the sun shining on the Three Sisters while it sets behind you. It's located 2.5km from Echo Point and very close to Scenic World.
Also, if you don't want to be around many tourists, this a perfect option!
Best lookouts in Blackheath
Govetts Leap Lookout
A quick and easy 15 minutes drive from Katoomba, you can find Govetts Leap Lookout. From here, you'll be welcomed by a breathtaking view of the Grose Valley. This steep-sided canyon was carved out by the Grose River over millions of years. From here you can also see Govetts Leap Falls, the tallest single-drop waterfall in the region.
If you are into hiking, many bush-walks for all abilities start from here:
The Fairfax loop track is good for kids, older people and it's wheelchairs accessible.
For more experienced walkers, the Rodriguez Pass is a perfect option. Its a 12km loop track which heads into the valley via steep sandstone stairs. Once on the valley floor, you'll head past the base of Govetts Leap Falls before heading back to the top of the escarpment at Evans Lookout. This walk has minimal signage so good navigational skills are needed.
For a medium difficulty walk why not try the Clifftop track which also ends at Evans Lookout but is significantly easier and shorter at only 6km return.
Evans Lookout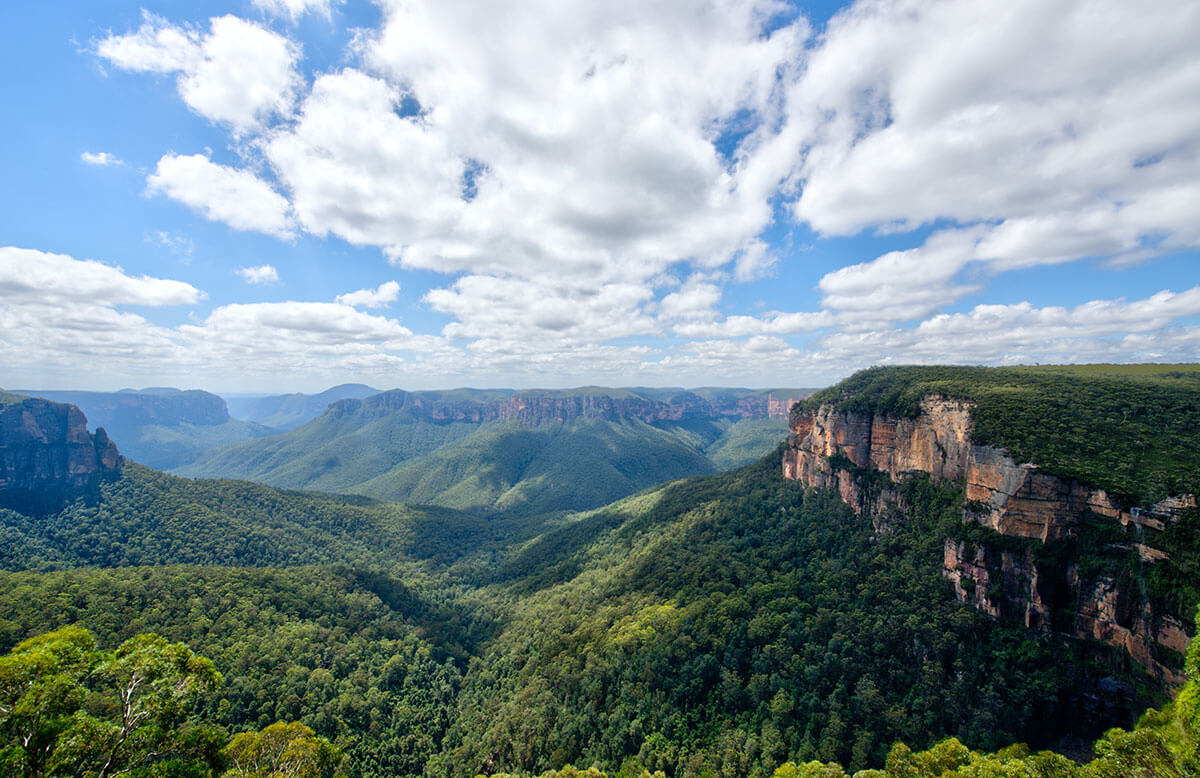 Evans Lookout is another great place to admire the sheer size and beauty of the Grose Valley. Located less than 10 km from Govetts Leap, it's a spectacular place to see a sunrise or sunset. In the morning you'll have an uninterrupted view of the sun rising above the towering sandstone cliffs in almost complete silence. At sunset, the sky will be filled with orange, purples and pinks as the sun slowly disappears behind you.
Evans Lookout is also a great starting point for the truly unique Grand Canyon Walk. This 6.3km loop track heads into a world heritage listed slot canyon where you'll be completely immersed in native Australian beauty as you cross fern-lined creeks and walk past towering waterfalls. This walk is particularly good in the summer months as it's also a great place to escape the harsh Aussie sun and have a swim before you head back out of the canyon.
Best lookout in Wentworth Falls
Lincoln's Rock
Lincoln's Rock in Wentworth Falls gives you a unique opportunity to appreciate how deep the Jamison Valley really is. Here you can literally sit on what feels like the edge of the world! View the tops of the eucalyptus trees between your feet as you look out into the great beyond! Keep in mind its very windy here on most days so rug up and be careful as you approach the edge!
Best lookout in Lithgow
Hassans Walls
For those who fancy a longer road trip, Hassans Walls is a perfect spot. Located in Lithgow (35mins drive from Katoomba) on the western side of the Blue Mountains, this lookout offers near 360-degree views. Here you can see the abrupt cliffs where the mountains stop and the vast plains to the west start.
As this is one of the highest lookouts in the region you can see up to 50km in each direction on a clear day! It's also a great place to catch a sunrise or sunset and once the sun goes down the sky comes alive with cosmic displays as far as the eye can see!
It's always a good idea to bring an extra layer or two as it can get quite cold, even in summer!
Final thoughts
No matter which lookout you go to, it won't disappoint you. You'll always be greeted by breathtaking views, sounds of nature and blue haze. I hope you found this list of the best 6 lookouts in the Blue Mountains helpful. These are my personal favourite but are only a handful of the many lookouts out there. Some of the suggested hikes also offer their own viewpoints which are a great gift after a long walk!
Let me know in the comment if you are going to visit some of them or your own favourite ones!
Pin it for later!