Rarotonga travel guide for any pocket
Welcome to my Rarotonga on a budget travel guide! Exploring the lush and beautiful Pacific Islands can look and be expensive but it doesn't always have to be that way. Especially when you are a backpacker or simply want to save some money to travel more!
Keep reading and I'll walk you through my experience while exploring the Cook Islands, meeting locals, relaxing and keeping my budget on track.
Please note that all prices below are in New Zealand dollars. Also, this Rarotonga travel guide may contain affiliate links. If you use these links I receive a commission, at no expense to you, that helps this blog run. All opinions are always my own.
Cook Islands overview
If you've never heard of this small group of islands in the middle of the Pacific Ocean, don't worry! Before booking the flight, I didn't know much about them either!
The Cook Islands is a country that comprises of 15 islands but the majority of the people live in Rarotonga, where you can find the Parliament buildings, the international airport and many types of accomodation.
Many tourists think that it's part of New Zealand, but that's not true. The Cook Islands nationals are also New Zealand citizens (not vice-versa) and it also provides defence and support for foreign affairs, but they are still two different entities.
They speak both English and Māori, use New Zealand dollars and religion, particularly Christianity, is very important to the locals.
How to get to Rarotonga
The quickest and cheapest way to get there is flying from Auckland. In fact, I went there because Jetstar was running a "Free Return" deal, which allowed me to pay only $185 for a return ticket!
You can also get to the Cook Islands from:
Los Angeles, United States.
When to go to Rarotonga
Rarotonga, and the Cook Islands in general, experience tropical weather. So temperatures are often warm but there's a wet and a dry season.
I was there during the wet season which roughly, goes from November to March. The dry season goes from April to October.
However, while I was there, it didn't rain all the time. We got moments of really heavy rain and moments of sunshine. A positive side of it was the reduced presence of tourists and a more relaxed atmosphere.
How to get around Rarotonga and the other islands
If you want to explore the other islands surrounding Rarotonga, you can do so by plane with Air Rarotonga. I'd suggest you book any domestic flights as soon as you have your itinerary ready because they can get pretty expensive.
The most popular destination is Aitutaki, "One Foot Island". You can fly there on Monday, Wednesday and Friday or do a day tour, returning to Rarotonga the same day.
Personally, I didn't go to any of the neighbouring islands because it was too expensive, but that's another reason for me to go back!
Moving around Rarotonga is very easy. There's only one main road that circles the island and two bus lines, Clockwise and Anticlockwise.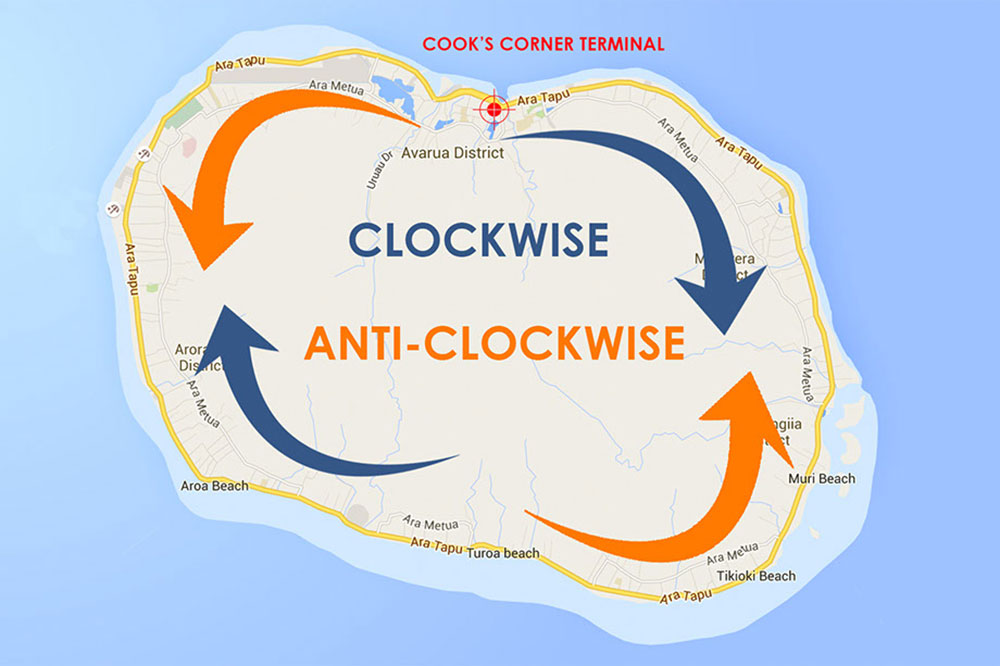 The drivers I met were very funny, liked to chat, give me advice and they, usually, stop wherever you ask them to! This happens both when you have are boarding or leaving the bus.
The Clockwise bus is the most frequent one, it runs from 7 am to 11 pm, Monday to Saturday. On Sunday, it operates from 8 am to 12 pm and then from 2 pm to 4 pm.
The Anticlockwise runs from 8:30 am to 4:30 pm Monday to Friday and from 8:30 am to 1:30 pm on Saturday. It doesn't run on Sunday.
On Good Friday, Christmas Day and New Years Day, there are no buses.
When it comes to the price of the ride, you can buy a one-way ticket for $5 or a return one for $8. What I suggest to do, which is what I did, is to buy a 10 rides ticket for $30. The ticket does not expire and you can give it to other people or use it to pay for one or more people travelling with you. You can also get a day pass for $16 or a family day pass for $26.
If you prefer to rent a scooter, car, bike or electric bike, you can do so from prices that start at $12.50 per day for a scooter or $36 per day for a car.
Affordable accommodations in Rarotonga
On Rarotonga, there are many different types of accommodation. From hotels on the beach to motels, hostels, Airbnb and even Couchsurfing hosts!
At first, I asked some people on Couchsurfing but they didn't have any availability. So, I started looking at hostels. When it comes to hostels, there are only two on the island, Backpackers International Hostel and Rarotonga Backpackers.
Rarotonga Backpackers had a more trustworthy website, better reviews but it was a bit more expensive and I couldn't find it on any of the major booking websites.
Backpackers International Hostel was cheaper, it was on Hostelworld but it had some mixed reviews that, at first, didn't inspire me.
After having exchanged some emails with Tisa, the owner of Backpackers International Hostel, I decided to book with her because she sounded very nice and open to answer any question I might have had.
Bear in mind that she has a 3 night minimum stay, her office is not open 24 hours and it's closed on Sunday, unless you contact her.
Both hostels offer transfer from the airport to the accommodation for $15 but I paid $10 because she picked up other people who were on the same flight.
Internet situation: there's no free internet anywhere.
You only get 30 minutes for free at the airport, but that's about it. Zembu and Vodafone hotspots are common around the island and you can buy 200MB for $5 or 500MB for $10. You can also get a Bluesky visitor SIM card for $49 which comes with 3GB of data, 30 min and 300 txt.
Unless you really need internet, I'd suggest you to try and take a digital detox while on the island. It really helped me relax and enjoy everything in a more meaningful way. It wasn't easy, but it's definitely achievable!
What to do in Rarotonga
As I personally experienced it, life on the island is slow and relaxed. They are definitely not wrong when you live surrounded by a blue ocean, palm trees, wild chickens and away from the busyness of the world!
Shops close at around 4-5 pm, are often closed on Sunday and workers are ready to go to the beach once everything shuts.
They like to eat and share meals together and religion is a big part of their life. In fact, there are a lot of churches on the island, mostly catholic, and a lot of the locals wear their best clothes to attend mass on Sunday.
Beach time
Enjoying and relaxing on the beach is surely a must-do while there. The water is beautiful and warm, the palm trees gift you lots of shade and you will be greeted by many sweet dogs and little crabs.
Snorkeling
Along with sunbathing and beach time, snorkeling is something you don't want to skip doing. You can read my guide Best 3 places to do snorkeling in Rarotonga to learn more about it.
The hostel I was staying at would offer the gear for free, but you can rent it almost anywhere around the island or from your accomodation.
Hiking
Rarotonga is really a green heaven so hiking is also a very popular activity. The most famous hike is the cross island hike. It goes from the north of the island, through the deep centre and ends in the south. It takes roughly 3-4 hours and can be a bit challenging. Unfortunately, because of the uncertain weather while I was there, the hike was closed and you were not encouraged to do it.
View this post on Instagram
Market day
Markets are often very enjoyable and unique, no matter where you are. In Rarotonga, you can find a night food market in Muri on Tuesday, Thursday, Friday and Sunday. On Saturday morning, you can go to Avarua and explore the day market where you can buy souvenirs, food or gifts.
Tours
Turtle spotting and lagoon tours are very popular among tourists and you can join one of them from Muri Beach. If you want to book them in advance, check out the tours offered by Tourscanner.
I personally didn't take it but some people at the hostel did and they really enjoyed it.
Meeting the locals
If you want to meet locals and eat some delicious local food then you should go to one of the CICC churches on Sunday. No matter if you are a believer or not.
After the service, they all move to a common area where there's a big buffet ready to be eaten by everyone!
I went to Arorangi CICC church and all the people there were very nice, shared their use and costumes and the food was delicious and free! There were many options for vegetarians, which really surprised me! After I experienced it, I knew this had to be part of this Rarotonga travel guide. It was definitely one of the highlights of my adventure there!
Souvenir buying tip: If you are looking to buy souvenirs like magnets or similar, and don't want to spend $5-8 each, I highly suggest you go to Raro mart Megastore in Avarua. You can find almost everything you might want or need at way better prices.
Where to eat in Rarotonga
Food in Rarotonga can be expensive. Both at the supermarket and out. Because of that, I had brought some snacks and a pack of pasta and rice with me from New Zealand.
Luckily, the hostel had a kitchen and there was a supermarket nearby. This allowed me to cook the food there and take it with me while exploring.
I remember paying $5.40 for bread, $2-3 for canned food and $9 for a 6L water box (just some examples). Don't forget that you can always get some fresh coconut straight from the tree!
The food market in Muri was reasonably priced at around $10-15 for a meal, but I didn't find many vegetarian options when I went there.
You can also buy food from small stands on the side of the road or many hotels offer buffet at $50-70.
If you want to go for a cocktail or just enjoy the sunset while having some good food, go to Charlies Cafe in Takitumu District. It's a popular place but the view won't disappoint you!
Breakdown of my expenses
Do you keep track of your expenses when travelling?
Usually, I don't do it. Or I start but then it stops happening mid trip.
However, while on this trip, I had decided to try and keep track of my expenses. Both to improve my budgeting skills and also to show that you can explore and enjoy a Pacific Island without having to spend a lot of money. Moreover, I thought it was a good and honest point to add to this Rarotonga travel guide.
Before leaving New Zealand, I had withdrawn $350 and my goal was to spend either less than that or no more.
Now, let's get to the actual breakdown:
Return flight from Auckland, with only carry on luggage: $185;
Hostel for 5 nights: $100 + $10 for airport transfer;
Food: $35 (supermarket or markets);
Bus ticket for 10 rides on Rarotonga: $30;
Magnets bought from the Raro Mart: $10.
Total: $185 for 5 days, excluding flights.
Conclusion
Personally, I truly loved my time in the Cook Islands. The nature is beautiful, people are very friendly and warm and the ocean is heaven.
It's a place that can definitely help you recharge your batteries and make you appreciate what Mother Nature is capable of creating. I hope this Rarotonga travel guide helped you learn more about this country and add it to your bucket list! If you want more info about my experience in Rarotonga, feel free to contact me!
Pin it for later!