Three meditation apps to ease your mind
Meditation is for everyone
Meditation apps are everywhere and it's easy to get lost trying to find a valid one. Because of its accessibility and proven health benefits, more and more people all over the world practice it on a daily basis. This very insightful article published by OutwitTrade is full of testimonials from people who changed their life thanks to the practice of mindfulness and meditation.
Now more than ever, while the whole world faces a challenging threat, people are looking at ways to focus and improve their mental health. That's where meditation can definitely be a big help.
Being an anxious person, I used a lot of meditation apps in the past years, especially to try and deal with stress, worries and anxiety. When everything starts feeling too much or a panic attack freezes my body and mind, I often lean towards a meditation practice. It doesn't always, or immediately, make the problem go away though. Meditation is not magic.
However, by keep practising it and building a routine, I believe it can definitely help us in the long run.
My 3 favourite meditation apps
Insight Timer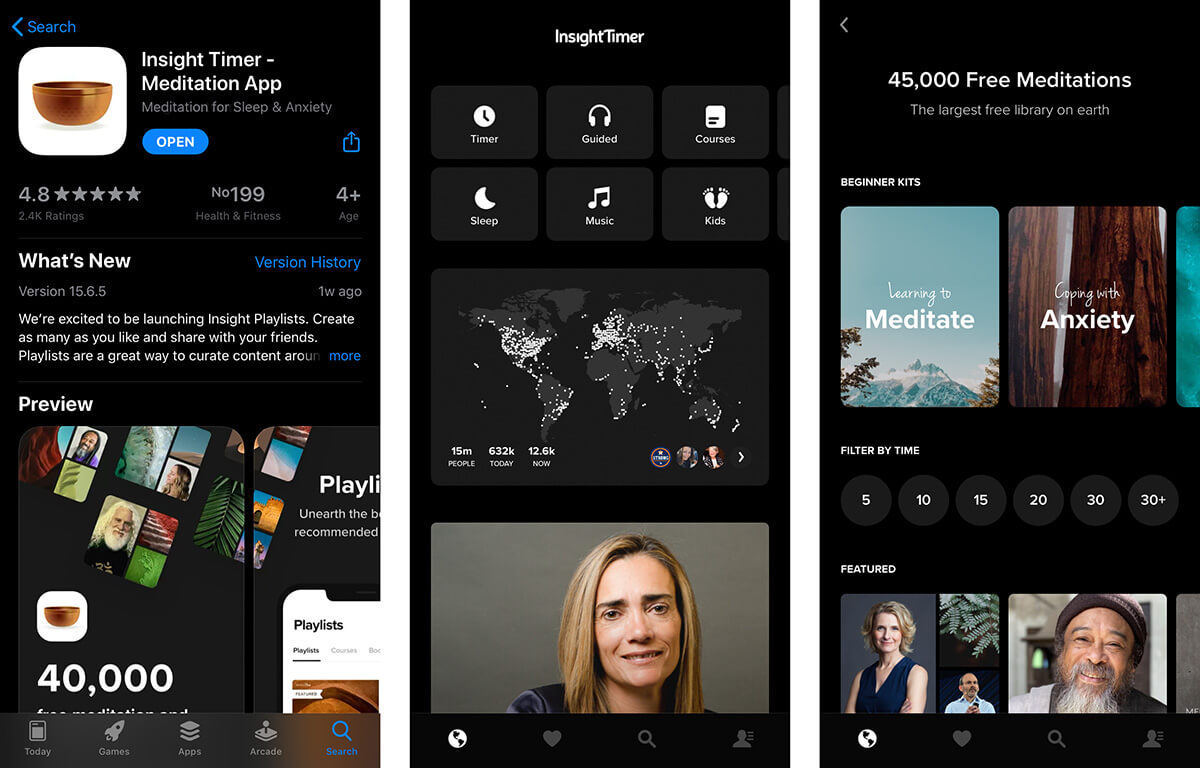 My all-time favourite one, most used and what I consider to be the holy grail of the meditation apps is Insight Timer. Whatever you are feeling or going through, rest assured that you will be able to find a lesson or listening able to help you overcome it and feel better with yourself.
In short, Insight timer offers:
Over 40.000 free lessons
White sounds tracks and music tracks
Mindfulness tools for kids
Guided practices for any aspect of your life
A built-in journal section
Playlist creation
All of these features are totally free! They do offer a membership option if you want to unlock courses, download tracks and manage the player, but it's not compulsory.
I've been using this app for a few years now and I cannot recommend it enough.
You can download Insight Timer here:
Oak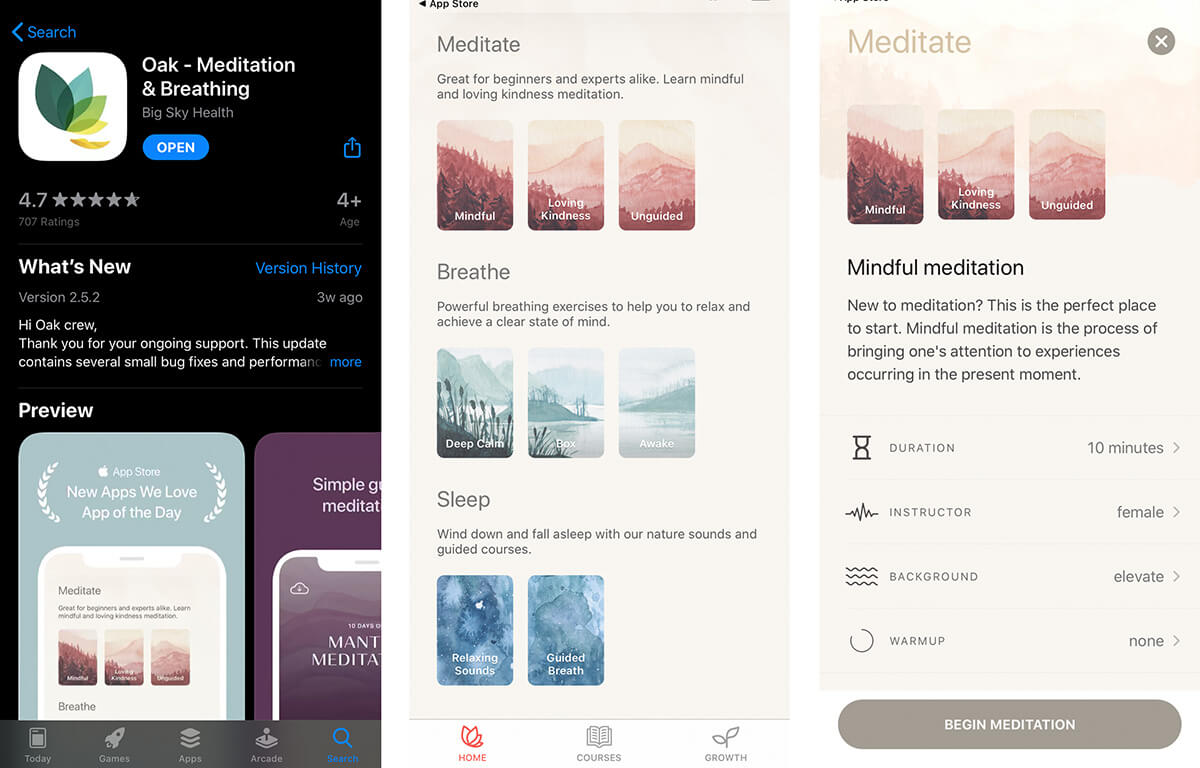 Oak is a totally free app. The only in-app purchase they have is a "10-day Mantra Meditation" course (at the time of writing you can get it for free due to the pandemic situation).
Above all, Oak is the easiest meditation app I know. Everything you need is on the first page and it's almost impossible to get lost in it.
There are only these three sections:
A huge plus for me is the fact that you can use it offline. So, no matter where you are, you can access it without having to worry about being connected to the internet.
Personally, I think Oak is perfect for whoever wants to try meditation practices for the first time or just wants something easy to use and follow. I really like its library of white sounds and breathing exercises as they can help you ease some stress or tension.
You can download it here:
Unfortunately Oak is not available for Android.
Waking Up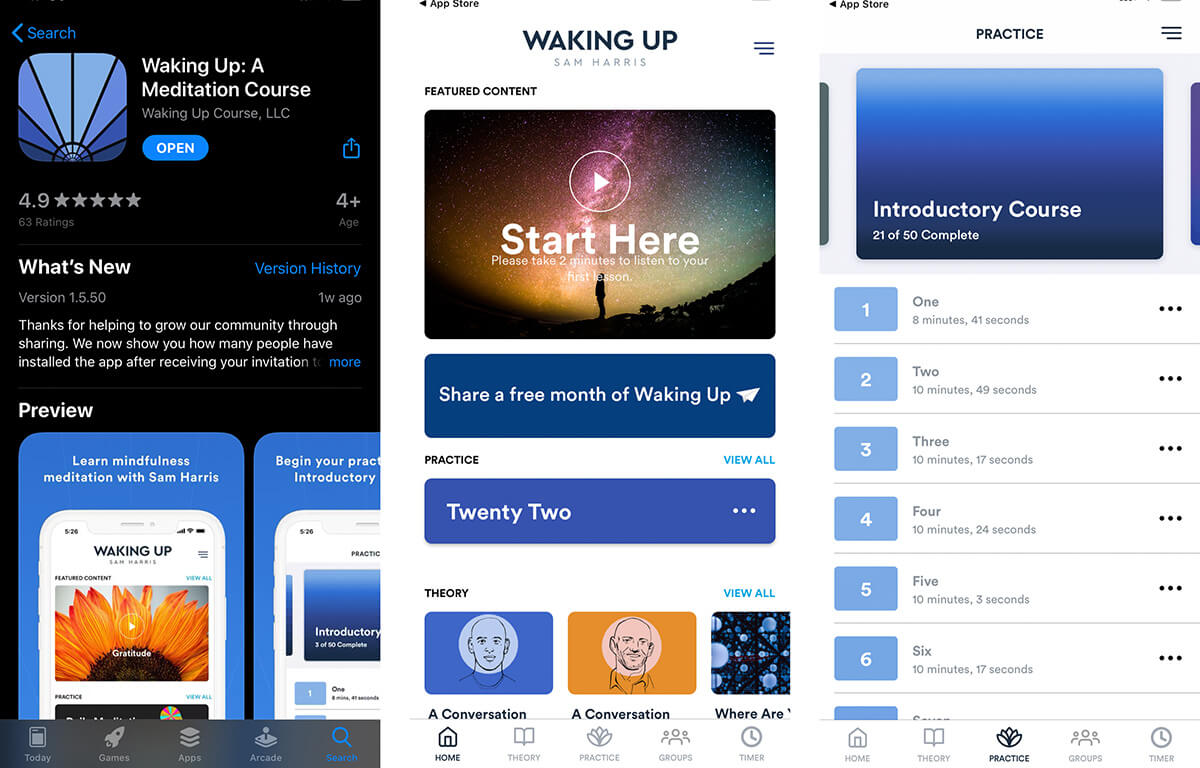 Waking up has been around for a few years now and it was developed by Sam Harris – a neuroscientist, author and philosopher – so you can be sure that you're in good hands!
The app is very straightforward, intuitive and clean. After you open it, you get greeted by your daily meditation and a theory area where you can find:
Single lessons
Conversations
Questions and answers
What I like about this app are its structure and content. You don't get lost among the countless types of meditation out there, instead, you follow a 50-day introductory course that covers almost everything.
You will go through basic mindfulness, breathing techniques, attention focusing, loving-kindness and more. Also, the fact that it's a daily lesson makes building the habit to meditate feel much easier to accomplish. In addition, you also learn some of the science behind the practices and what benefits you and your mind can get from it. I find Sam Harris' voice very soothing and a pleasure to listen to and follow.
Waking up gives you access to the first 5 meditations and talks from the introductory course for free but to continue using it, you will need to purchase a subscription plan. It's either $14.99 per month or $99.99 per year.
However, if you truly can't afford it, you can get a free subscription by emailing [email protected].
At first, I was skeptical about it, being subscription based, but after having tested it for a bit, I totally think it's worth the price.
You can download Waking Up here:
If you want to try this app for a month without paying the subscription, you can do so by clicking here (not affiliate).
Are meditation apps necessary?
Meditation can benefit anyone's mind and soul so money shouldn't preclude some people from accessing it. So, the short answer to this question is, not really.
You can totally meditate without any app, video or recording. People have done it for centuries and they keep doing it in a more traditional way. However, having someone guiding you, especially if you are a beginner, can definitely be a useful starting point in building meditation as a habit.
Finally, if you have been struggling with stress or anxiety during this isolation time, you can read my post Anxiety while in isolation.
Pin it for later!