The ultimate travel guide to Byron Bay
Byron Bay, one of the most famous and loved coastal towns in New South Wales and even Australia. What at first was an industrial town home to working-class people, it's now oscillating between being a little Hollywood and a laid-back hippie town.
Byron was a place I've always heard of from people who fell in love with but that I never actually visited. After having been in Australia, on and off, for almost 5 years, we finally got to meet each other.
I kinda knew but also didn't know what to expect. For many people, this place is heaven on Earth. While for others, its heavenly vibe has been lost among the celebrities, the over 2.2 million tourists that visit it every year and the overpriced avocado toasts or açai bowls.
I went there in early November 2020 not knowing whether to expect quietness or busyness because of COVID. As Australia has been closed to foreigners since March and states borders open and close at any time,
this, probably, allowed me to experience a different Byron Bay. There were people and tourists but the people I met said that it wasn't the normal Byron. And I really liked it this way. There was plenty of spaces at the beach, park, to move around, to explore and relax.
When it comes to costs, Byron Bay is expensive. Even when you are travelling solo like me. But this doesn't mean you have to be rich to enjoy it! If you know my style of travelling, I'm all about budget travelling and trying to save as much as I can while still enjoying the place I'm visiting. And this trip was no exception.
So, without further ado, let's get into this Byron Bay travel guide on a budget!
This Byron Bay travel guide may contain affiliate links. If you use these links I receive a commission, at no expense to you, that help this blog runs. Also, all the prices are in $AUD.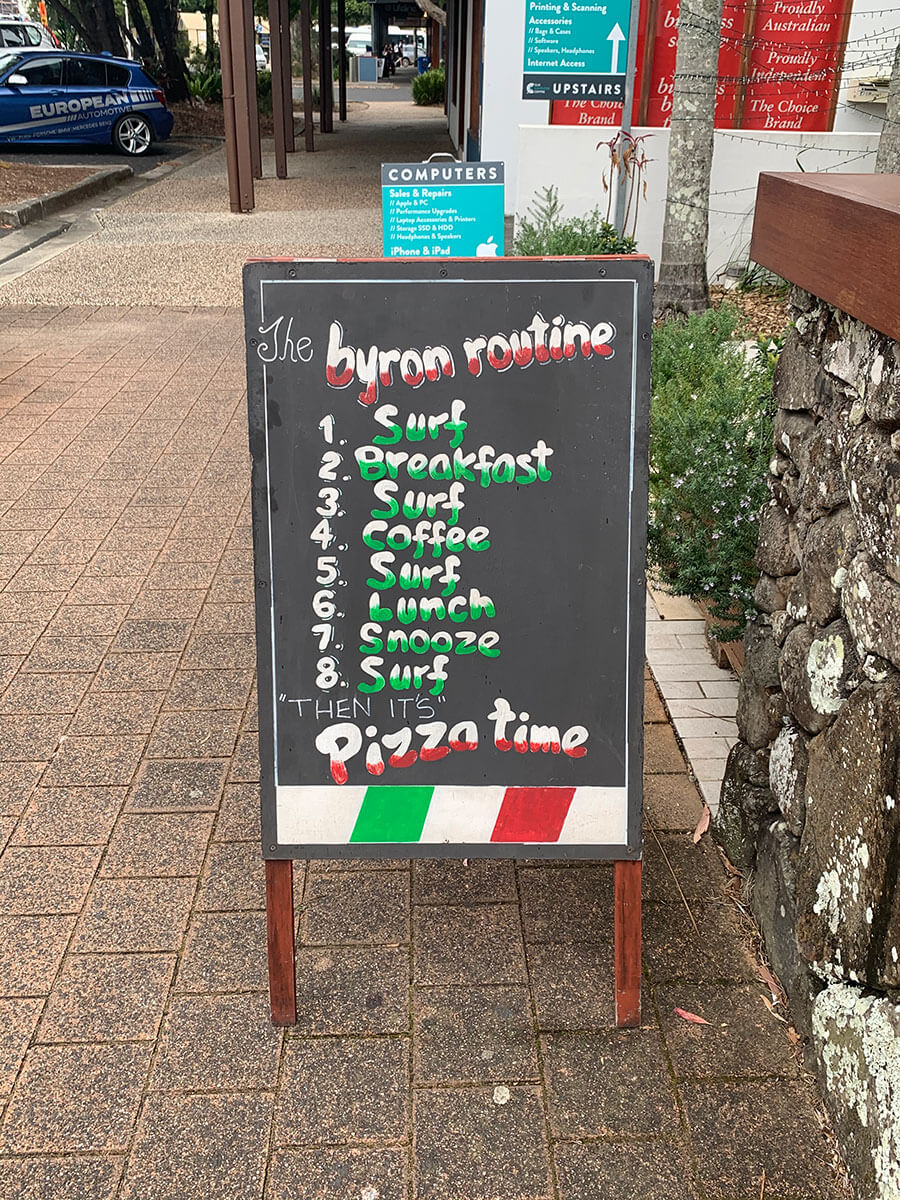 Best ways to get to Byron Bay
Getting to Byron Bay is fairly simple and it mostly depends on where you leave from and how long you want your journey to be.
Flying to Byron Bay
Depending on where you are based, flying can be your quickest and most cost-effective option. There are two airports close to Byron Bay:
Ballina Byron Gateway Airport which is 36km from the town centre
Gold Coast Airport located 68km from the town centre
Usually, flights to the Gold Coast tend to be cheaper and from there you can rent a car or get a bus/van to Byron. This would have been my preferred option if COVID wasn't around. Because the Gold Coast is in Queensland and due to border restrictions between the two states, I had to give up this option.
Flying to Ballina is still a great and very convenient option to get to Byron and there's a very cheap bus that connects the two locations.
I flew with Jetstar and a return flight cost me $215, but you can find it cheaper if you book in advance. Or if don't let your overthinking mind make you question the decision! 🙈
Check Skyscanner to find the best deals on your flight and the best combination in terms of locations!
Driving to Byron Bay
If you are based in Sydney like me, you can easily drive or catch public transport to get to your destination. The distance between the two places is roughly 800km.
By car, it should take you around 8 to 10 hours, with a few stops in between.
Getting there by bus is also possible but longer. Greyhound used to travel to Byron from Sydney but it's temporarily discontinued. (Check the latest Greyhound updates on here)
Transport NSW offers a few connections to and from Byron Bay but gets ready to catch a train and then a bus for a total journey time of 14 hours! If this is something you'd like to do, you can plan your journey and book your ticket on their website.
How to move around Byron Bay
Ok, so you are finally at your destination and ready to explore the area! Wonderful, I'm so happy for you!
If you flew to Ballina, you can catch bus 640 that gets right in the town centre for only $7.60. I used it on the way there and it was great.
Alternatively, you can book a van that can drop you off at your accommodation. I used Byron Bay Shuttle to get back to the airport as my flight was early and the first bus was later in the day. They can pick you up and/or drop off at your address and also connect the Gold Coast airport with Byron! Super friendly and professional people.
Finally, renting a car is great to have complete freedom over your movements and to get to the surrounding areas.
Best affordable accommodation in Byron Bay
Depending on your budget, you can find a wide variety of accommodation in Byron Bay. From beautiful Airbnbs close to the beach to hostels or Couchsurfing hosts.
Airbnb prices range between $200 per night up to $1200 or more. If you want to save up to $90 on your first booking, feel free to use my invitation code.
There are quite a few hostels in town that can help you keep the cost of the accommodation at a minimum. I stayed in two very different ones, Byron Bay YHA and Arts Factory Lodge.
YHA hostels are always a guarantee when travelling around both Australia and New Zealand. They are clean, often located in very central locations and offer a wide range of amenities.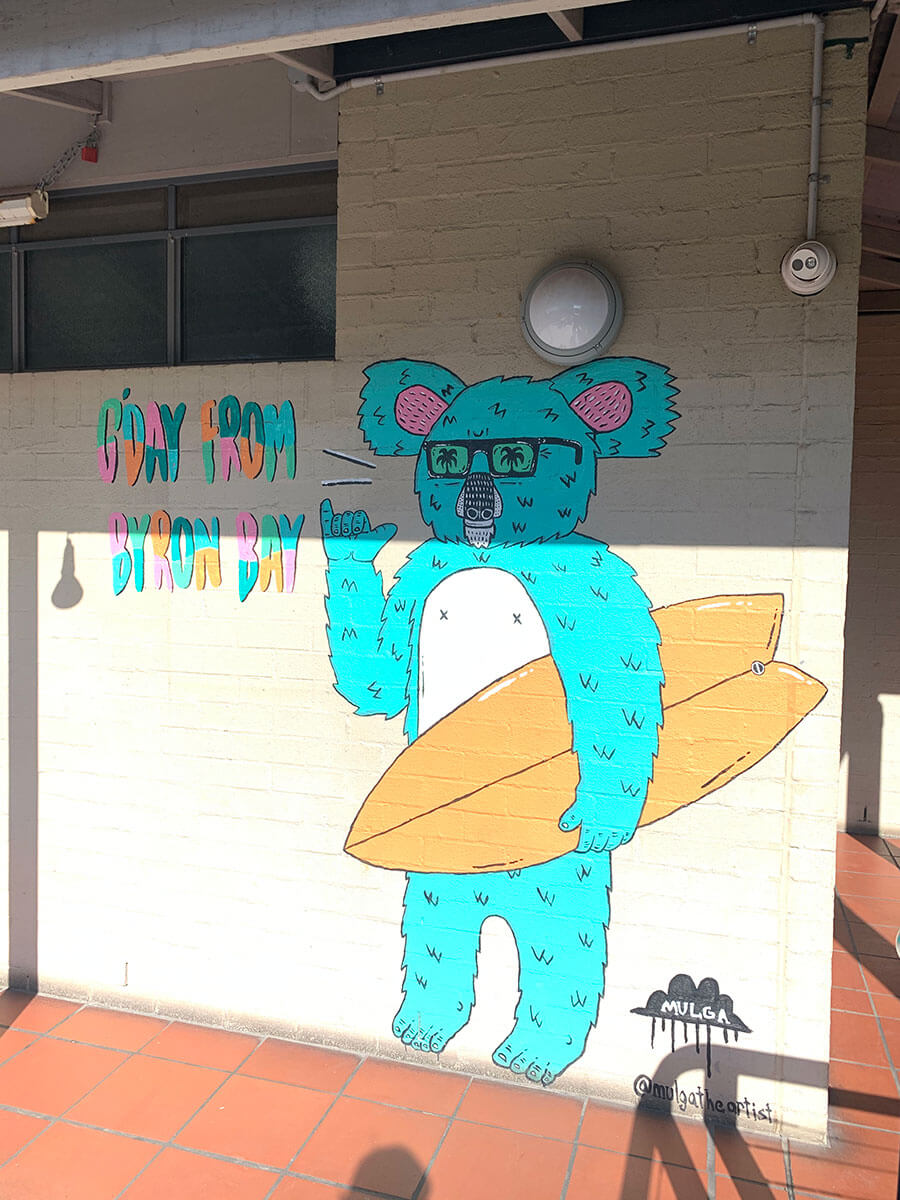 Because hostels could only operate at half capacity, my three nights there were super relaxing, I didn't have to wait to use the kitchen and it was just a pleasure to stay there.
Arts Factory Lodge, on the other hand, is a very unique type of hostel. It's located 1.5 km from the town centre and surrounded by lush nature and there are some animal guests like bush turkeys and lizards chilling around.
In all honesty, though, I have mixed opinions about this hostel. The location was nice but the cleanliness of the common rooms and the loudness of most of the guests didn't make me enjoy it.
How to save money on accommodation in Byron Bay
This wouldn't be a proper Byron Bay travel guide "Unsure Traveller" style if I didn't talk about how to save money on one way or another.
Normally, when it comes to booking hostels I always use Agoda. It's my preferred platform for booking as they always have the best prices and lots of discounts.
However, this time, I dug deeper into trying to find better deals. And it worked! On the YHA website, I found a 3-night special package for $69! This allowed me to book a dorm room for $23 per night instead of $31. They also offer a private and a family room pack both priced at $279.
When it comes to booking the Arts Factory Lodge, I used a $25 voucher that Jetstar gave me after I booked the flight with them. I booked them because it was the only hostel available for this offer. So I ended up paying $7 for a night in a 5-bed dorm instead of $32.
How to get free accommodation in Byron Bay
If you'd like to spend even less money on accommodation, or no money at all, Couchsurfing and Workaway are your best options.
I've talked extensively about Workway in my post Travel for free and create experiences with Workaway. It's a community I truly love and believe in that helped me live some truly amazing adventures. This is a great solution if you plan on spending more time in a location as many hosts require at least two weeks. And also, because you'll need to work a few hours per day.
Couchsurfing works better if you are looking for a place to sleep for just a few days, meet locals and want more freedom to explore the area.
Best places to eat in Byron Bay
So, let's talk about eating in Byron Bay. No matter what you eat or would like to eat, chances are that Byron has the right place for you.
However, this also comes to a cost. Food in Byron Bay can be pretty expensive. Which is not what you want when you are travelling on a budget. For example, the most popular foods I saw people eating were the classic avocado on toast and açai bowls. The first would set you back around $15 while the bowls average between $14 up to $20!
Both because I like to cook and to also don't go too over-budget, I cooked most of my meals at the hostel. The main supermarkets in Byron Bay are Aldi and Woolworths where you can find anything you need.
Though, I still ate out a few times because food is a big part of the experience when travelling. So, in this section of this Byron Bay travel guide, I will suggest you some places I've eaten along with some that people suggested to me.
BayGer
This small but delicious burger place is located in Jonson St and 2 minutes from the Main Beach. They offer a wide range of vegetarian, vegan, meat and gluten-free burgers. I had the Breakky burger and it filled me up for long. Also, every day they have deals and you can get a burger, fries and homemade lemonade for a very cheap price.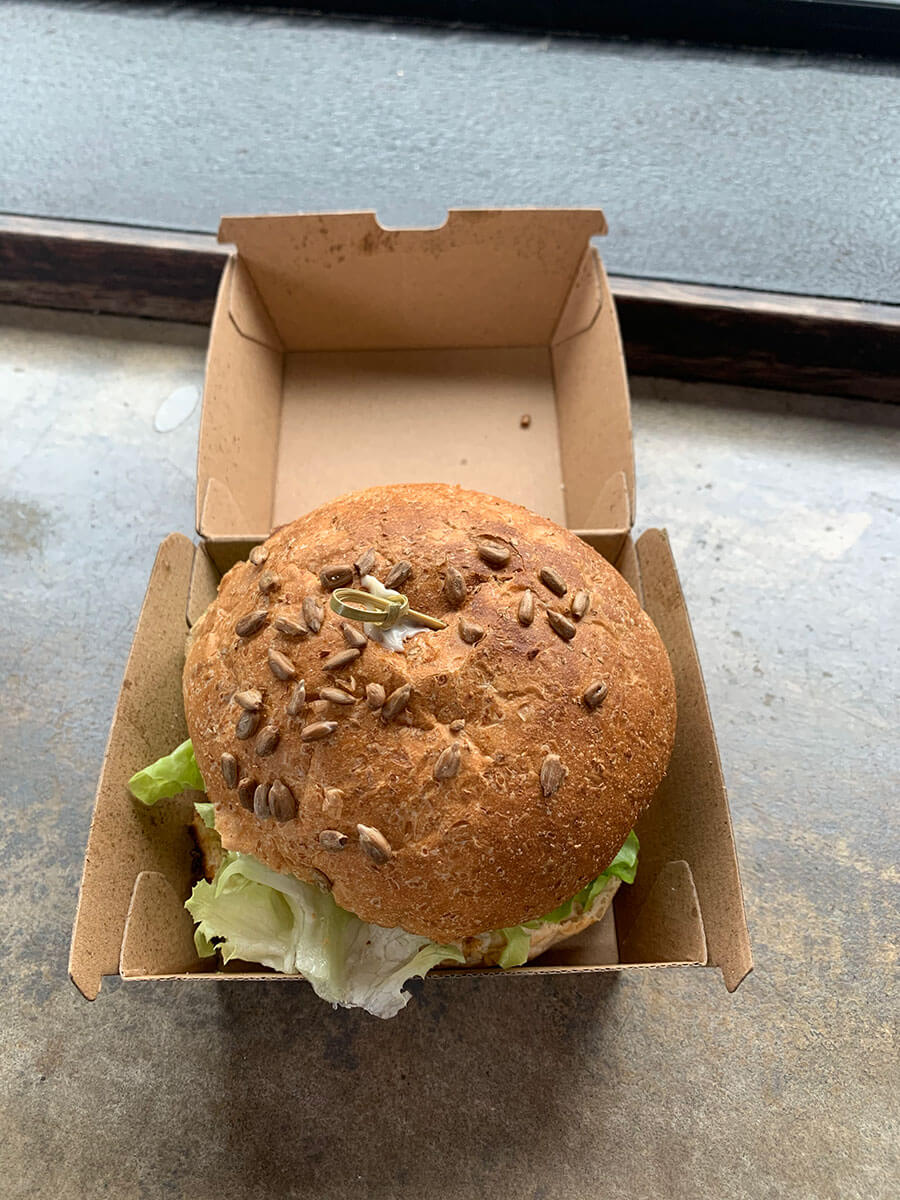 Yoflo
If you are craving a refreshing, healthy and sweet snack, look no further than Yoflo. Their frozen yogurt is delicious, and they also have vegan flavours for you to enjoy, along with countless topping options. It's $3 per 100gr so not too expensive.
One of their yogurt flavours is açai so you can easily get a bowl of it with some toppings and you'll most likely spend less than buying a bowl from a juice place.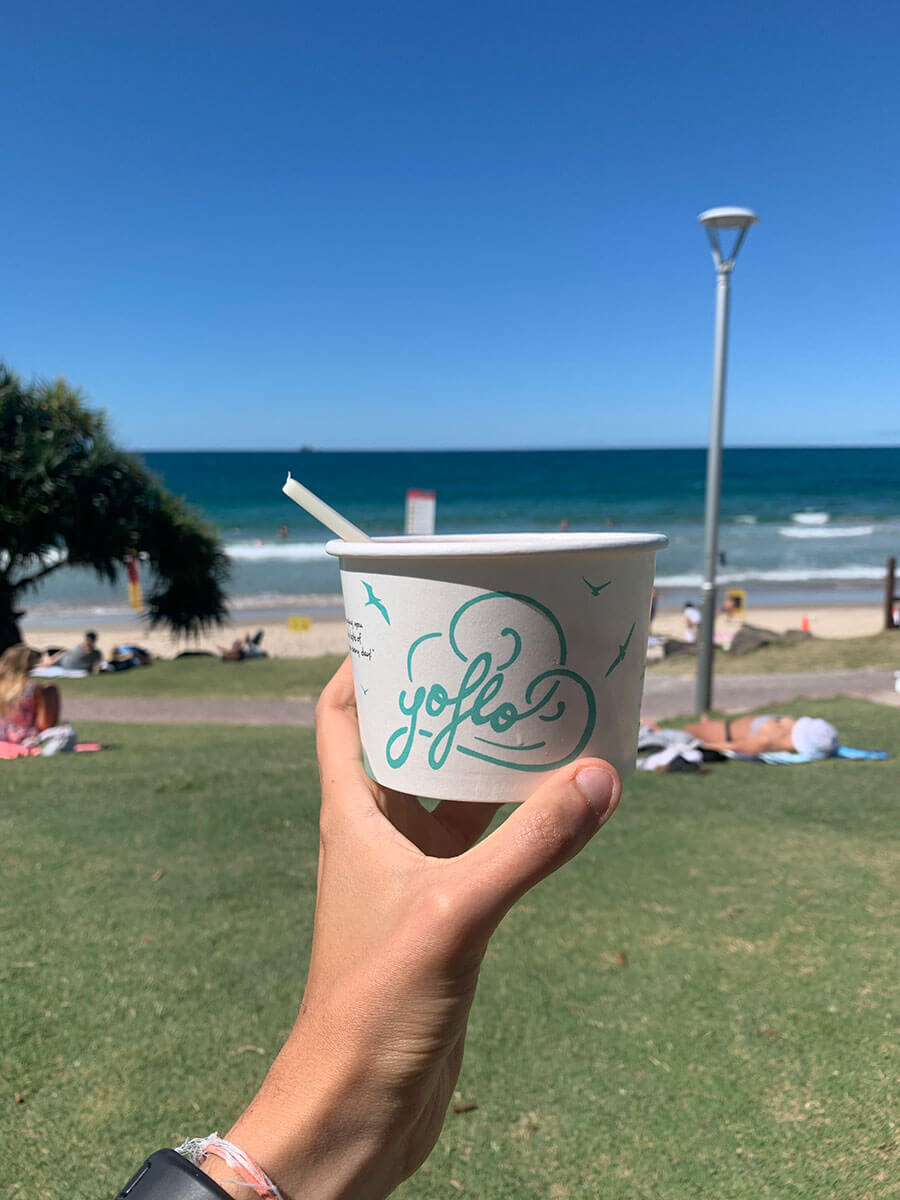 Orgasmic Food
Probably one of the best Lebanese restaurants in Byron Bay. The prices are in line with other restaurants but the portion of the dishes will fill you up!
The following places are some that people recommended me but I haven't tried them myself:
Bayleaf cafe
The best cafe to have breakfast at when in Byron Bay. It's often full from the morning so you can try to go earlier in the day if you don't want to wait too long. The staff is very friendly and willing to make your experience there the best possible.
Manna Heaven Cafe Restaurant
If you are craving for some delicious vegan food or treats, look no further than Manna Heaven. They have lots of fresh and healthy goodnesses to keep your tummy happy and filled!
Elixiba Byron Bay
An all-vegan restaurant packed with delicious and innovative food along with some very refreshing cocktails. A friend I met at the YHA told me that, after she found Elixiba, she couldn't get enough of their creations!
Best things to do in Byron Bay
Beach time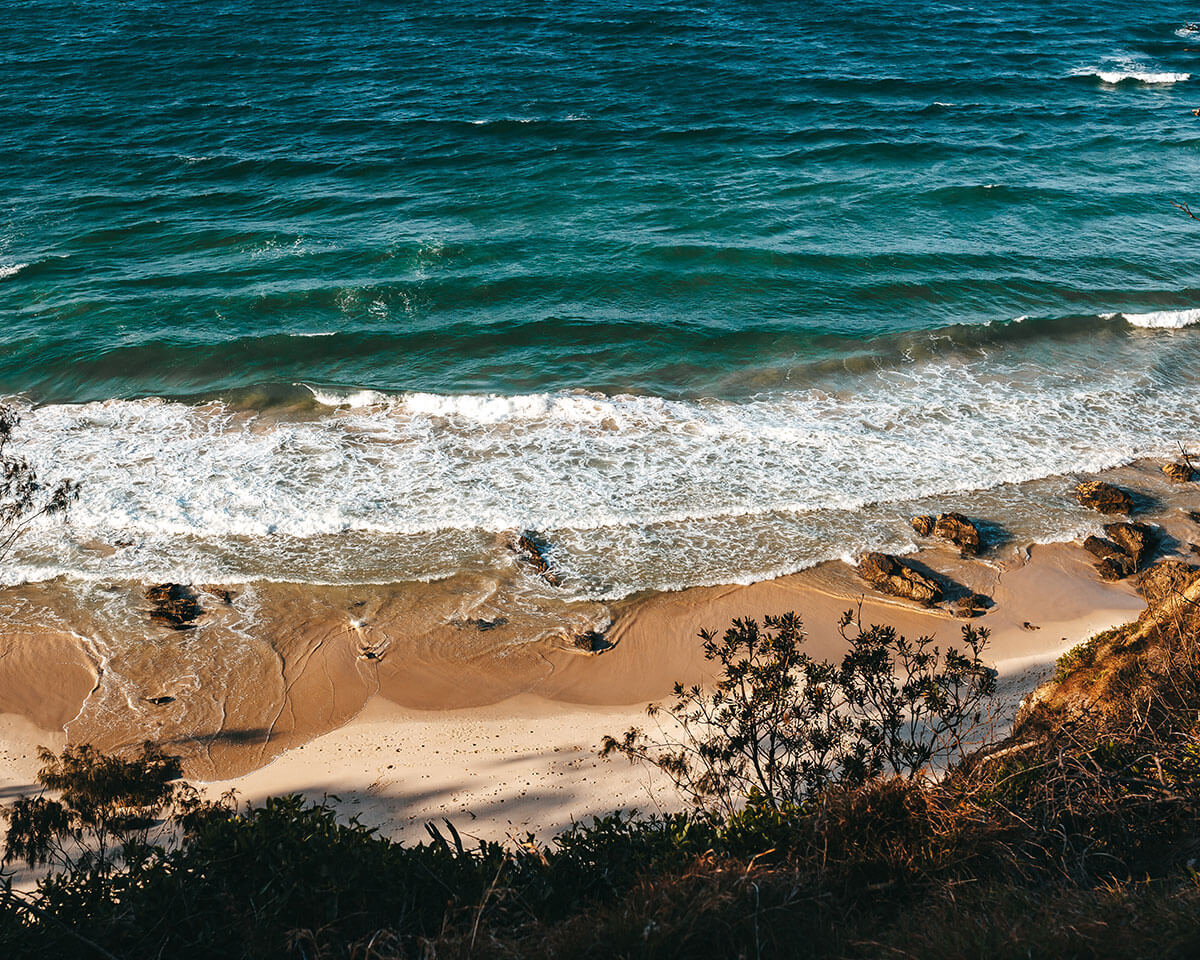 It might sound too expected but I could not include on this Byron Bay travel guide spending some quality time on the beach! We all know that Australia has some of the best beaches out there and Byron is no exception. You have 6 different beaches just around the town! (Don't forget to use sunblock because the Australian sun is strong! 😄)
Main Beach is probably the busiest one as it's easily accessible from the town centre. However, I'm not a big fan of it as it's often too overcrowded.
The beaches that I recommend you checking out are:
Belongil Beach, located next to Main Beach, there are usually fewer people there and you have plenty of space to enjoy;
Wategos Beach is on the Cape Byron Walking Track and it's a great spot to take a break from the walk.
Tallow Beach is located opposite Main Beach and it's an endless stretch of white and very soft sand. Perfect for some long walks, runs or if you just need some quietness.
See both sunrise and sunset from the lighthouse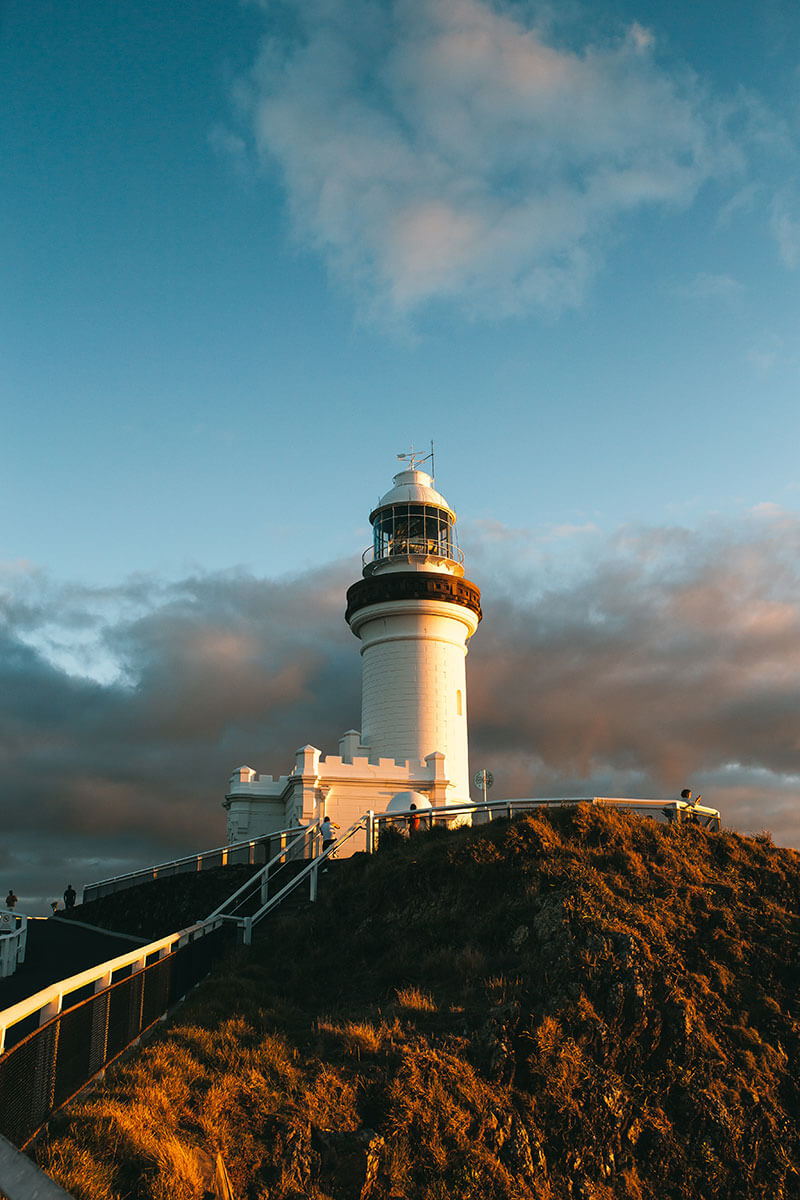 You might have heard or read a million times about seeing the sunrise from Byron Bay Lighthouse. In fact, I wasn't sure whether to add it to this Byron Bay travel guide. However, it's kinda a compulsory experience to do at least once. Mostly because it's purely beautiful and because you'll be the first one to see it. This is due because the lighthouse is located on the easternmost point of the Australian mainland.
If you don't have a car and are staying in town, I'd suggest you leave around 1 hour and 20 minutes before sunrise. This will allow you not to rush and to take a few breaks during the 3.4km walk if you need to. If you have a car, you can leave later but try to get there early as it can get busy.
Usually, the lighthouse is where most people gather. To avoid the crowd, you can stop right after the Assistant Lighthouse Keeper's Cottage and this way you'll be able to enjoy the sunrise and the lighthouse in all its glory.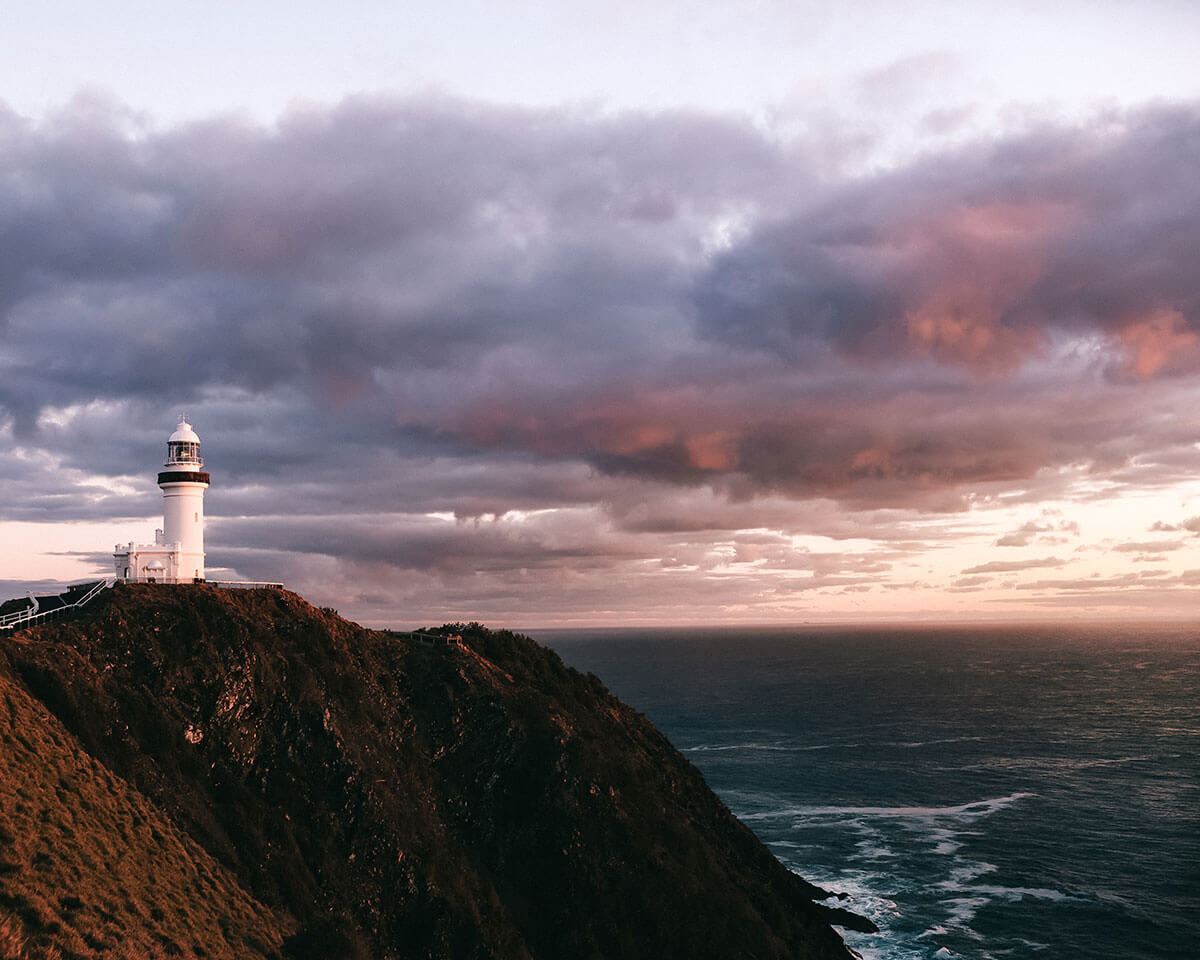 Seeing the sunrise at Byron Bay lighthouse is indeed beautiful, but sunset will equally leave you speechless.
I really like the location mentioned above because it overlooks Tallow Beach, which makes it great for sunset. You have the view of this immense beach on your left and a disappearing ball of fire on your right.
Do some kayaking
Byron Bay is famous for the large families of dolphins and whales that swim in its waters. You can try and spot them from the various lookouts around town. However, if you wanna hope for a closer encounter, kayaking is a great option to do so. Always remember to be respectful and not to get too close to them!
Take a surfing lesson
As soon as you get to Byron, you'll see countless of people surfing at any time of the day. No matter the age, everyone walks with a surfboard under their arm! So, why not give it a go? Take a surfing lesson and get ready to conquer the popular surfing spot The Pass!
Explore the Rainforest Way
If you have your vehicle, take one day to drive around the Rainforest Way and Byron Bay Hinterland. This 250km road trip will take you from Byron Bay to lush rainforests, a few national parks, an old caldera and up to the Gondwana Rainforest. On VisitNSW you can find more info about it.
Killen Falls
Between Byron Bay and Ballina, you'll be able to find Killen Falls. A truly powerful and majestic waterfall which is home to one of the last standing remnants of the big scrub rainforest.
Explore Nimbin
Nimbin is a small village located 70km from Byron and famous for being very alternative, free, artistic and its initiatives related to the environment and cannabis. It's also known as the "drug capital of Australia" and for its annual MardiGrass. However, don't forget that buying and or consuming cannabis is punishable by law in NSW.
Final thoughts
Byron Bay is a place I recommend to anyone. No matter if you just want to relax, explore or detox your mind and body. Its coastal and laidback vibe mixed with pristine beaches, lush landscapes and sunny weather will help you take a break from the craziness of life.
I hope this Byron Bay travel guide helped you plan your next adventure to this unique location.
Have you ever been to Byron Bay? Let me know in the comments!
Follow my blog with Bloglovin
Pin it for later