What is the COVID Green Pass and how do you get it?
Have you been reading or hearing about the Green Pass but don't have a clue about what it is? Are you planning on travelling around Europe, accessing specific venues or concerts and read that it is a requirement? I hear your confusion loud and clear and I'm here to try and help you. In this post, I'll explain to you what the COVID Green Pass is, how you get the Green Pass and why you need it.
So, let's begin this post by answering the question "What is the COVID Green Pass?"
The Green Pass is how Italy calls the EU Digital COVID Certificate. This certificate is basically digital proof that a person has either:
Been fully vaccinated against COVID-19.
Received a negative COVID test in the last 48 hours.
As the Green Pass is an initiative from the European Union, this certificate is recognised by and valid in all the EU member countries.
At the time of writing, 18/08/2021, every EU country, as well as some non-EU countries (Iceland, Liechtenstein, Norway, San Marino, Switzerland and Vatican City), recognise and issue this certificate to their citizens and residents.
The issuing of the Digital COVID Certificate is done by the country's national authorities therefore it varies from country by country.
What is the point of the Green Pass?
The goal of the Green Pass is to try and help citizens get back on a sort of new normality. Moreover, whoever holds it might be exempt from possible restrictions when it comes to travelling, entering premises and so on. 
For example, in Italy, the Green Pass is now mandatory to have if you want to: 
Travel by plane, train or long-distance buses (from the 1st of September).
Access cinemas, theatres, museums, private parties, gym, swimming pools, restaurants, pubs.
This COVID Certificate is not to discriminate who got the vaccine from who hasn't because you can still get one if you get tested. It's a quick and easy way to prevent possible new outbreaks and the spreading of COVID-19 as much as possible.
How does the Green Pass look like?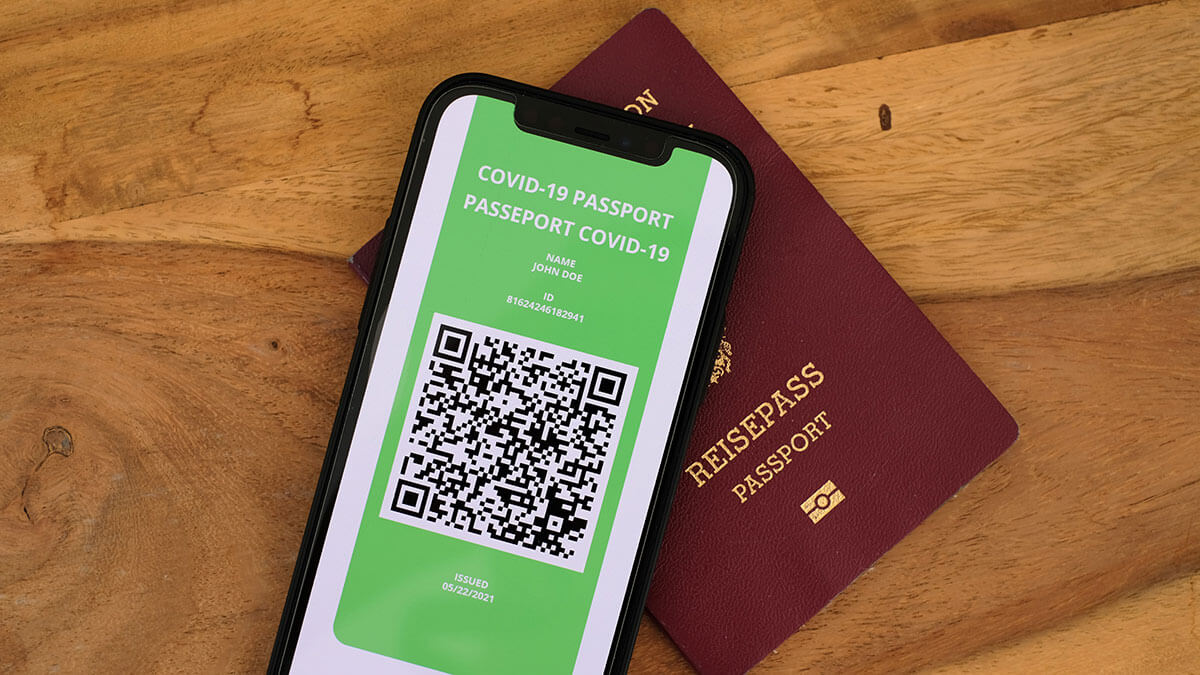 The Green Pass is composed of a QR code with a digital signature as well as some personal information.
You can either take a screenshot of it, print it or save it to your iPhone wallet. To save the Green Pass on your iPhone wallet, simply:
Take a screenshot of the Green Pass.
Click on Add to Wallet and then Add.
How do you get the COVID Green Pass in Italy?
As said before, you can obtain the green pass if you:
Received the COVID vaccine (even with the first dose).
Received a negative test result in the past 48 hours.
With any of these scenarios, you can obtain the Green Pass in different ways.
Ways you can obtain the COVID Green Pass:
The easiest way is through the app IO. 
IO is an app that can help you manage any national public service, from car registration to local matters and the Green Pass. 
To log in to the app you need either a SPID account or an Electronic Identity Card.
The SPID is a digital identity and it's very easy to get. I personally suggest getting it through Poste Italiane as it's easy, quick and all the verification methods available are free. To obtain SPID, you need a valid Italian identification document, an email address and a phone number. 
Once you have the required documents, you can register for SPID either online, through the PosteID app or at a post office.
This method will not only make it easy to receive the Green Pass but to do lots of other government transactions more efficiently.
The other ways you can obtain the Green Pass without SPID are:
On the Italian Government Website where you can use your health card number along with the code, you received after the vaccination, test or having recovered from the virus.
Through a pharmacy or GP.
Through Immuni by using the same code and health card number as mentioned above.
Final Thoughts
Whether you believe in the use of the Green Pass or not, this is a step that aims to get all of us into a new normality. Having it mandatory for certain situations ensures that everyone can feel safe about their and other people's health. If you don't want to get vaccinated it's your choice and you can still get the Green Pass. The COVID vaccines might have shown up way faster than other vaccines did but this happened because it was, and still is, an emergency situation. 
Every possible researcher, doctor and facility joined forces to create them. Countless minds, time and money went into them because it's a massive help in fighting and learning how to live with COVID. For sure, they are not impenetrable shields nor are they perfect or have 100% efficacy. No vaccine is perfect.
But they help.
They help your body learn about COVID, understand it and give it a greater chance of survival. They reduce the risk of spreading COVID to other people whose bodies might not be strong enough to win the battle.
They are not here to control your body or mind but to try and give you a greater and better chance at living your life. COVID has already and still is, taken the lives of many people who might have had better chances if a vaccine was available.
Finally, the vaccine is not the ultimate answer. However, it's the best and most powerful tool we currently have in order to get our freedom back while not harming ourselves or others.
Pin it for later!