Rome travel guide: let the eternal city amaze you!
It's the city of contrasts as some people love it while others hate it. But it's also where you can find so much art and history that can even feel overwhelming. It can be a challenging city to visit but keep reading my Rome travel guide to make your Rome adventure hassle-free!
Rome, the eternal city, home of one of the most ancient cultures, art, history, culture, technological inventions, modern society and buildings which still stand after 2000 years. Once the capital of the ancient world, it's now visited by so many tourists who dream about "la dolce vita".
This Rome travel guide may contain affiliate links. If you use these links I receive a commission, at no expense to you, that helps this blog run. All opinions are always my own.
How to get to Rome
It's very easy to get to the capital city of Italy. You can fly in from, basically, all over the world or get there by train from anywhere in Italy and surrounding European countries.
The main, and busiest airport in Italy, is Rome Airport Leonardo da Vinci. This is where most of the international flights land to and it's located half an hour from the city centre. The other one, Ciampino, is often used by low-cost airlines.
If you want to find the best deals and combinations to save money on the flight, then Skyscanner is the best way to tool to do so.
From the main airport, you can easily get to the city by taxi, bus or train. My suggestion to you is to catch the Leonardo Express train as it will save you money and it stops directly at Roma Termini, the main train hub in Rome.
When to go to Rome
You will rarely see Rome empty or quiet as it's one of the busiest and most visited cities in the world. However, there are still some periods of time when the city is more enjoyable, cheap and less touristy than others.
Winter goes from mid-November to early March and it is definitely the off-season. This is when you can save the most in terms of money and it's, usually, the least preferred season for many tourists. Temperature-wise, the average temperature is around 8-9 °C (46 °F).
Summer is when Rome gets completely packed with tourists and it's when the weather gets very hot. It goes from May until late September and the average temperature is around 30-32 °C (89 °F). Also, the first two weeks of August is when many businesses close for vacation.
Spring is the best time if you want a balance between good weather, affordable prices and the number of tourists. It goes from mid-March to early May and the average temperature is around 15-17 °C (64 °F).
How to move around Rome
Rome is a very busy city, so it can take some time to get to a certain place no matter if you drive or catch public transport. Using the metro, buses or trams is the most affordable option as they cover the whole city.
Public Transport in Rome
A single ticket for either metro, bus or tram costs €1,50 and it's valid for 100 minutes from its first validation and only for one journey.
You can also buy a 10-trip ticket for €15 or a 1-day pass for €7 which allows you to take unlimited trips. Finally, a two-day or three-day pass are available for €12,50 or €18.
Renting a car
If you prefer to have the freedom of a car, along with renting it, Rome offers a lot of car-sharing services like car2go or Enjoy which start for €0,19 per minute or €50 per day.
Roma Pass, the best choice
A great tool that is worth to buy is the Roma Pass. If you are staying in the city for up to 3 days (which is the minimum stay in my opinion), it's a great choice as it allows you to:
Use any public transport in the city for free;
Get free access to one or two historical sites depending on whether you buy the 48 or 72 hour pass;
Dedicated access to historical sites like Castel Sant'Angelo, Colosseo and Musei Capitolini;
Discounts on exhibitions, events and other cultural services;
A map showing the most interesting sites in Rome.
The prices (as of right now) are:
€32 for the 48 hour pass;
€52 for the 72 hour pass.
Try and avoid people who try to sell you discounted tickets or skip the queue passes because they are not legitimate.
Where to stay in Rome
When it comes to staying in Rome, the choices are endless. If you are on a budget, then I'd suggest you check hostels on Agoda as it always provides you with the cheapest deals.
Comfort Inn Roma Termini or Hostel Carlito are some of the best hostels in terms of quality and value for money. They are both located very close to Termini train station from where you can easily access the rest of the city.
Couchsurfing is also widely available in the city and it allows you to save even more money while interacting with locals. If you prefer to use Airbnb, private rooms start from €50 and up.
When it comes to more luxurious accommodation, have a look at:
Mercure Rome Colosseum Centre is where my friend and I stayed at when we went to Rome. It's located right across the Colosseum and it has a wonderful rooftop pool where you can enjoy a breathtaking view of this architectonical masterpiece.
Made in Rome B&B is also located in the heart of the city and it has a rooftop terrace overlooking the Imperial Fora and Altare della Patria. Also, it's a quick 13-minute walk from the Colosseum.
What to explore in Rome
When writing this Rome travel guide, I knew it wasn't going to be easy to decide which places to include and which not. Wherever you go in Rome, you'll end up admiring something that was built centuries ago. From churches, temples, theatres to castles and government buildings, it's hard to get tired of it. Some of the timeless locations to visit over and over are:
Colosseum
The Colosseum is a must-do and see. The largest amphitheatre ever built and one of the modern seven wonders of the world. Go there early in the morning because trust me, it gets very busy! Get in and then spend as much time as you wish while learning about its history and trying to imagine how it was like 2000 years ago!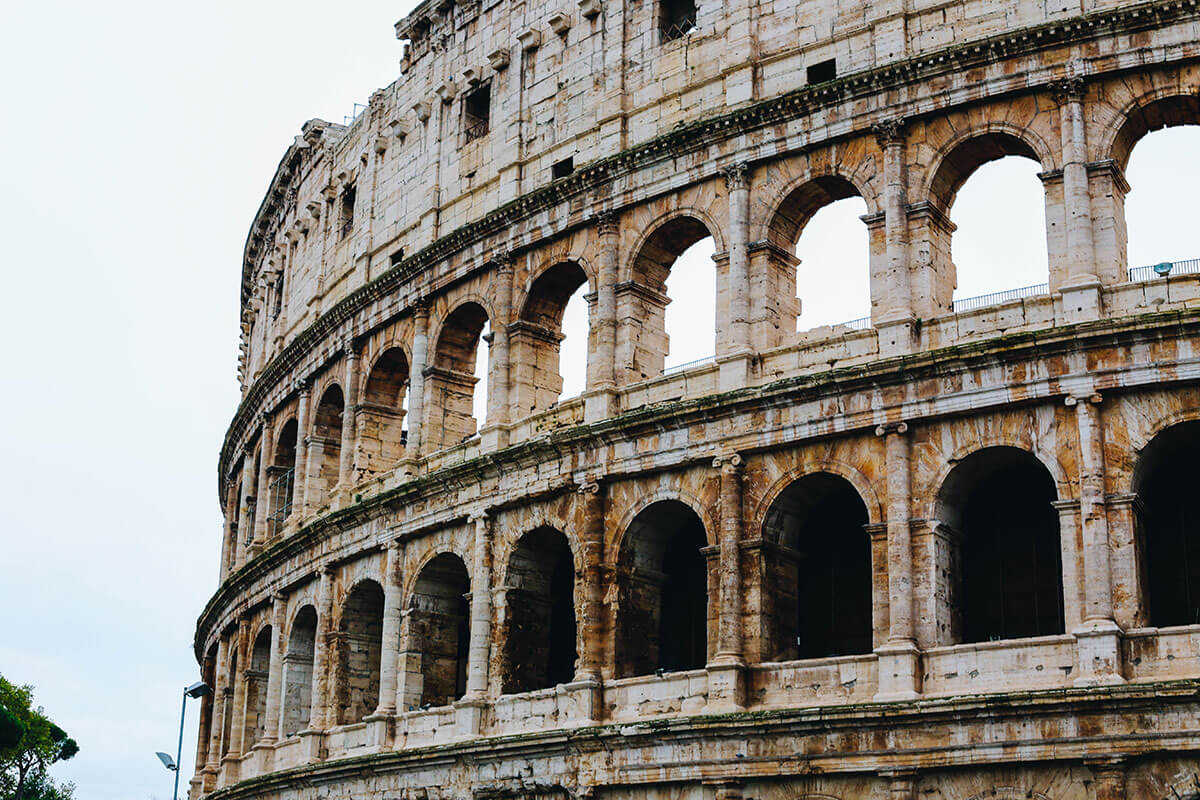 Castel Sant'Angelo
Also known as the Mausoleum of Hadrian, it's a round-shaped castle originally built by Emperor Hadrian. It was then used as a prison, papal residence and now as a museum.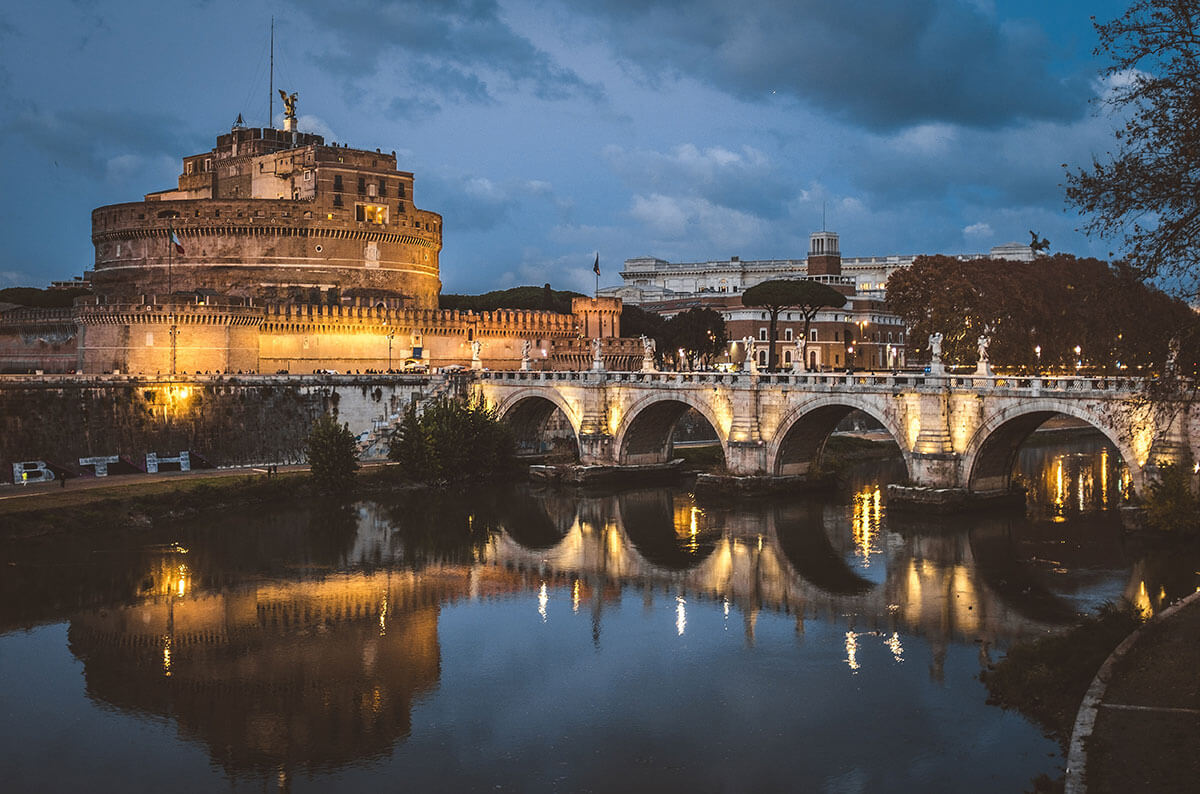 Pantheon
A majestic church that was first built to be a temple. Perfectly preserved, it also has the world's largest unreinforced concrete dome.
Interesting fact: at midday of the summer solstice (21st of June) the sun shines down through the oculus and creates a perfect line in the middle of the building!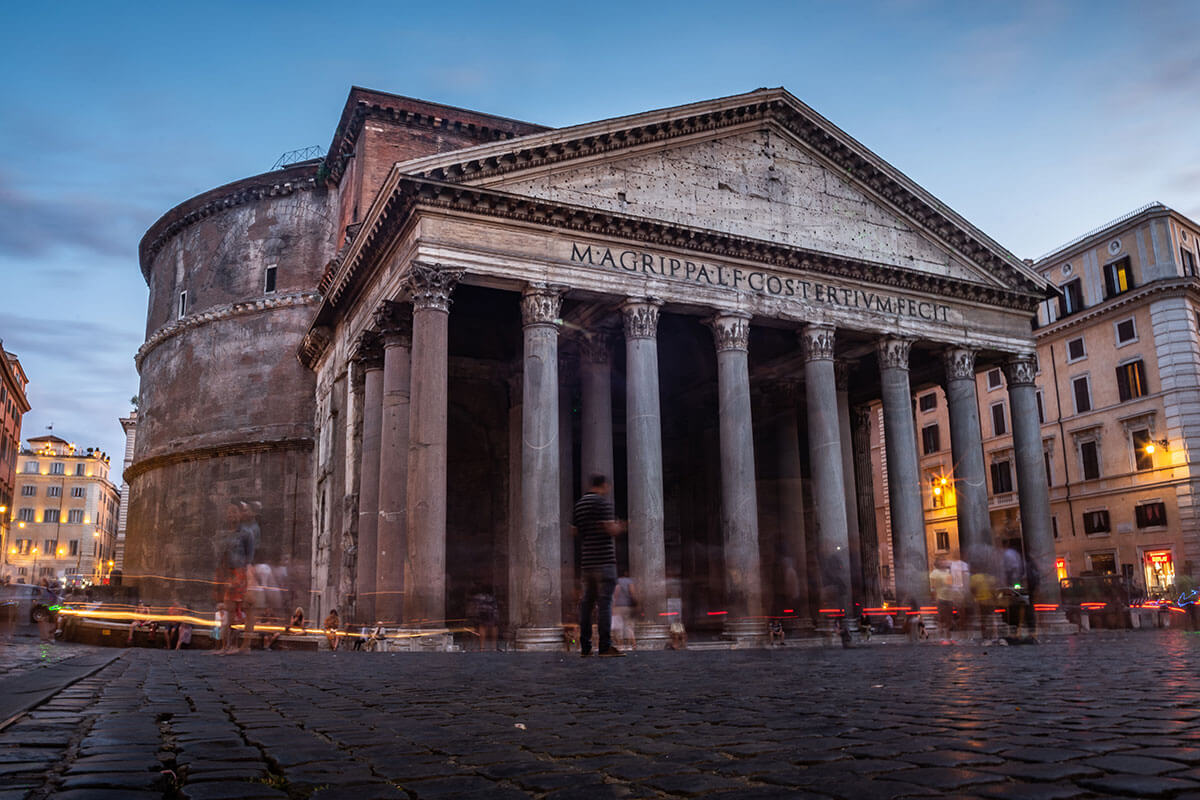 Trevi fountain
The largest fountain in Rome, it is definitely a staple in the city. Many people go there to throw a coin and make a wish. If done using your right hand and over your left shoulder, then you will visit Rome again.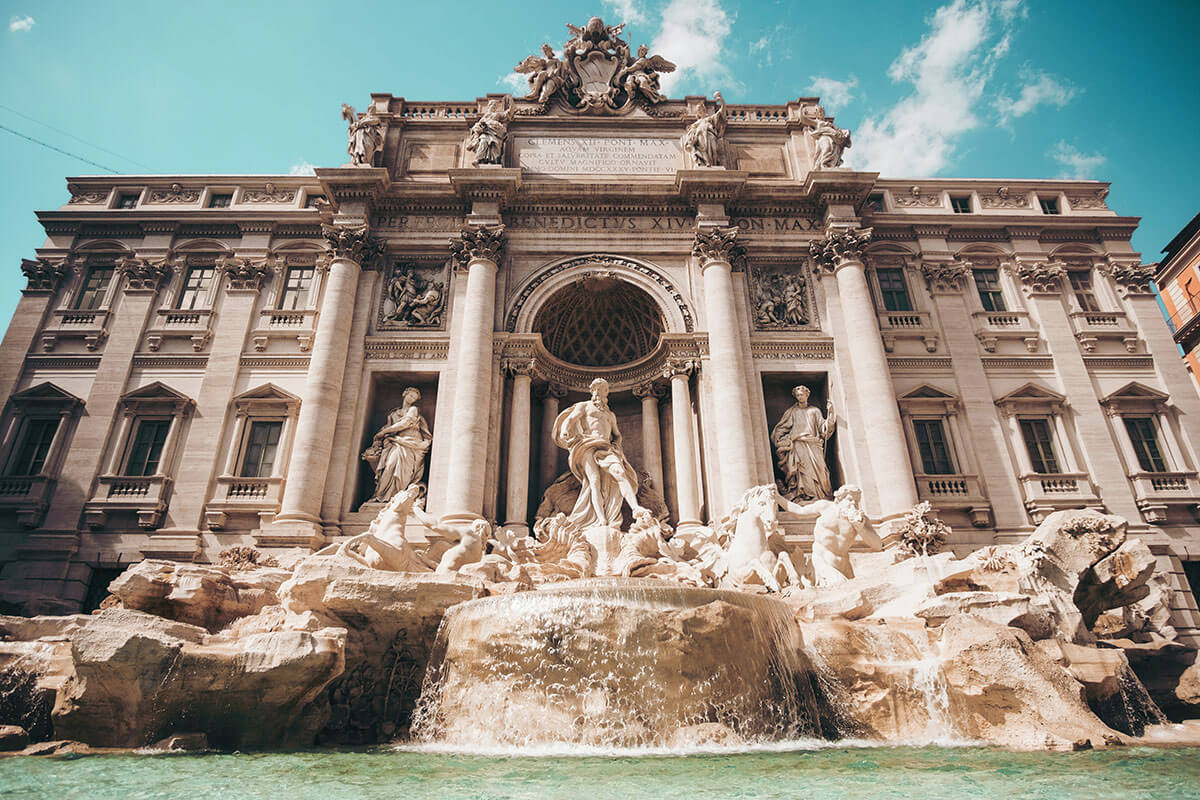 Altare della Patria
It's a modern square, or forum, built in honour of Vittorio Emanuele II, which was the first king of a unified Italy. It's also one of the most famous national symbols of Italy.
Spanish Steps
These worldwide famous steps are a very popular meeting hub and they are located between Piazza di Spagna at the bottom and Chiesa di Trinità dei Monti at the top.
Musei Capitolini
If you enjoy visiting museums, then a stop to the world's oldest public museum is a must. The Musei Capitolini are located next to the Campidoglio and the Altare della Patria and there you will be able to see many art pieces strongly connected to the history of Rome.
Vatican City
Although it's another country, Vatican City is a place you cannot miss visiting. The abundance of art and history confined in such a small area is immense. Places like Saint Peter's Basilica, the Vatican Museum and the Sistine Chapel are some true masterpieces to visit and admire.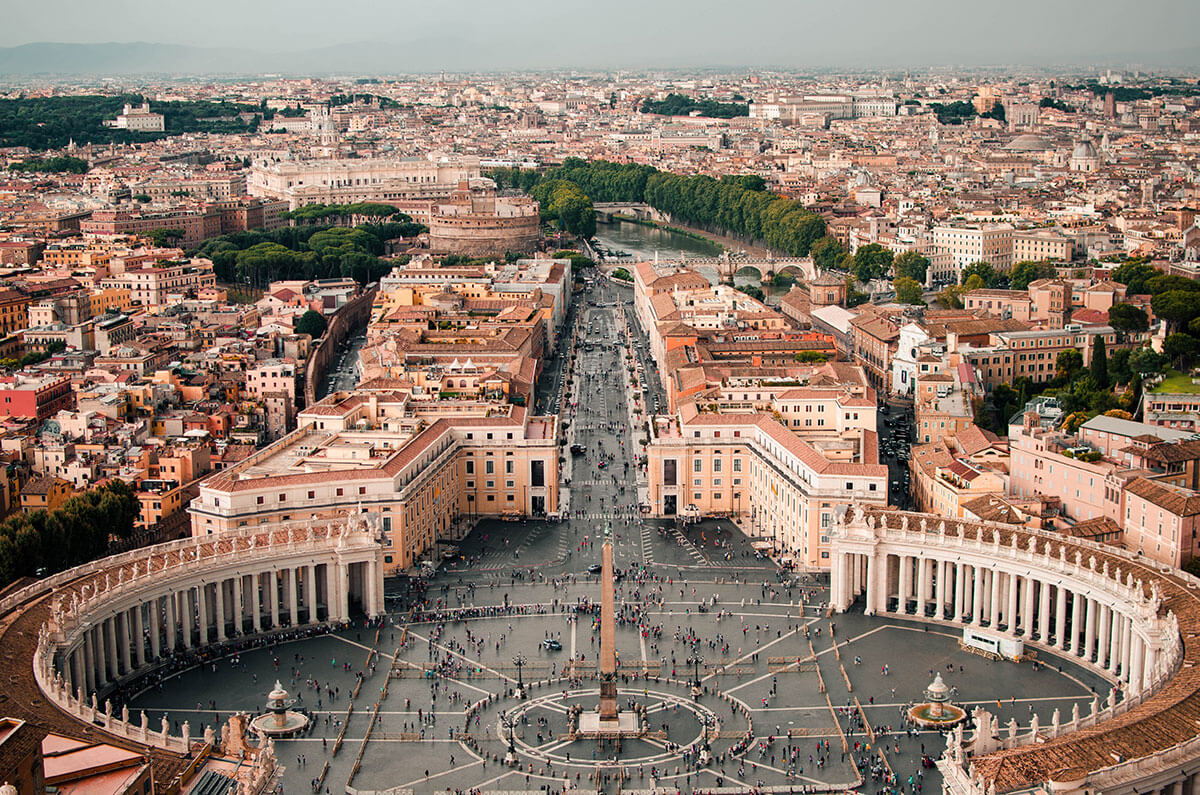 Another way to learn more about Rome's history and curiosities is to take a free guided tour of the city.
Secret spots in Rome
Everyone knows about the places mentioned above. They are stunning, breathtaking, timeless and very popular. However, Rome has a lot more to offer and some locations are equally beautiful but less busy or touristy. That's why I wanted to include a few of them in this Rome travel guide.
Palazzo della civiltà Italiana
A perfectly square-shaped building located in the EUR suburb of Rome. Its goal was to show and symbolise the Fascism to the world. Nowadays, it operates as a museum managed by Fendi.
The mouth of truth
An ancient mask that you can see if you visit the Church of Santa Maria in Cosmedin, near the Forum Boarium. It's said to bite the hands of who lies so, be aware of it!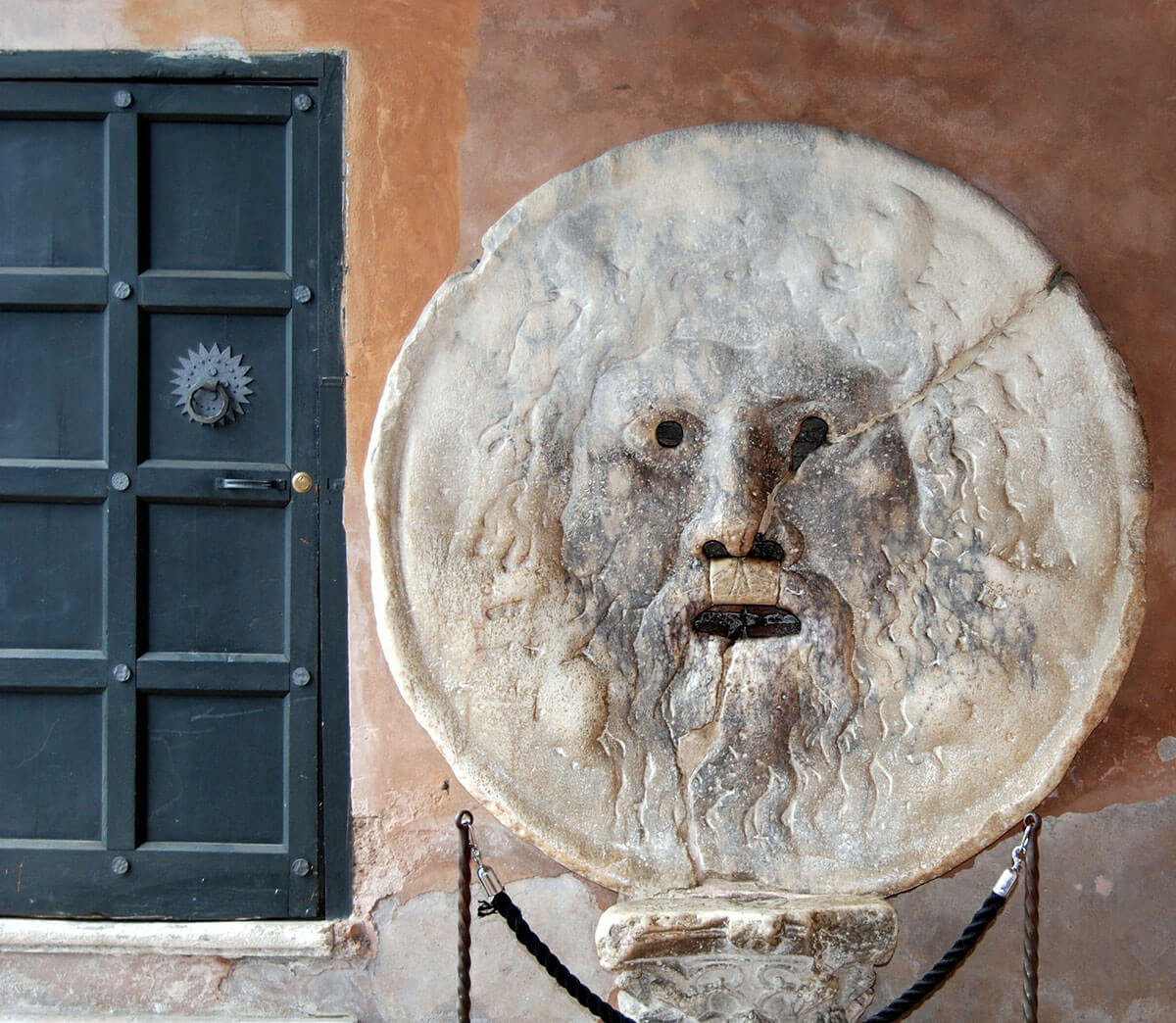 Pyramid of Cestius
Who said that to see the Pyramids, you have to go to Egypt? Just stop at the metro stop Piramide and you'll be able to admire a well-preserved pyramid. It was built as a tomb and it's 37m high.
Giardino di Palazzo Venezia
Located in the heart of the city and only within 15 minutes walk from the Colosseum, these public gardens have been through a 6 million euro renovation and opened to the public in 2016.
Knights of Malta Keyhole
If you want to see the dome of Saint Peter's Basilica from the most unique perspective, then what's best than a keyhole? It's 1 km from the Piramide of Cestius so you can visit them at the same time.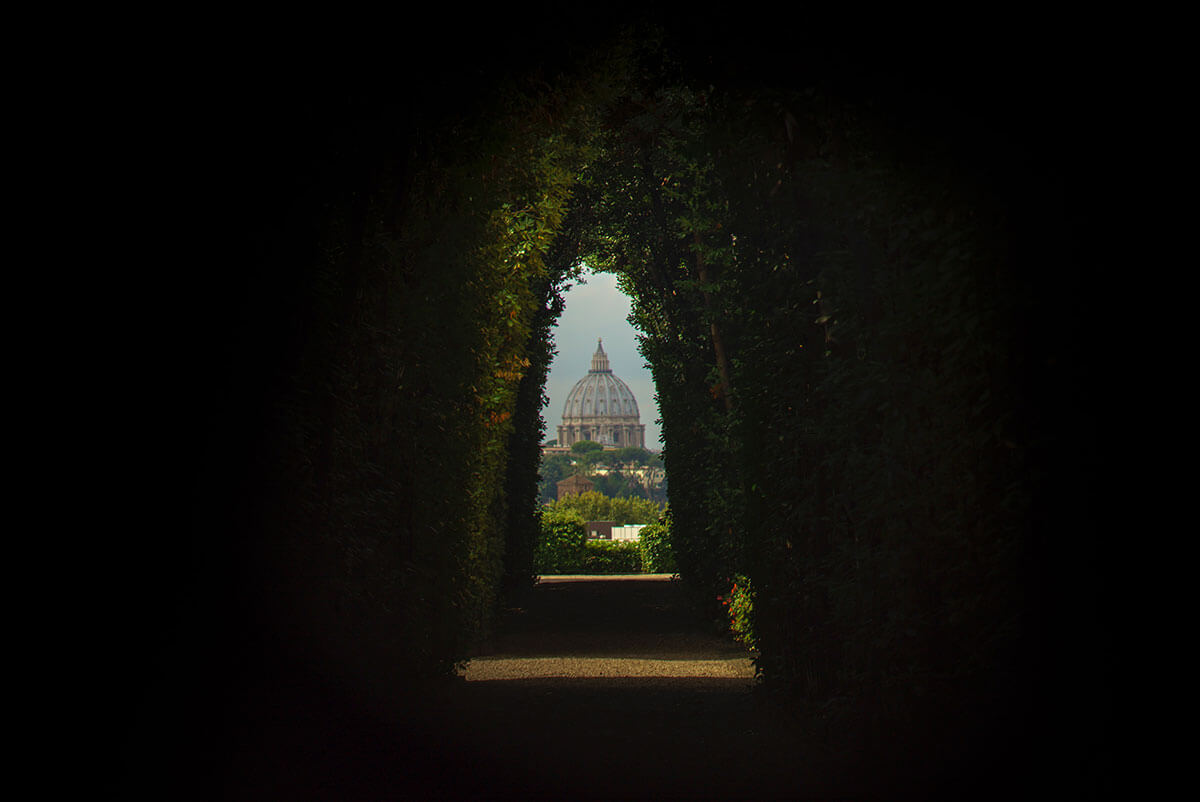 What and where to eat in Rome
When talking about Italy, food is one of the first things that comes to mind and Rome is home to many famous and tasty dishes. Food is deeply rooted into Italian culture so I highly suggest you trying a few of these local dishes:
Spaghetti alla carbonara: a mix of eggs, guanciale and pepper. It is said to be invented by a Roman chef for some American soldiers in 1944 but it's now a staple of the Roman cuisine.
Amatriciana: this is a sauce to add to your pasta and people say it was one of the farmers' main dishes and, at first, it didn't have tomatoes. Either way, it's very popular in Rome and Italy and it's made with guanciale, pecorino and tomato.
Penne all'arrabbiata: another pasta dish but this time vegetarian and vegan friendly! The name "Arrabbiata" translates into "angry" and it might come from the fact that the chilli in the sauce can turn your face red!
Carciofi alla romana: this is another dish that comes from the farmers' "menu". The artichokes are cooked in water and oil along with a lot of fresh mint.
Trippa alla romana: it is traditionally eaten on a Saturday and it's a very simple meal. It's a mix of different parts of the stomach of a bovine cooked in a tomato sauce.
Maritozzo con la panna: a typical dessert consisting of a sweet bread filled with whipped cream. A very simple but tasty treat usually eaten for breakfast.
Restaurant suggestions
Da Gino al Parlamento is a staple in Rome. Located very close to Palazzo Montecitorio (the Italian Parliament), it offers traditional Roman dishes at an affordable price.
Osteria da Angelino it's just a few metres away from the Colosseum. If you want to stay close to the city centre and still have some good food, then check them out.
Forno Campo de' Fiori located in Campo de' Fiori. It's a bakery beloved by many locals and visitors. You can find a wide selection of pizza, focaccia, bread and more.
If you love cats and want to eat some tasty Vegetarian/Vegan food then look no further than Romeow Cat Bistrot. Located next to Roma Ostiense train station, it's not very close to the city centre but it's a worthwhile place to check out!
Ma Va'? restaurant is another yummy vegan place located 2 km south of Vatican City. They specialise in turning traditional Roman and Mediterranean dishes into vegan-friendly ones.
Final thoughts
Rome is a city to visit, admire and get lost in at least once in your lifetime. It's so rich in culture, art, food and friendly people that it will be hard to forget. I hope this Rome travel guide has helped you learn more about this eternal city and made you want to add it to your bucket list, if it wasn't already!
Pin it for later!