Salento like a local: the ultimate travel guide
Among the countless beauties that Italy has to offer, Salento is a unique and breathtaking gem. It's also my home region so I really wanted to write this Salento travel guide to share its magic with you. Salento merges tradition and modern gifting you with a very unique experience. It also offers sandy and rocky beaches, deep blue sea, delicious food, art, and music festivals, and a very relaxed lifestyle.
This Salento travel guide may contain affiliate links. If you use these links I receive a commission, at no expense to you, that helps this blog run. All opinions are always my own.
How to get to Salento
Getting to Salento is fairly easy and you can catch buses, trains or planes from most of the country.
The main airports are two:
Bari Airport, which is the biggest one and it's located in the top part of Puglia;
Brindisi Airport, is located at the bottom part of Puglia, which is what we call Salento.
Ryanair is, often, the cheapest airline to fly to Bari or Brindisi, but my advise to you is to check Skyscanner when looking at flights. Trenitalia also runs daily trains to Lecce, which is the main city in Salento. Flixbus is the best company if you prefer to use the bus.
How to move around Salento
The best and easiest way to move around is by renting a car and you are then free to explore any corner of Salento. If you prefer using public transport, it might not be as easy but it is doable. From the beginning of June to the end of September, a service called "Salento in Bus" operates from Lecce to the major beaches and inland towns.
Best time to go to Salento
The best time to go to Salento is summer. That's when the weather is beautiful, you can enjoy the beach and the outdoor, and when many events are on. More specifically, the months of May, June, early July and September are the best ones because prices are not too high and there aren't many tourists around.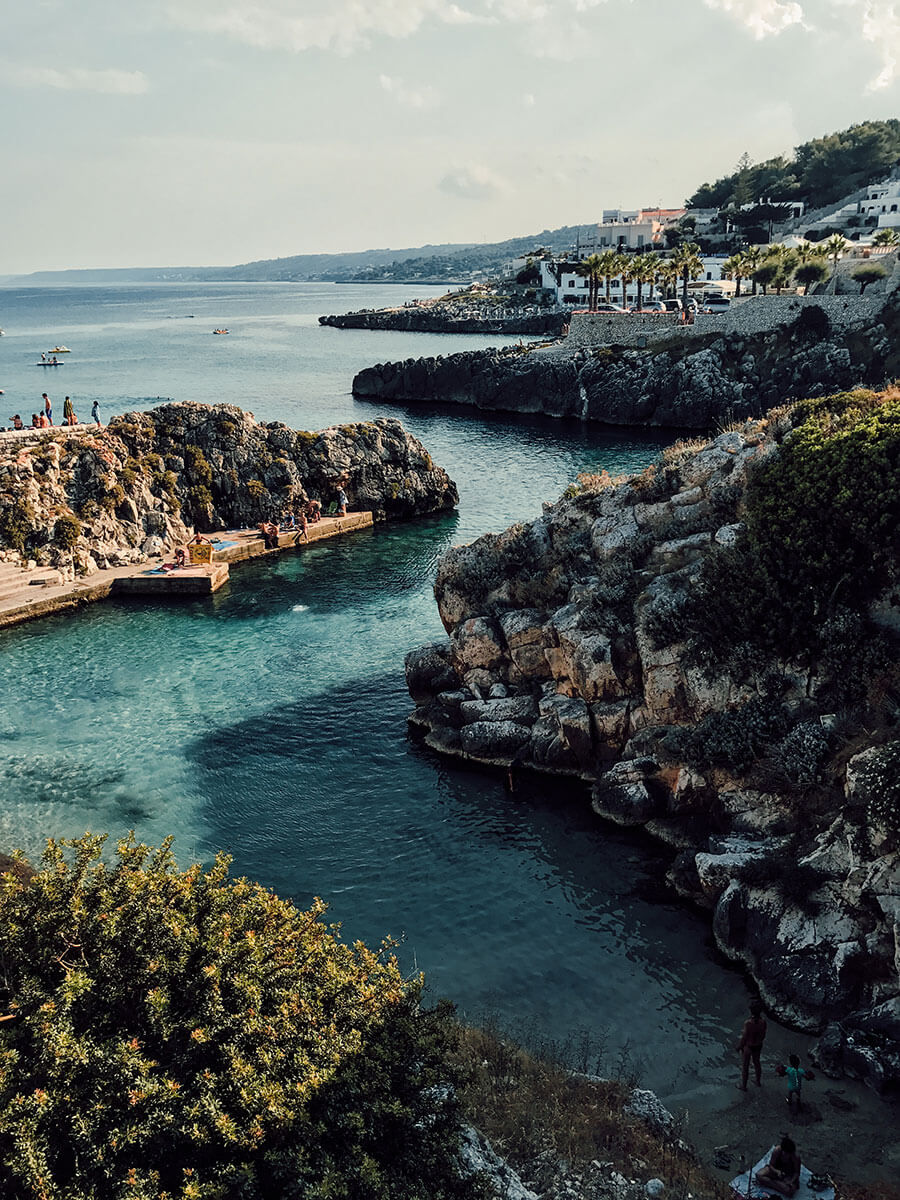 Where to stay in Salento
From Airbnb to hotels, B&B, campsites, and luxury masserie (they were an old and big farm where rich people and their workers lived, which are now converted into luxury accommodation), there are countless accommodation options to choose from.
Hotels and masserie
Badia del Casale: is located at Ugento and it's a former convent now used as luxury accommodations. It's very close to the Maldives of Salento and Lido Cocoloco while still being private and enclosed.
Masseria Sant'Eleuterio: is more inland and very close to my hometown; it's great if you want to relax and you are more interested in exploring the towns rather than the beach.
Hostels and campsites
UP Room&Suite: is right in the city centre of Lecce so you can walk anywhere you want to.
Baia di Gallipoli: this is a great place if you prefer to camp in your tent or are travelling with a camper. It's pet-friendly, there is an entertainment area for kids and they provide a free shuttle to the beach Punta della Suina which is across the campsite.
Airbnb is also widely popular in the area. You can find rooms or apartments in the centre of Lecce or around the beach from €25 and up.
Finally, if you want to save money while also meeting locals, I strongly suggest you checking out Couchsurfing and Workaway. I used them both during my travels and a lot of my most memorable adventures are thanks to them. Especially while in New Zealand, they helped me keep my budget low and live truly unique adventures! You can read more of them on my New Zealand on a budget post.
Exploring Salento's beauties
Beaches and Nature
You can't visit Salento and not going to the beach. There are a lot of them and for any taste.
Beaches in Italy are, often, divided into private and public.
Private beaches are for whoever wants to just drive there with their towel and not having to worry about anything else.
You rent the beach chairs, umbrella, or even a gazebo and enjoy the day. There's always a cafe where you can chill while listening to some music or buy cocktails, snacks, food or fresh juices. Plus, there are toilets.
Private beaches I suggest to you:
Lido Cocoloco: pristine and golden sandy beach, chill music, great food, and relaxing atmosphere.
Lido Punta della Suina: it's located in Gallipoli, on a rocky section of land surrounded by blue and turquoise water.
Caicco: a one of a kind spot located in Santa Cesarea Terme. Built on a cliff with easy access to a deep blue ocean that will blow you away. The water is rich in sulphur, so it's also very good for your skin and body.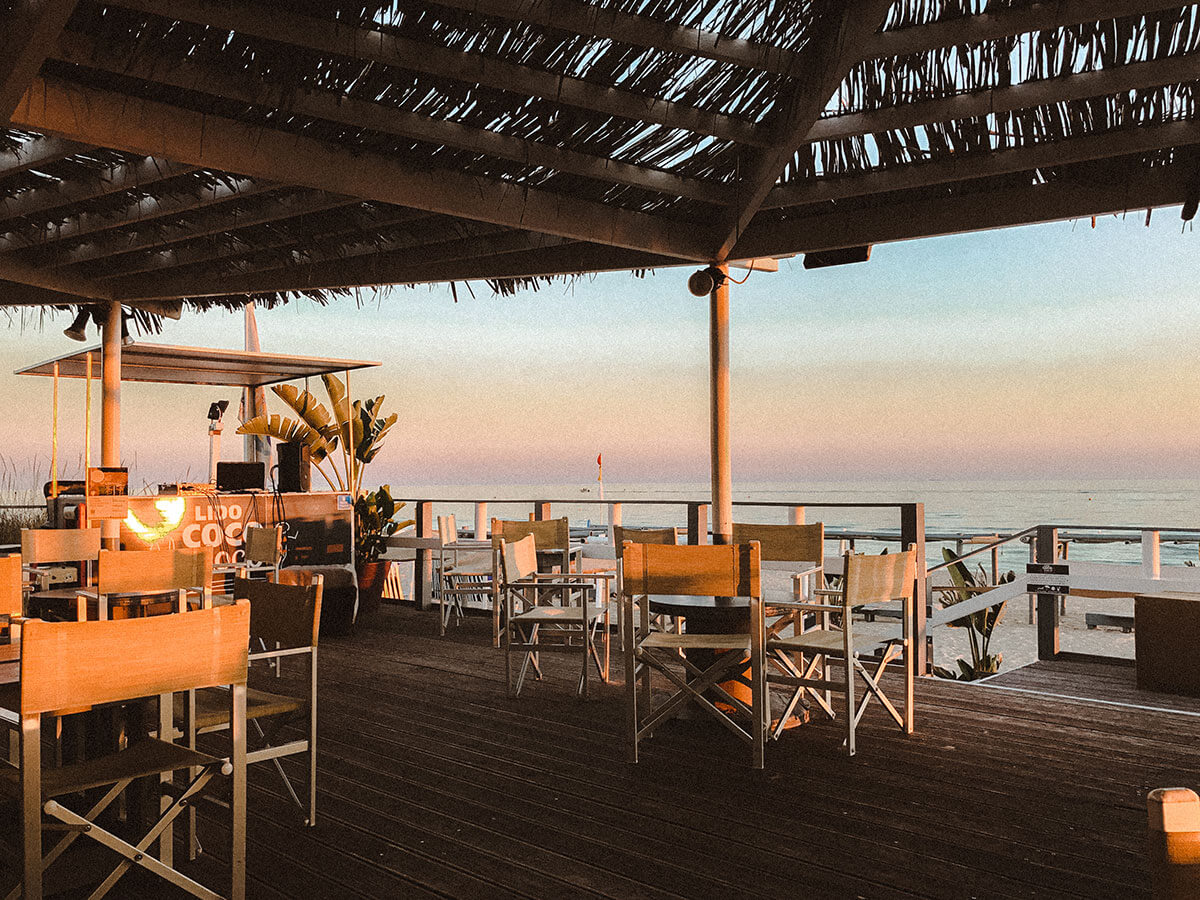 Public beaches are often located next to the private ones and they are free to use.
There are countless breathtaking and worthwhile public spots to explore and enjoy, but these are some of my favorite ones:
Grotta della Poesia: a green emerald natural pool surrounded by beautiful rocky structures. One of the most beautiful spots in Salento, it's said to have been the port of call of the Trojan hero, Aeneas.
Otranto: what I love about Otranto is its harbor and historical town. Even though many boats navigate its water every year, it's hard to say so. It is so clear, colorful and calm that you wouldn't want to miss swimming in there. Also, once you step into its town, you'll get carried to a different time.
Faraglioni di Sant'andrea: famous for its massive sea stacks in the middle of a very deep blue water. It's located between Grotta della Poesia and Otranto, so it's hard to miss.
Ciolo: a very popular beach among locals because it is right under a very tall bridge from where, some people, like to jump off. It's not encouraged because it's very dangerous.
Santa Maria di Leuca: the southernmost point of Puglia and it's where, the story says, you can see the two seas, Adriatic and Ionian meet each other. If you want to try and see it, head to the lighthouse and you'll be able to overlook the whole town and seas.
Pescoluse: known as the "Maldives of Salento" due to the pristine blue water and golden sand.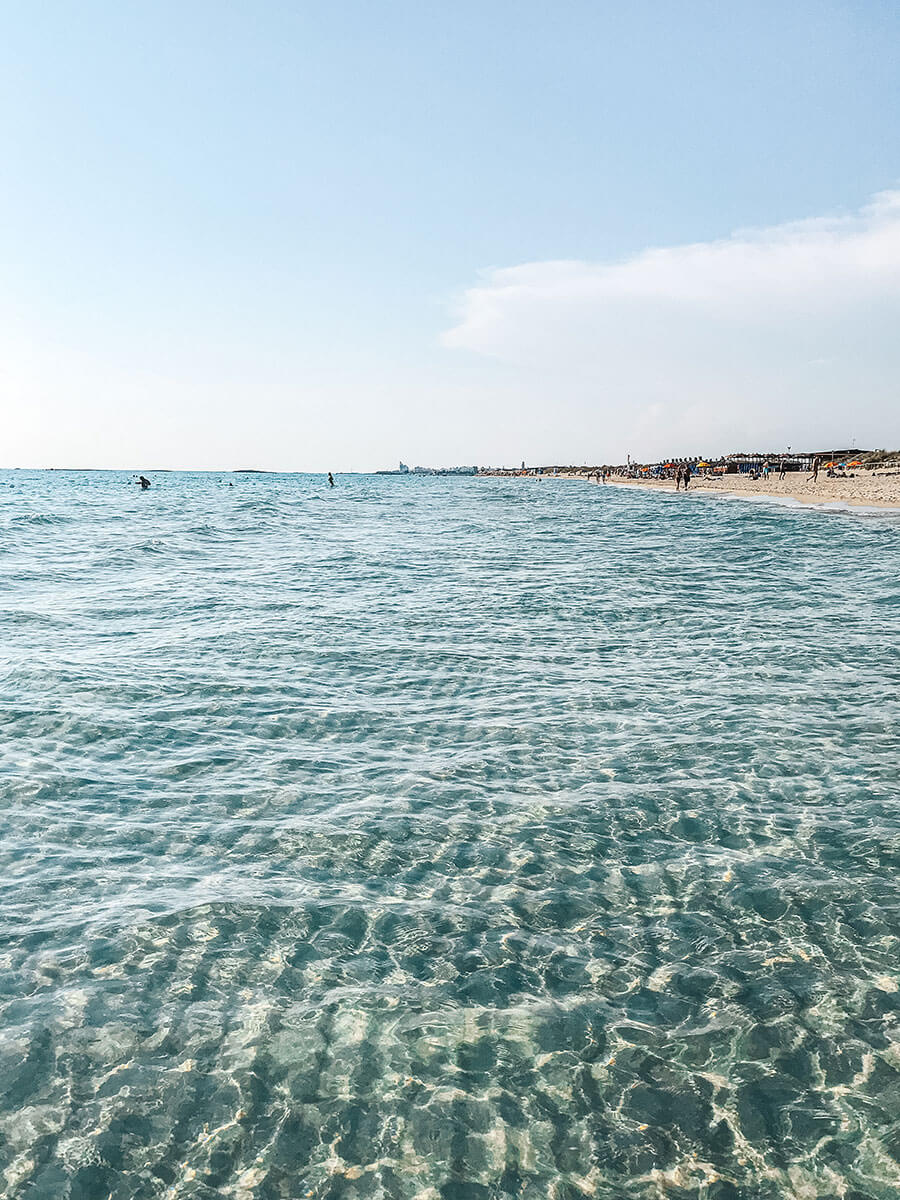 Special mentions (not beach)
Grotta della Zinzulusa: a very old series of caves where you can see secular stalactites and stalagmites located in Castro
Bauxite cave: an abandoned cave, in Otranto, used to extract Bauxite. Nowadays, nature took it back and it's a very unique spot because the soil is a rich red colour while the lake in the middle is a deep blue and emerald colour.
Culture
If you are more into cultural sites, well, Salento has a lot of it!
Lecce is artistic heaven. There are art and history everywhere you look at and it's the capital of the Baroque style. Also, it's famous for its sandstone called Pietra Leccese, and Cartapesta (Papier-mâché).
Churches are something you'll see very often. There are, at least, one to two churches in every town but Lecce has a wide choice of them.
Chiesa di San Matteo: it's a very unique church due to the mix of a convex bottom and a concave top. Also, it's a relatively small church but very tall.
Basilica di Santa Croce: this is probably the most famous Church in Lecce and it's the highest demonstration of Barocco leccese. Its most peculiar feature is a big rose window at the top of the building.
Lecce Cathedral: it's the most important church in the city and it's the seat of the Archbishop of Lecce. The exterior is not highly decorated but, at night, the whole church, square, and bell tower get light up and it's truly beautiful to see.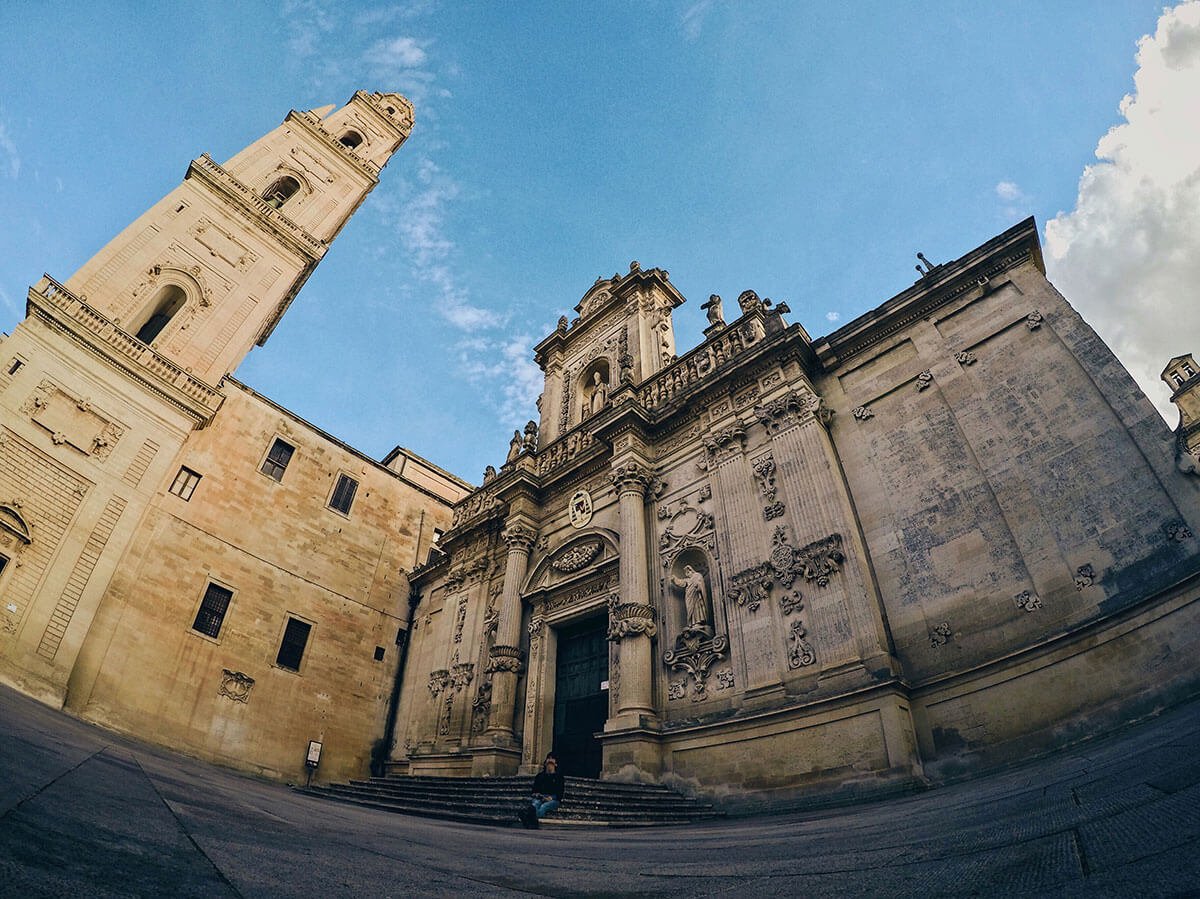 Not a church, but a special mention goes to the Roman Amphitheater located right in the center of Lecce. Built on the I-IIAC, it was a gift from Augustus to the city.
Finally, while walking around the city, you'll probably see three massive doors in different areas. Their use was to defend and to access the old town and were built between 1500 and 1700.
Other than Lecce, the old centres of towns like Otranto, Gallipoli, and Santa Maria di Leuca will show you how life was like a few centuries ago and you'll be able to see old people living in very narrow streets and enjoying their life while making pasta.
Taking a free or paid guide tour of Lecce is something you should consider doing as it will help you understand more of its story and traditions.
Pay a visit to the Otranto Cathedral because you'll be able to see the remains of the 813 Otranto Martyrs killed in 1480 when they refused to convert to Islam.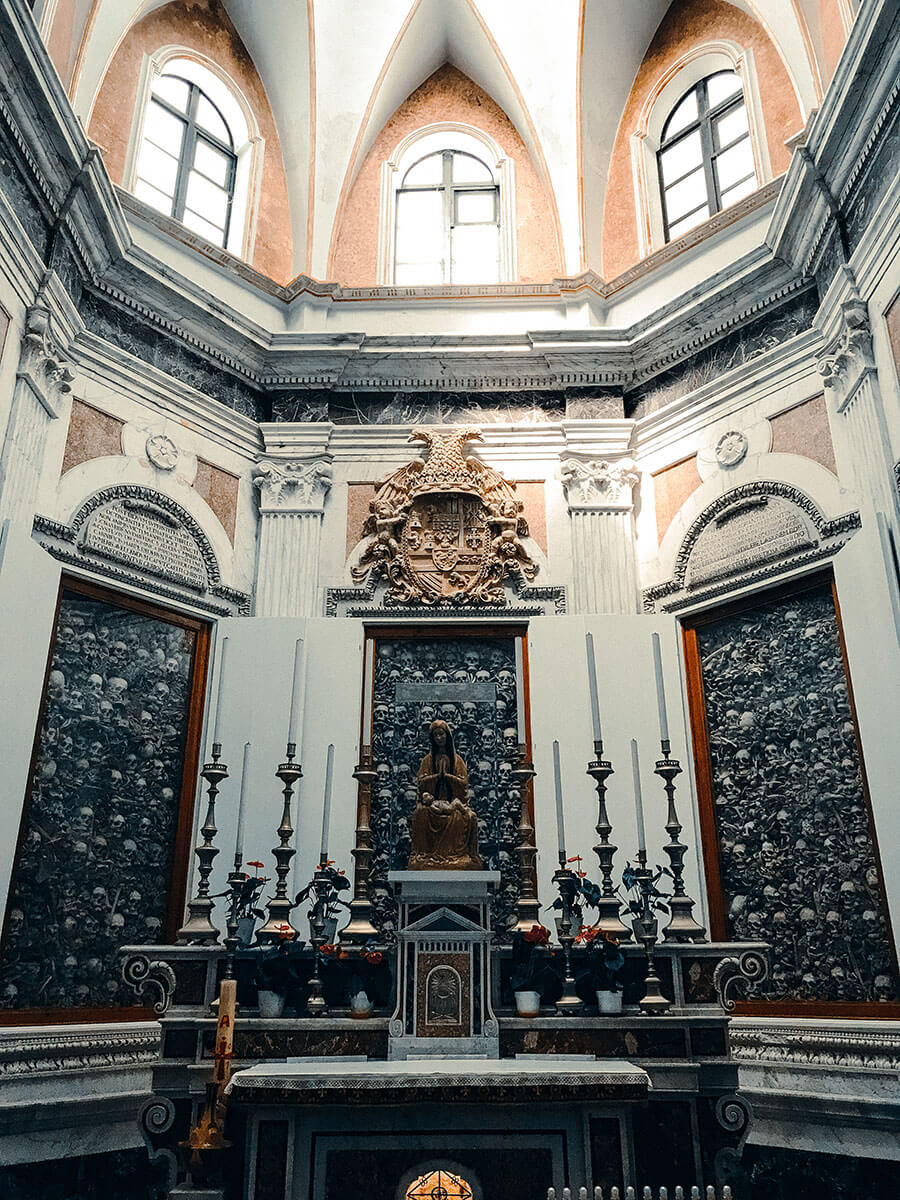 North of Salento, you can explore:
Ostuni: commonly known as "the white town", it's built on a hill and most of its buildings are completely white. Ostuni is also popular among many immigrants and expats.
Alberobello: famous for the "trulli", small structures built using dry stone with a conical roof. They were used as a temporary house or storage, while now most of them work as shops or small residences for people to rent.
Castel del Monte: a very unique castle shaped like an octagonal prism with an octagonal tower at each corner and it's also a UNESCO World Heritage Site.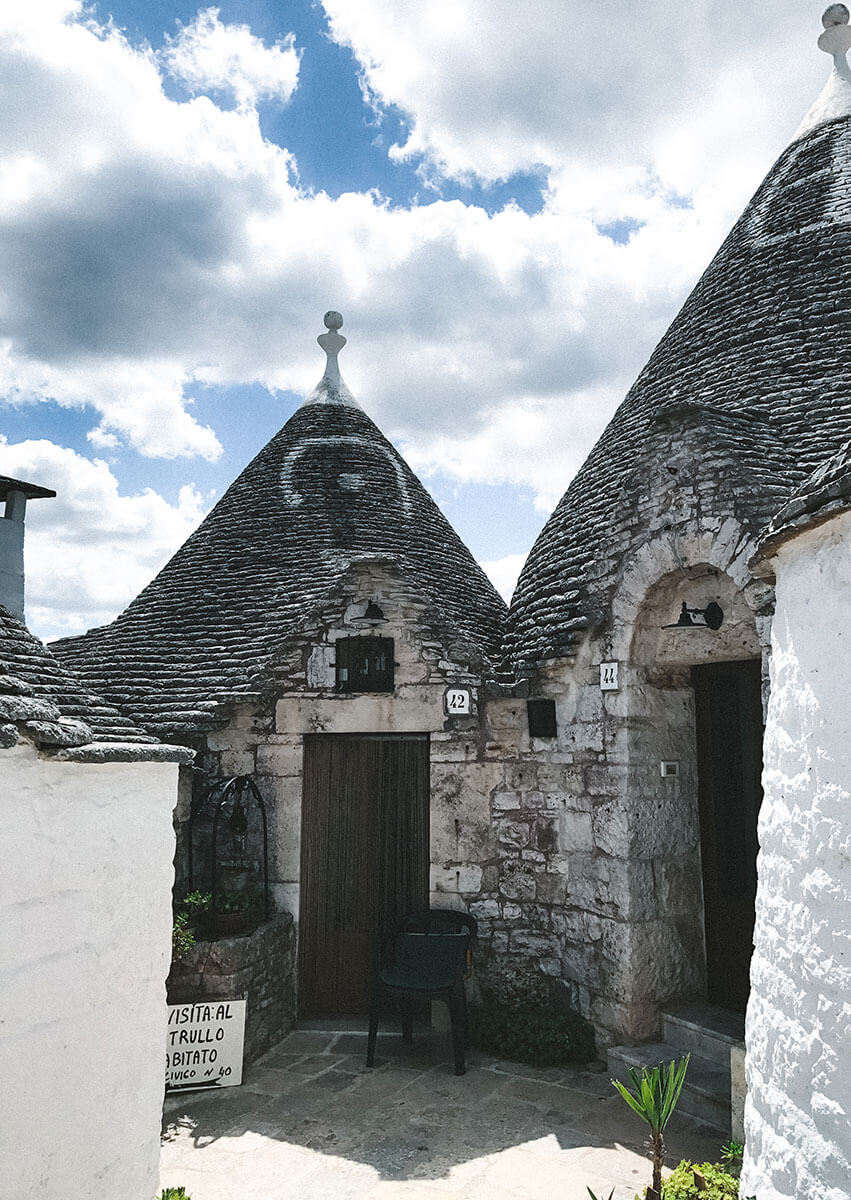 Souvenir buying tip: there are a lot of unique products that you can buy as souvenirs. I highly suggest you checking out the small shops in Lecce selling Papier-mâché or Pietra Leccese creations.

Extra virgin olive oil and wine are also a great thing to buy and gift,

Lastly, have a look at the terracotta products made by Fratelli Coli' in Cutrofiano.
Sagre
A "sagra" is a traditional folk festival. Salento is full of them, all year round, and they are a celebration of a specific kind of food and you can eat many traditional dishes, for very cheap, while listening to traditional songs like Pizzica.
Often, the town is decorated with intricate light structures that make the night feel magical.
Festivals
There are a lot of festivals throughout the year, but mostly in summer. From music nights to the ones which celebrate the town's patron.
La Notte della Taranta is the most famous and popular music festival during the "Salento summer". It attracts hundreds of thousands of people, it's where you can listen to traditional songs, local and national artists, and eat a lot of good food.
The final concert happens in Melpignano on the 22nd of August.
The Festa di Santa Domenica in Scorrano is the best festival if you want to see the light structures art at its best. Two big companies show off their best products to declare a winner. It runs on the first weekend of July and I highly suggest going there!
Alba in jazz is a very magical event. It's an yearly event in Marina Serra, usually the night between the 3rd and 4th of August where people get together to listen to jazz music and performers while admiring the sunrise.
What and where to eat in Salento
You can't think about Italy without getting hungry. We have one of the best and richest cuisines in the world and we are very proud of it.
From pizza to bread, focaccia, taralli, bruschetta, seafood, sandwiches filled with a variety of meats and desserts. It's amazing how much variety of food you can eat in Salento, and even while walking and exploring as street food is very popular!
Local dishes
Some dishes that are typical and original of Salento and that I strongly suggest you eat at least once are:
Pasticciotto: this is the most famous dessert from Salento and it's a small pastry which is, traditionally, filled with custard. Other flavours include Nutella, chocolate, ricotta or even pistachio.
Orecchiette con le cime di rapa: we often eat this one on Sunday or when we meet up with the rest of the family. Orecchiette means small ears while cime di rapa is turnip tips and together they create a tasty and fresh dish!
Ciciri e tria: this is another pasta-based dish and ciciri means chickpeas while tria means tagliatelle. On top of the pasta, you get pieces of fried bread on top.
Horse meat: this might be weird for many tourists but in Italy, many people do eat horse meat. I've never had it however, it's a popular ingredient served alone or in a piece of bread.
Frisella: a small piece of bread cooked two times and then soaked in water for a few second and topped with tomatoes, and/or tuna and olive oil.
Mussels, sea urchins, prawns: seafood is also a very popular and beloved food to eat.
Extra Virgin Olive Oil: even though it's not a standalone dish, Salento is famous for its high-quality extra virgin olive oil. So try not to miss tasting it!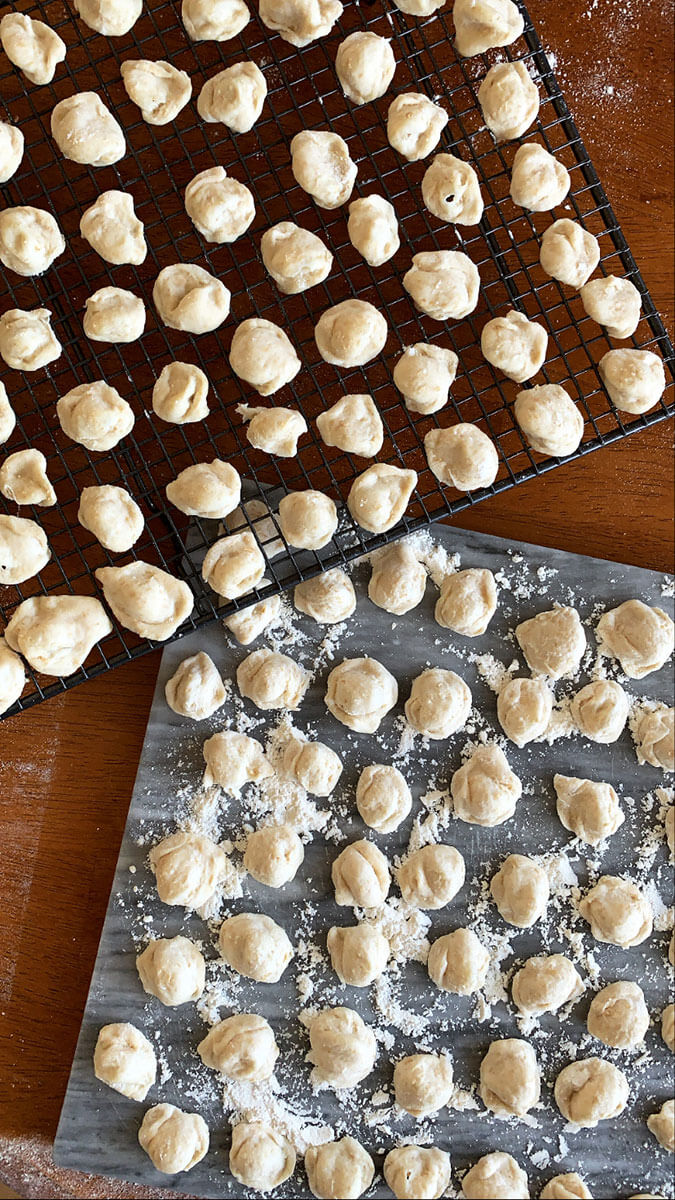 If you are vegetarian, it shouldn't be too hard finding dishes to eat and enjoy. I often don't have any problems with that because the Mediterranean diet is rich in vegetables, fruit, legumes and carbs.
Vegan options are becoming more and more popular in the south of Italy. It might be challenging to find them in small towns, but in Lecce or bigger places you should be fine.
Also, you can take a traditional pasta cooking class where you can learn how to make handmade pasta easily and with fun!
Restaurants suggestions
There are so many places where you eat delicious food but here are some of my suggestions:
Scapricciatiello: located in Lido Conchiglie, is perfect if you like seafood in a rustic, home-style, and waterfront restaurant.
Ristorante Goji: is one of my favourite pizzerias and I always go there when I'm back home. Located in Galatina, a quick drive from Lecce, it makes delicious pizzas using a wide variety of flours, grains, and unique ingredients.
If you are in Lecce and would like a traditional and very tasty restaurant, then Osteria da Angiulino is the perfect match. They make dishes from the Salento cuisine and serve portions just like a Nonna would.
If instead, you want to take a break from Italia cuisine and have some Asian one or sushi, then Fugu Restaurant in Lecce and Kumi in Gallipoli are some of the best. Kumi is located across the sea so you can eat while enjoying the sea breeze.
You might have seen online this famous restaurant enclosed in a cave right on the sea. I'm talking about Grotta Palazzese in Polignano a Mare, named one of the most beautiful restaurants in the world. It's one of a kind place, but get ready to pay quite a bit for it.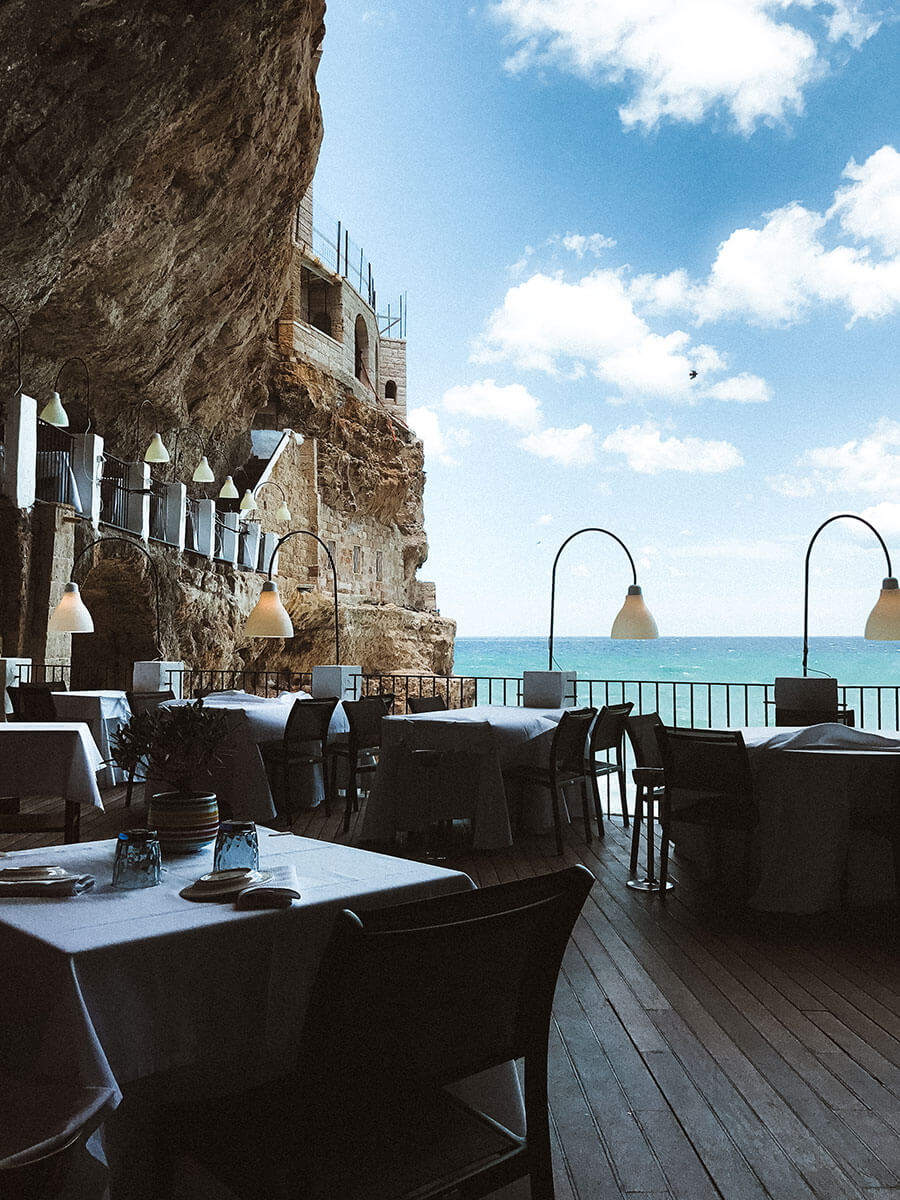 Final thoughts
I might be a bit biased, but Salento is one of the best regions that Italy has to offer. As you now know, it has endless options to satisfy many types of travellers. Food, nature, relaxing lifestyle, history, art, and more.
Hopefully, this guide will help you navigate around my home or add Salento to your bucket list! Look out for my upcoming guides on other beautiful parts of Italy!!
Pin it for later!