Life update: I moved to New York City!
Hi there, you wonderful human beings!
I know it's been way too long since the last time I published something on here and I'm sorry. There are a few reasons why this happened but the bottom line is that I wasn't feeling it and I let the procrastinator side of me win. Moreover, I didn't really know what to write about.
After the trip to Copenaghen and Norway (which I could have written more about), I didn't do much else. I did start working a lot more, which was nice, but I was lacking the motivation to create content. Whether that was blog posts, Instagram posts or else. I felt stuck.
Fast forward to now, though, and I have a big announcement to make! As you can read from the title, I moved to New York City!! At the moment of writing this, I'm one week into this new and crazy adventure!
This is not only my first time in this city but also in the United States. It still feels very surreal to be here. New York City was one of those places that I've always wanted to visit. Still, its intensity and its expensiveness always kinda frightened me.
So, how come that all of a sudden I now live here?!
That's a very fair question!
How and why I moved to New York City
First of all, my move here to New York is only temporary (for now). I will be staying until the beginning of September, the limit I can legally stay in the United States under the ESTA.
Second, the main reason I'm here is thanks to my sister. She is a researcher at NYU and has an apartment until October of this year. However, she will be spending the summer in Europe so I offered to take her place during that time. I thought this was going to be a once-in-a-lifetime experience and had to take it!
Whenever the thought of visiting this city would pop up in my head, I would always think about movies and tv show scenes of people living in apartments overlooking the skyline or enjoying the view from their roofs/balconies.
To me, this kind of image felt beautiful but also rare to actually live in real life, especially as a budget traveller in a city where hostel prices are not that different from hotel ones.
So, when the possibility of living in a full-on apartment with breathtaking views of the city and with Central Park at my doorstep arose, the only answer I could give was "Hell yeah!".
Every time I look out the window and see the skyline of New York, it's not easy to believe that I'm living this life. I genuinely feel like I'm in some sort of movie or show! It feels so strange to think that I actually moved to New York City!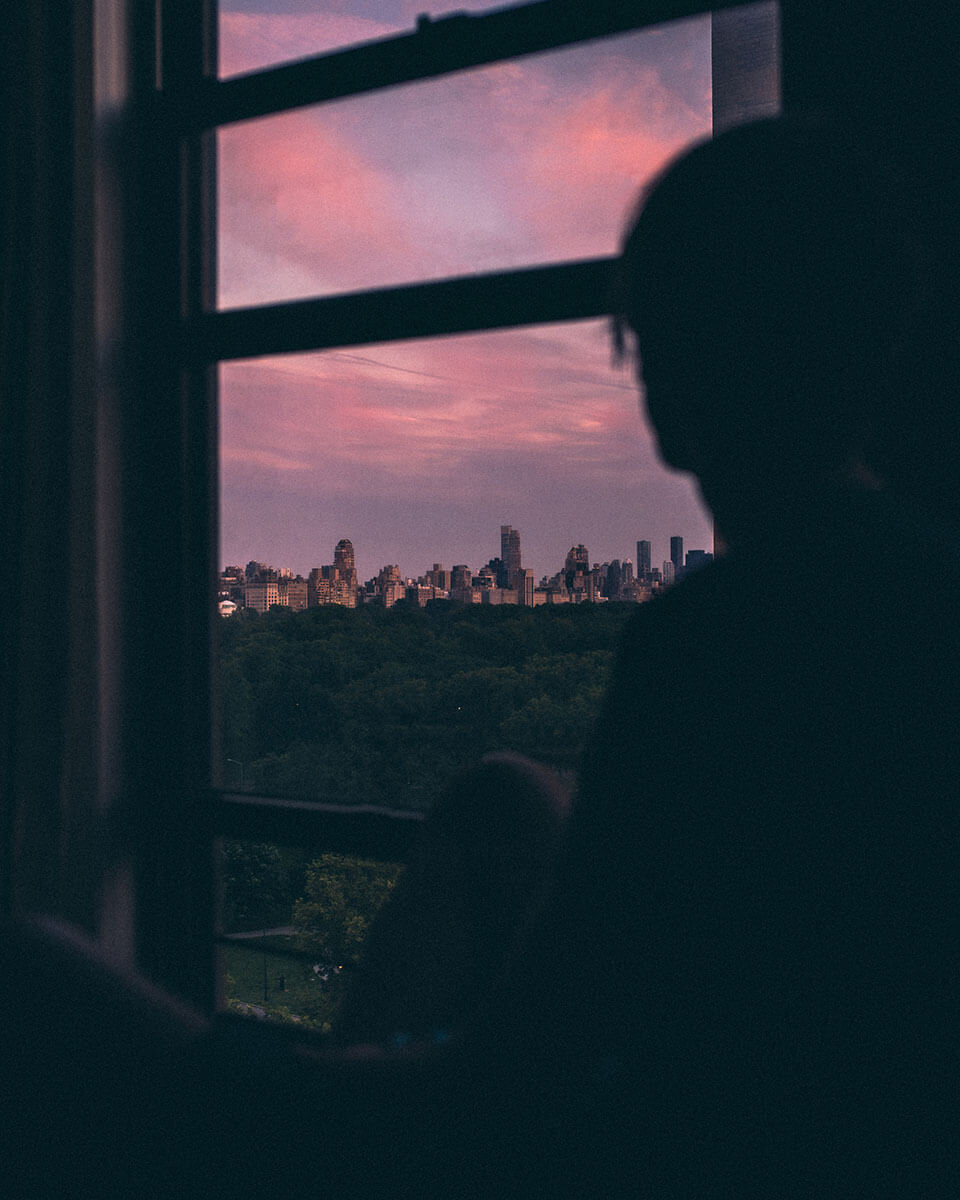 Of course, living here is not always glamorous or easy, especially when compared with places like Sydney.
Personally, it's still too early to start expressing my thoughts and feeling about living here but I feel a bit less safe and relaxed here. Of course, it is a bigger city therefore it's understandable to probably feel this way but I want to give the city and myself time to get to know each other.
I'll talk you this, though, this adventure didn't start veeeery smoothly!
I got screened two times at the airport!
I was at the airport and after they checked my passport the officer told me to follow another one to an office. He said they wanted to double-check a few things as it was my first time travelling under the ESTA.
This is when my anxiety started to slowly rise. Especially because, only 3 days before, my friend had sent a story about an Australian tourist who got jailed and then deported from the US for not having a valid outbound ticket!
Oh, bear in mind that this might have happened to me too!
I didn't know that one of the rules of ESTA was that you need to finish your journey in a country that doesn't border the US! So Canada, Mexico e Caribbean Islands are out of the picture unless you are a resident of those countries. This made my ticket to Canada pretty much useless and skyrocketed my anxiety. In the end, I booked a ticket from Canada to London 3 days before leaving for the US.
In case you didn't know this like me, here's what they say:
Travel does not terminate in contiguous territory or adjacent islands unless the traveler is a resident of one of those areas

Mr ESTA
Back at the airport now. I follow this officer into this room where other travellers were waiting for their turn. I probably waited 30/40 minutes while trying to hold myself together and not knowing what was going to happen.
Finally, I get called by an officer and she starts asking me questions like:
"Why are you here?"
"For how long?"
"Why this long?"
"What's your job?"
"How much money do you have?"
"Do you know that 85 days is super close to the 90 days limit?"
I tried to answer as calmly as possible and I'm surprised that I didn't panic. I know these are standard questions and it's not my first time answering them. However, the fact that this happened in a separate office in front of other officers was really scary.
In the end, she believed me, gave me my passport back and I was free to begin this adventure!
Final thoughts
Despite this big moment of uncertainty, fear and anxiety, from the moment I wake up to when I go to bed, I feel immensely grateful for this opportunity. This city is very different from the ones I've visited and lived in so I'm trying to learn more about it every day.
However, no matter what, I'm certain that this experience here will definitely be memorable and an interesting and new teacher.
Have you ever moved to New York City? Did you enjoy it? Write it in the comments!