How to explore NYC in a weekend: NYC travel guide
I know, I know! Saying "How to explore NYC in a weekend" probably sounds very crazy or impossible to achieve. And I kinda agree with it! This city is so big and offers so many things to visit, explore, and try that a lifetime here won't be enough time to do everything.
However, I do believe that you can tick off quite a few experiences here even on a weekend! Of course, it mostly depends on the kind of traveller you are and what you want to do but it is definitely doable.
So, in this NYC travel guide, I'll do my best to suggest to you what I believe is a good itinerary to enjoy New York City in a weekend!
How to explore NYC in a weekend – Friday: Getting to New York City
If you are flying to NYC from overseas, you'll most likely be landing at JFK. To get from JFK airport to Manhattan there are several options that you can choose from based on your budget and time:
Taxi: Catching a taxi is probably the most convenient one but not the cheapest nor (usually) the fastest one because NYC traffic can be brutal. However, if you have many bags with you or are travelling with kids or just want to be comfortable then this is a good option. Also, taxis have a flat rate of $52 + tip for this route which can be pretty convenient for some.
Uber or Lyft: an alternative to using a taxi although it might end up being more expensive as they don't offer a flat rate.
AirTrain: This is a tram that goes around all the different terminals at JFK and it also stops at two train stations, Jamaica Station and Howard Beach. To go to Manhattan you need to get off at Jamaica Station and get the subway from there.
The AirTrain from JFK to Jamaica station costs $8 and you need to buy the ticket from the vending machines. Here, you do have the option of purchasing a metro card but I don't really recommend it. I bought it but haven't used it at all and instead I just tap my phone.
I find the MetroCard to be a very old-style system that is slowly getting replaced by OMNY, the contactless payment system. With OMNY you pay the same amount as with a MetroCard and after 12 paid trips the following ones are free for the rest of the week. If you want to know more info about OMNY, you can find them on their website! OMNY is available on all buses, ferries and subway stations across the city!
From Jamaica Station, follow signs for the Sutphin Boulevard-Archer Avenue subway station and catch the line that you need based on where you need to go.
The E line is perfect to get to Midtown, Times Square, Penn Station and World Trade Centre.
J and Z are perfect for the Lower East Side, Little Italy and Chinatown.
Exploring Downtown NYC
Depending on when (day, season, month) and how you get to the city, you might have more or less time to start exploring it. If you arrive in the morning/afternoon and there is still light outside, I would suggest you explore some Downtown areas like:
The Flatiron: the iconic 22-story triangular building that was completed in 1902 and it was one of the tallest buildings in the city at that time. It is located next to Madison Square Park which gave the name to the famous Madison Square Garden Arena. Close by there is also Eataly which is a high-end supermarket/restaurant full of classic Italian food items and the Harry Potter store if you are a fan of it.
Washington Square Park: 1.2km south of the Flatiron you can find Washington Square Park. It is a fairly large park famous for its big and ornate arch and lots of street performers/artists. It's a great spot to hang out or just relax for a bit.
Little Italy and Chinatown: Although there's not much left of Little Italy as it's being taken over by Chinatown, it's still a nice area to explore and maybe get ice cream or coffee from. For lunch, I would suggest you stop by Chinatown as there are a ton of different places to choose from and it's pretty affordable.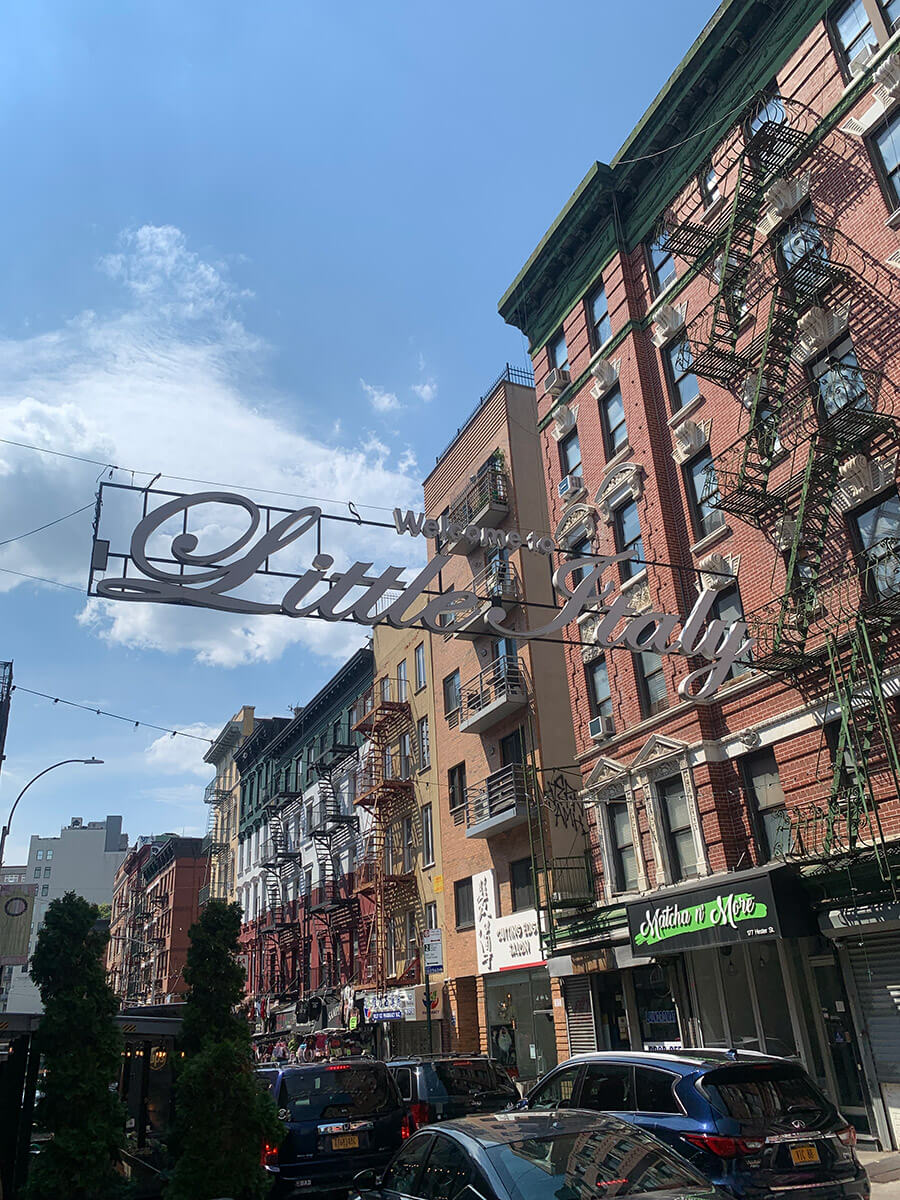 Hua Mei Bird Garden: right in the middle of Sara D. Roosevelt Park (next to Little Italy and Nolita) there is a long and thin park famous for its Chinese hwamei birds. Hanging in trees you can find dozens of bamboo bird cages and all containing a Chinese hwamei songbird. The owners are older Chinese men who get together to socialise and listen to the birds' songs.
To end the day in a relaxing way, stop by the swings in Pier 35. It's a very nice place for sunset as you get to see both the Manhattan and Brooklyn bridges as well as a sneak peek of Dumbo. There are only two swings though so get there early if you want to sit on one.
How to explore NYC in a weekend – Saturday: Exploring Midtown NYC
Saturday morning, if you want to treat yourself to a sweet breakfast stop by Lafayette bakery. They became extremely famous for their Supreme croissant which consists of a circular croissant. They only have two drops for them, one at 8 am and one at 12 pm and the crowd usually starts forming from 7 am.
I had one and, in all honesty, I don't think it's worth the wait or the $9.95 price tag. It is very tasty but it tastes like a very good croissant, nothing more. Luckily they do sell a wide range of baked goods at more affordable prices!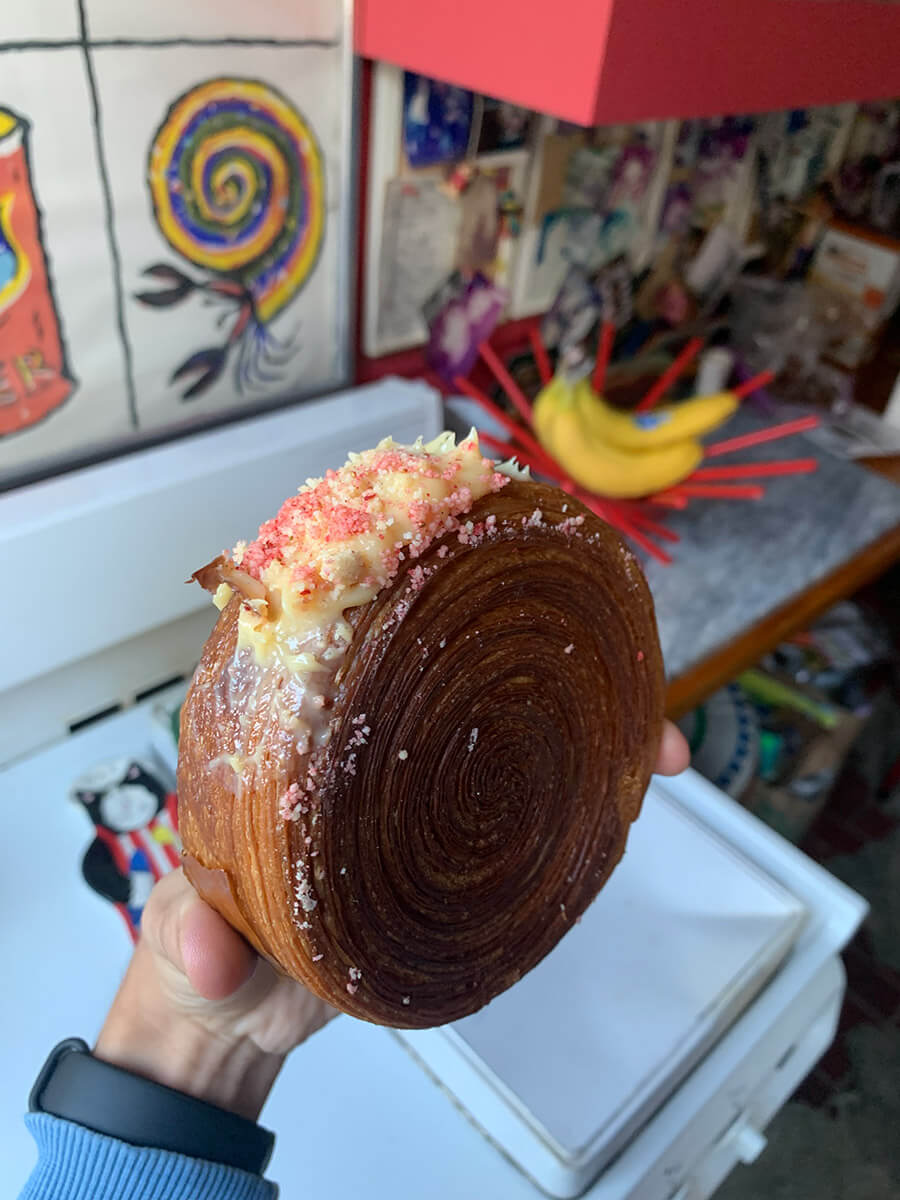 If you feel like heading up to the Upper West Side (my neighbourhood), then I strongly recommend you stop by The Hungarian Pastry Shop on Amsterdam Ave. It has a great vibe, a lovely staff and their homemade pastries are to die for!!!
From the pastry shop, you then have the choice to visit Columbia University, Riverside Park or Central Park.
Riverside Park is actually the longest park in Manhattan and it's often skipped by people because it's less famous than Central Park. It also overlooks the Hudson River which makes it a beautiful spot to relax at!
Central Park: No visit to NYC is complete without a visit to Central Park. It's the green lung of the city and one of the most famous parks in the world. You can easily spend a full day here and not see all of it! Whenever I walk around it my go-to areas are:
Jacqueline Kennedy Reservoir is the largest "lake" in Central Park and has a beautiful view of the NYC skyline and Billionaire's Row.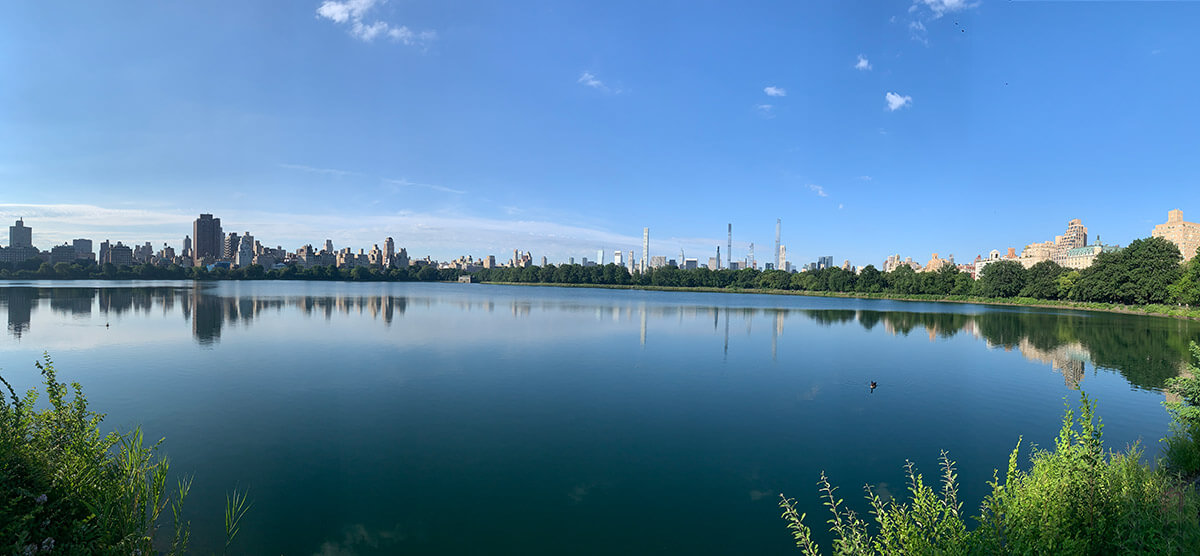 Bethesda Terrace: this is where most of the people stop by to enjoy the park and where you can find many street performers ranging from singers, players, artists and so on.
Umpire Rock offers a great view of the skyscrapers right across it and it's a pretty Instagram-worthy place.
After your visit to Central Park you might end up somewhere on 59th Street and from here you can start walking down the ironing 5th Avenue. The great thing about 5th Ave is that within 2km of it (starting from 59th) you can manage to see many great landmarks like:
The Plaza: probably the most famous hotel in the city heavily featured in many classic and iconic movies and shows
The Rockefeller Centre with its iconic skating ring and the golden statue
The Apple Store 5th Ave with its timeless and elegant cube-shaped glass entrance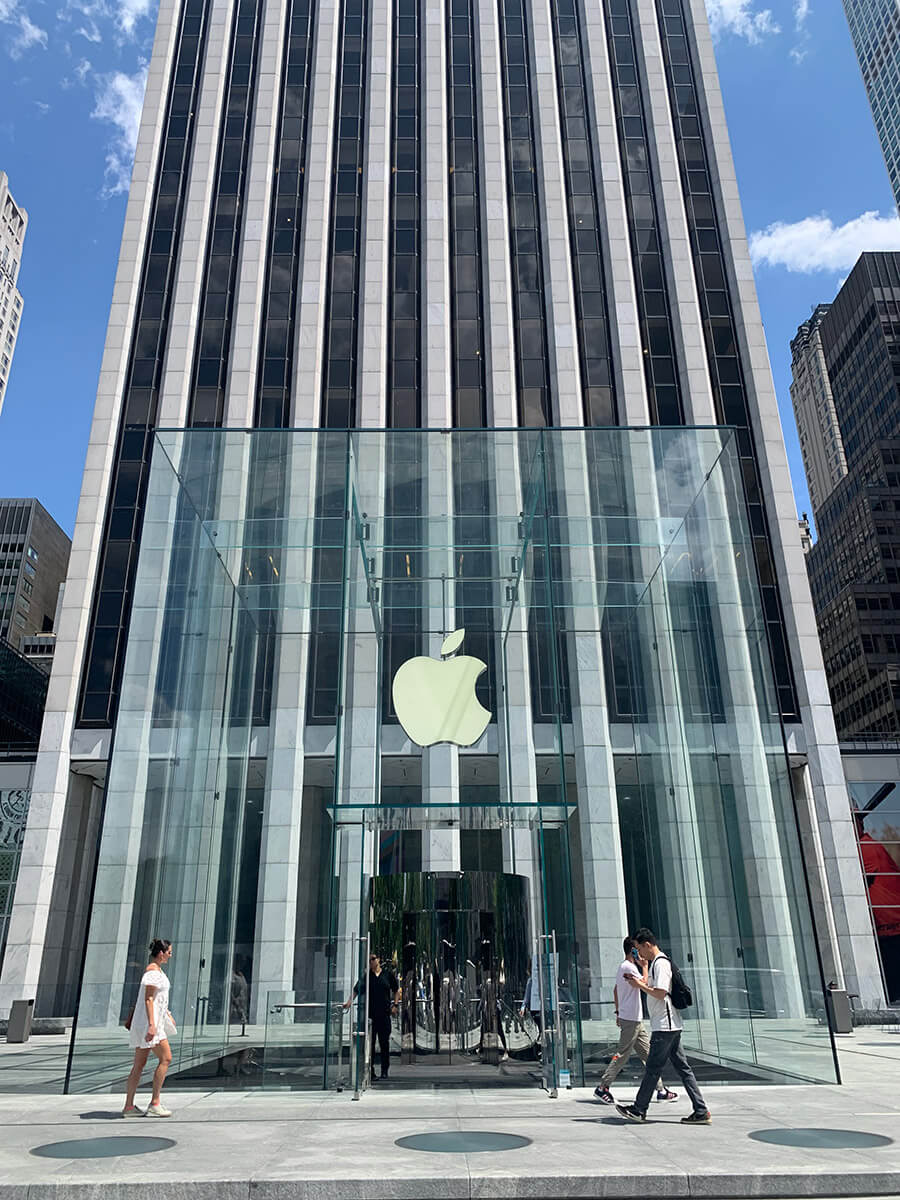 The Museum of Modern Art and its unique design shop, The Metropolitan Museum of Art and The Guggenheim Museum, although visiting even one of them will require you quite some time so it's up to you if you really want to visit them or not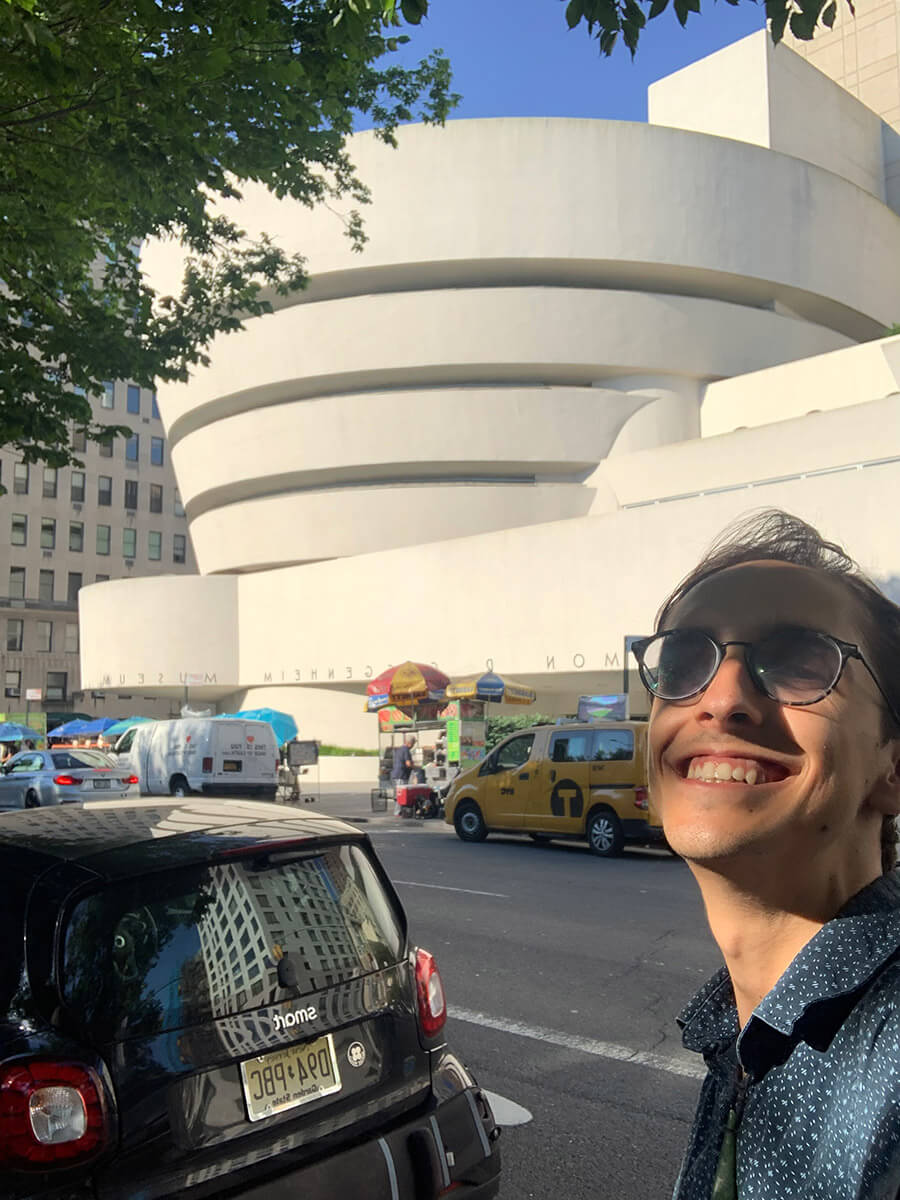 The Chrysler Building and Grand Central Terminal (I recommend visiting Grand Central Terminal because it's beautifully elegant!)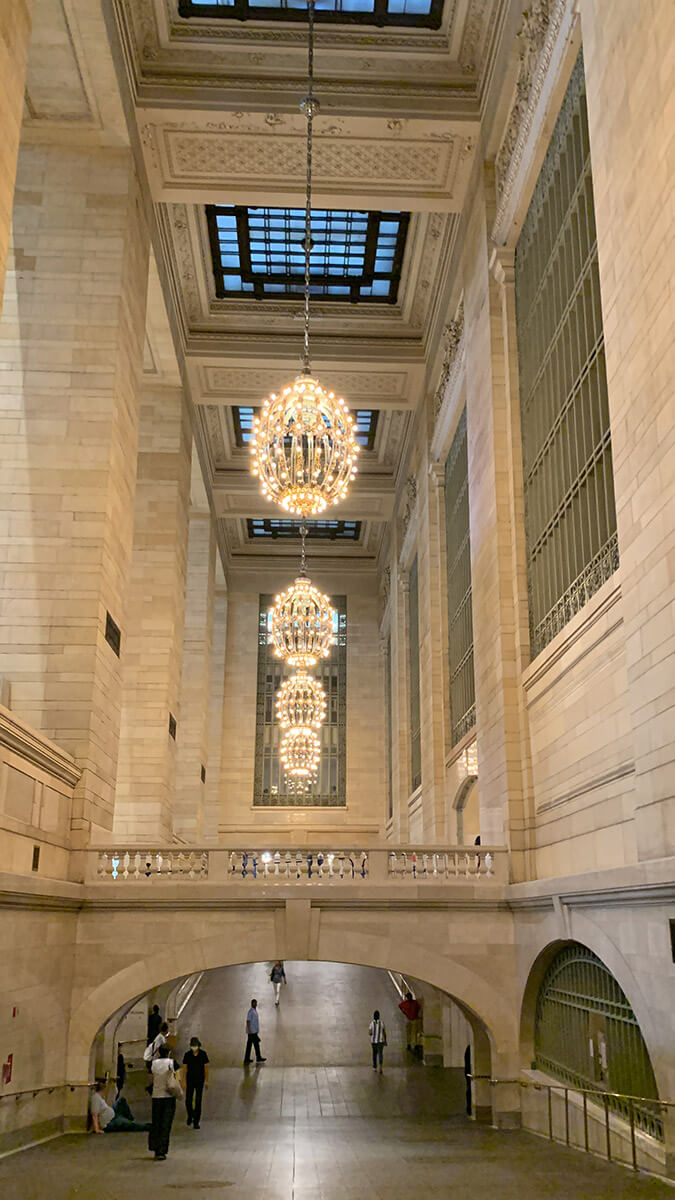 Bryant Park which is one of my favourite parks in NYC is right in the city and surrounded by beautiful buildings.
The Empire State Building is the one and only, most classic, iconic and memorable building in this city.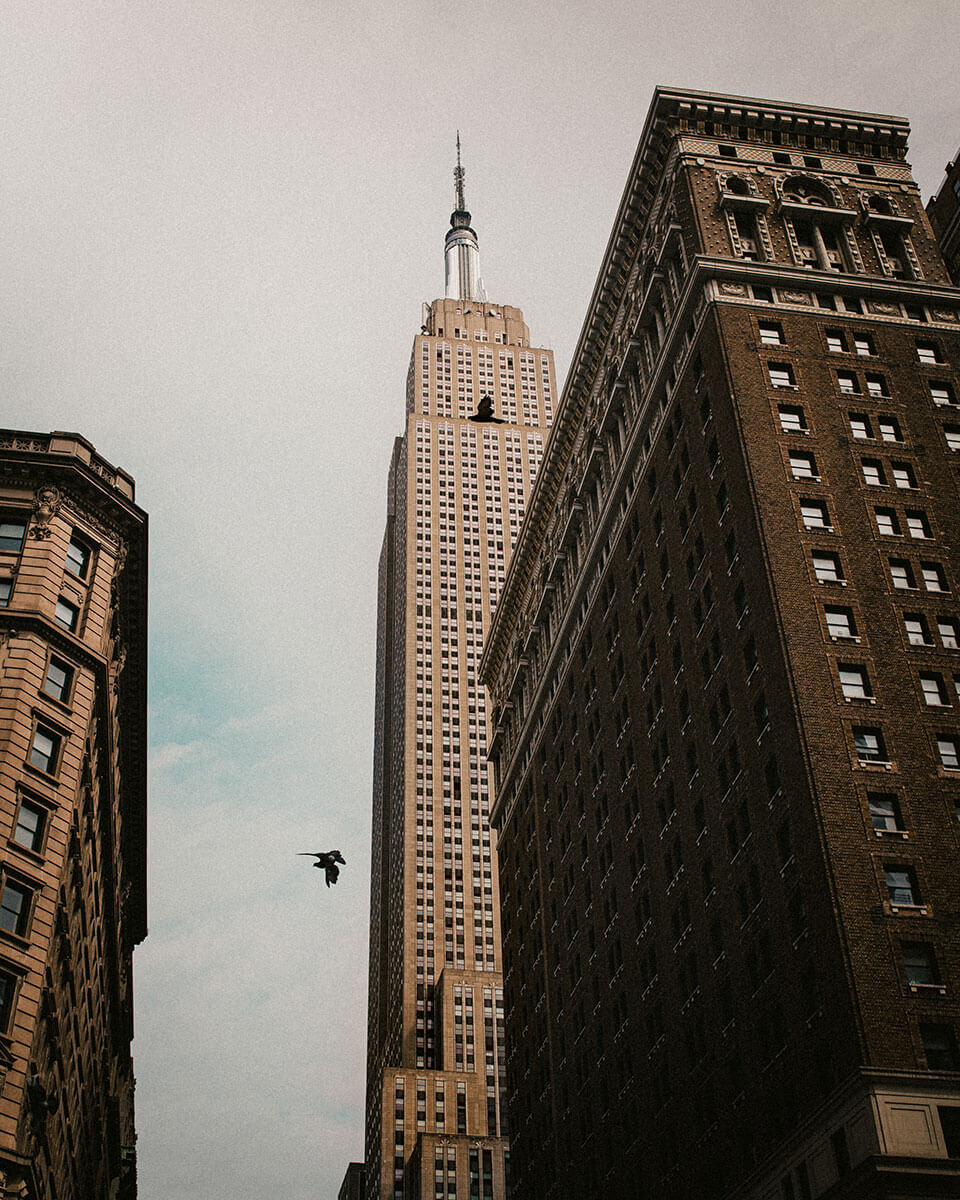 Now that you have found yourself exploring Midtown, here you can also stop by Times Square and Hudson Yard.
Now, personally, I don't really like Times Square because it's probably the busiest and most chaotic area of NYC but it's also a must-see. Whether you go there during the day or night, it'll always feel immersive and mesmerising. The classic Times Square buildings are located between 42nd and 7th Ave which is two blocks from 5th Avenue.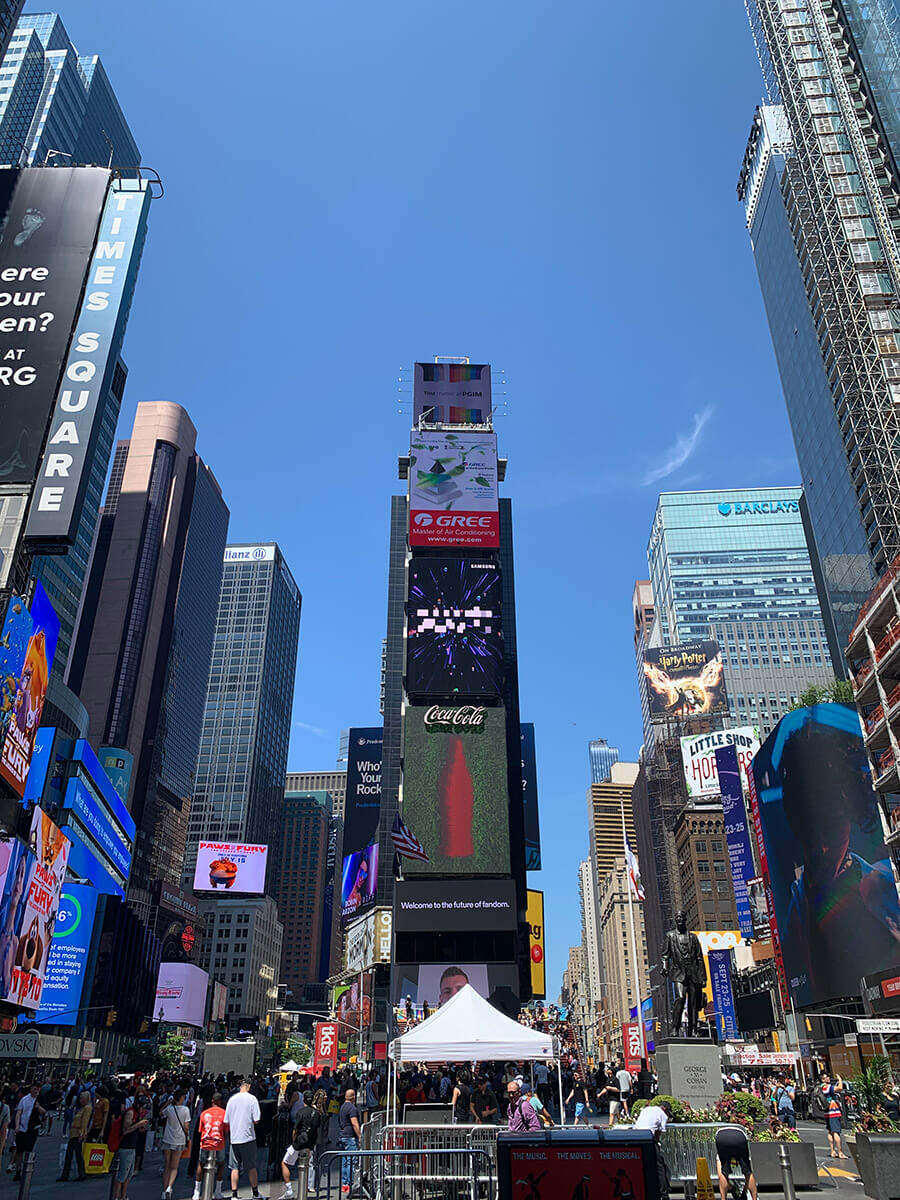 While here, you can also walk around Broadways and check some of its theatres and what shows are currently being held.
If you feel like walking a bit, I'd recommend you go to Hudson Yard which is one of the newest developments in NYC where there is The Edge and The Vessel. They are all enclosed between 30th/33rd and 11th Ave and it's a cool place even to grab some lunch or a snack.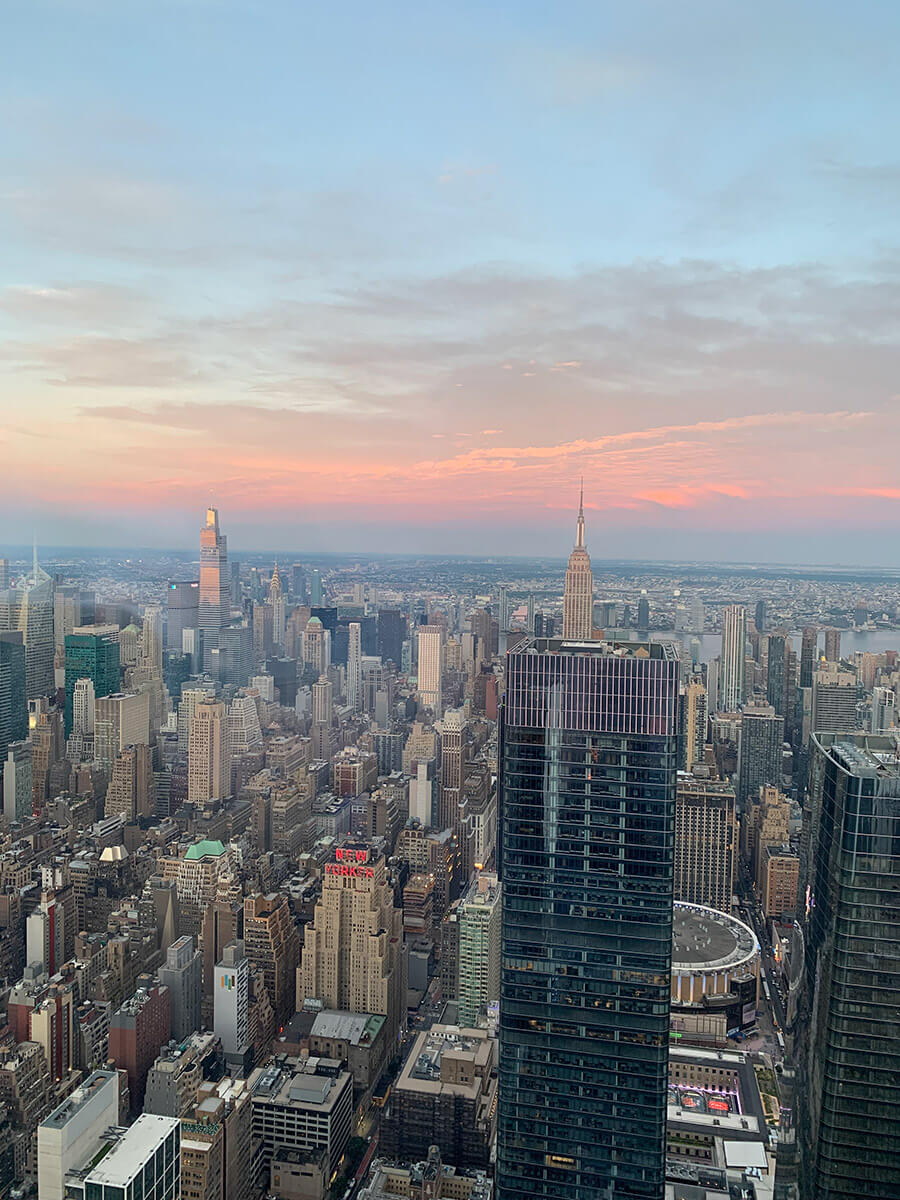 After your visit to Hudson Yard, you can head to Penn Station and catch the E line to go to World Trade Center. This is truly a beautiful and powerful area to explore. The two fountains where the Twin Towers were located make you travel to another dimension and the whole energy here is very unique.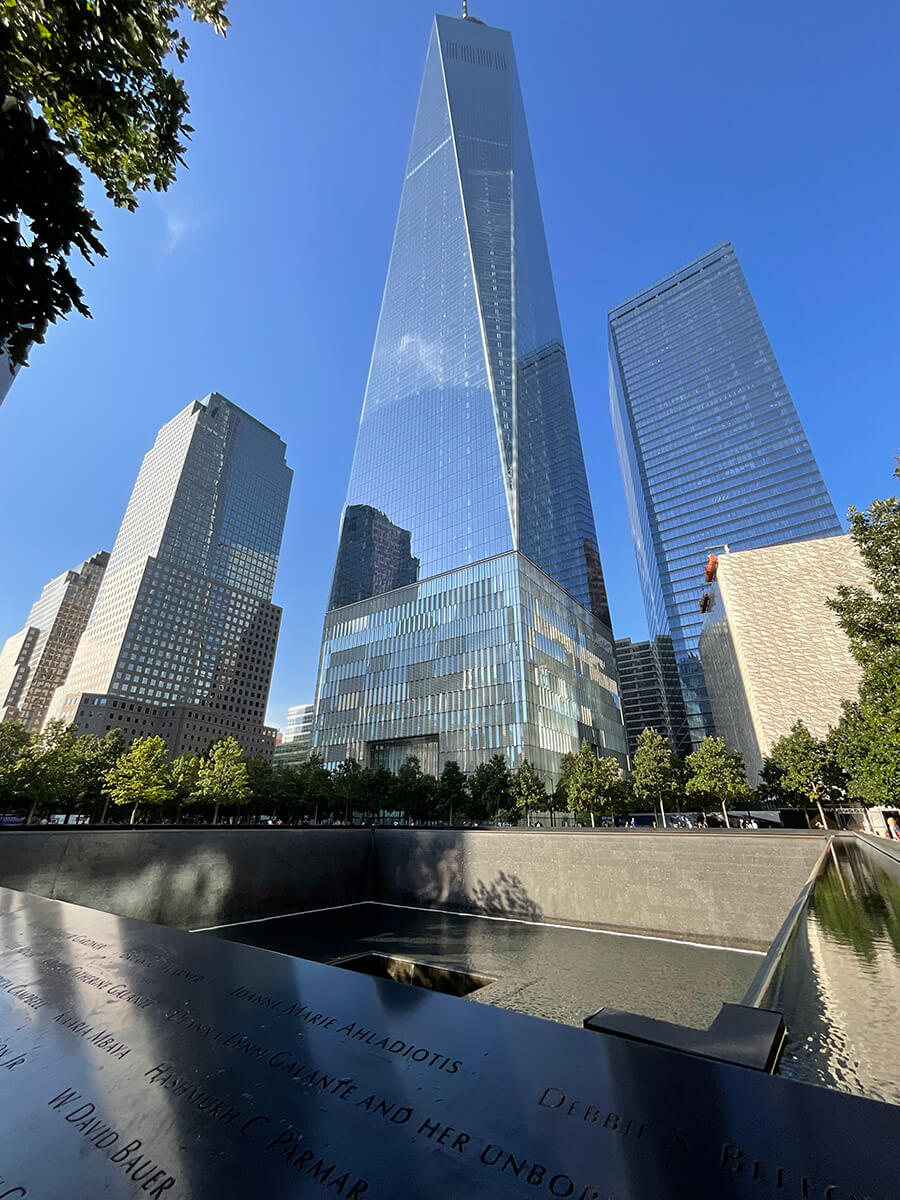 While here, you can also go up to the observatory at Freedom Tower or visit the 9/11 museum. It will require you at least a couple of hours but it's beautifully created and it's filled with videos and information about that day.
To end the day in a relaxing way, you can stop by The Battery Park. Located right at the end of Manhattan island, this big park offers a nice view of the Statue of Liberty and it's also very close to Wall Street and its landmarks like the Stock Exchange Building and Charging Bull.
Finally, I recommend you stopping by 230 Fifth rooftop which is the largest and most famous rooftop in NYC. As you would imagine, food and drinks are a bit pricey here but entrance is totally free until 8 pm! So you can go up for free before that time and stay as long as you want and don't even have to buy anything!
Daintree Rooftop is also beautiful and it's smaller which can make it more enjoyable and intimate compared to 230 Fifth!
Either way, both of them have spectacular views of the Empire State Building and the city.
Regarding the Statue of Liberty, I don't think it's worth paying to go to the island but it's totally up to you if you want to do it. To see the Statue of Liberty closer but for free, you can take the Staten Island Ferry from Whitehall Terminal. The ferry runs 24/7, it's free and goes past the statue!
How to explore NYC in a weekend – Sunday: Brooklyn time
Sunday is going to be about Brooklyn!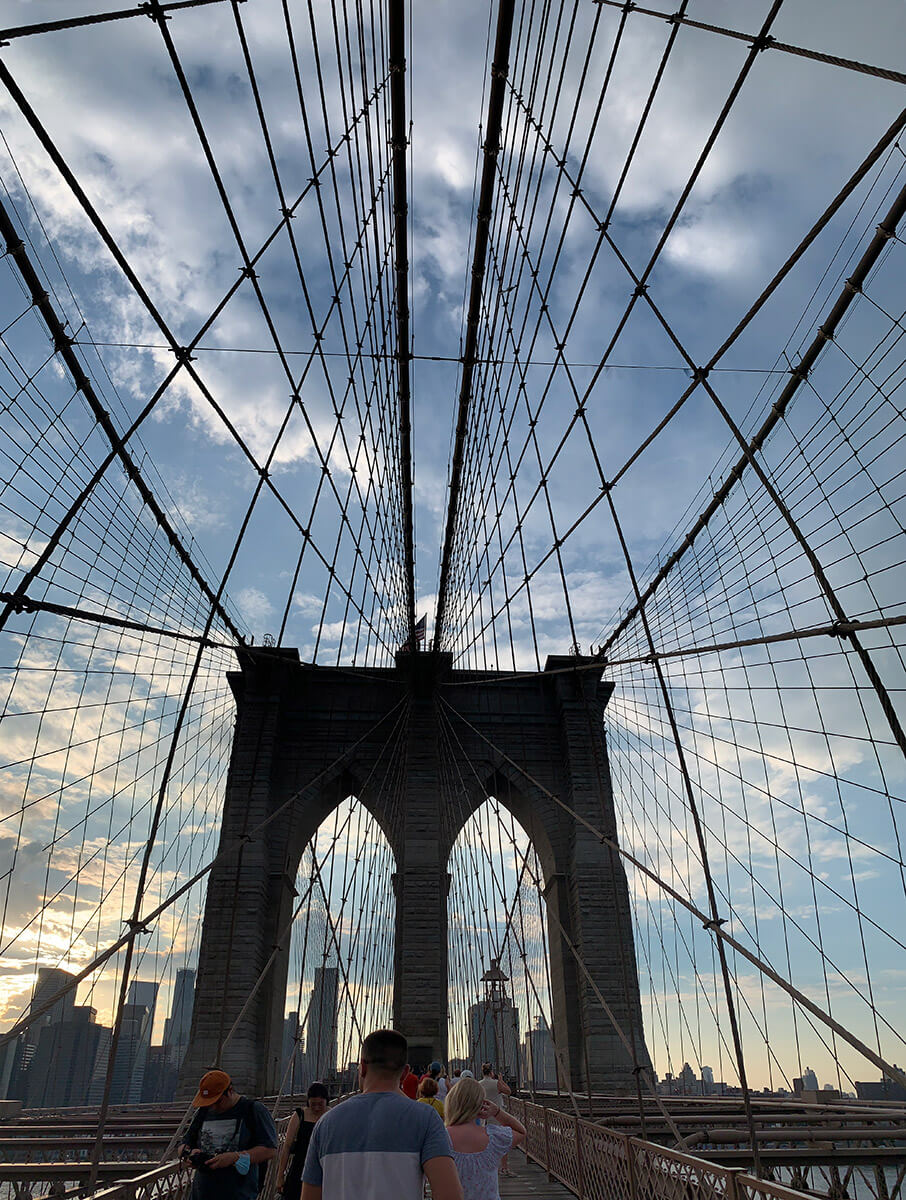 To get to Brooklyn from Manhattan you have a lot of options:
You can walk across the bridge (perfect place to buy some souvenirs as you can find magnets and keychains for only $1)
Catch the A/C line to High St/York St or the 1/2 to Clark St
Catch a bus
Catch the ferry from Wall Street to Dumbo.
No matter how you get to Brooklyn, you'll most likely end up somewhere around the Dumbo/Brooklyn Heights area.
Down Under the Manhattan Bridge Overpass (DUMBO), is famous for its very trendy and hipster shops, the Time Out Markets where you can find lots of different cuisines and restaurants, and the great views it offers of Manhattan.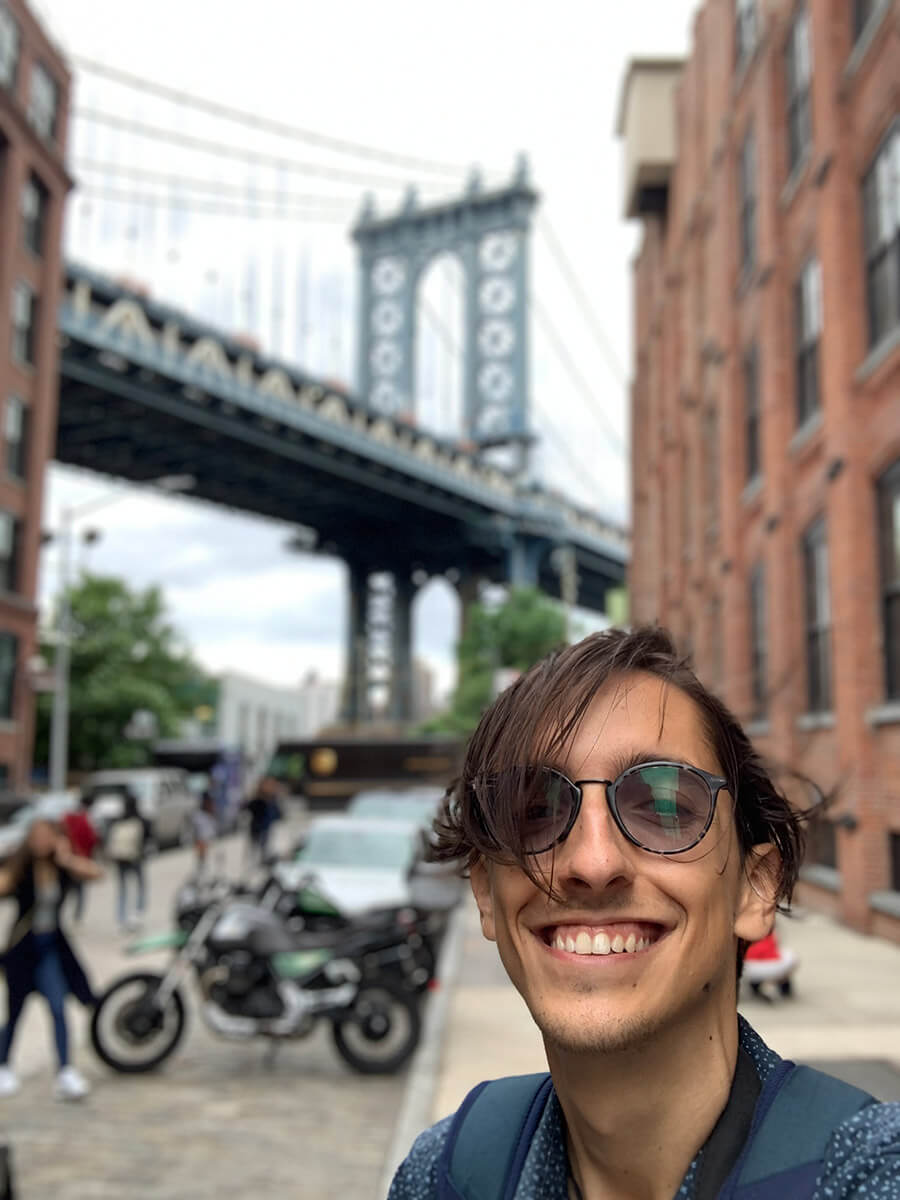 Walking around Brooklyn Bridge Park can also offer you beautiful views of the city and this area is always full of families, tourists and people enjoying their time.
However, if you want to go to what I consider to be the best viewpoint of the NYC skyline then you'll need to head to Williamsburg. Specifically, I'm talking about Marsha P. Johnson Park. It's not that far from DUMBO but it's a bit tricky to get there via public transport as you'd need to change a couple of times but it's worth it! From here you get an uninterrupted view of every single iconic building of the city! I'd suggest you go there for sunset and wait until the city comes to life with all of its different lights!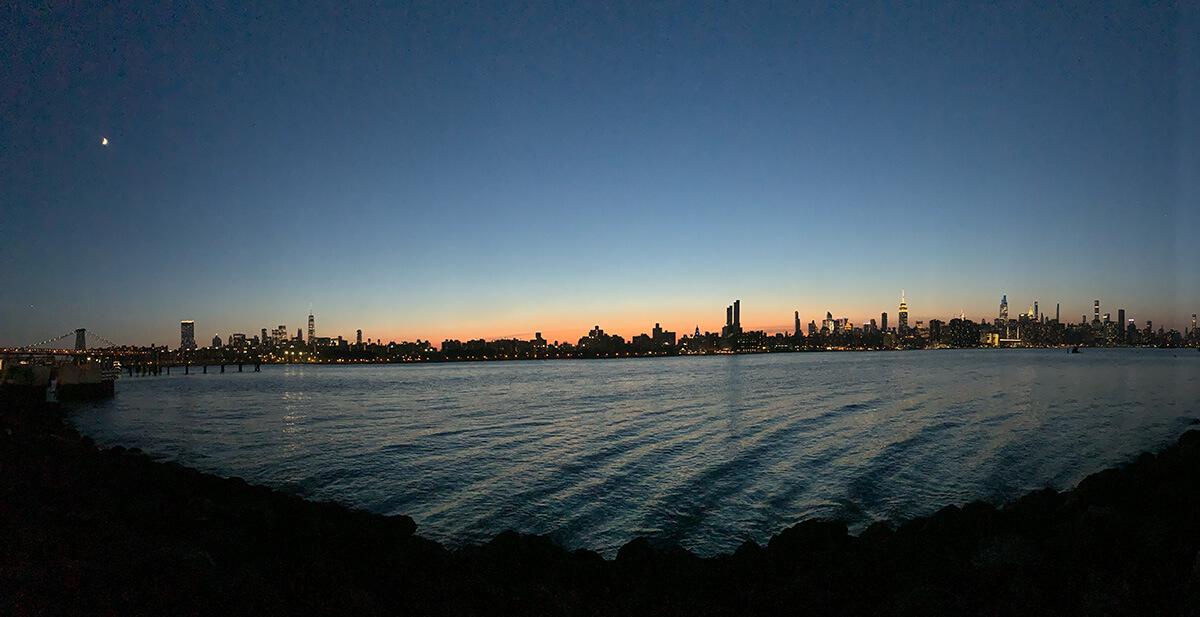 How to buy tickets for NYC attractions for cheap
As we all know, NYC is and can be an extremely expensive city. Especially if you are a tourist and want to explore its landmarks, go up the buildings or to Broadway shows, this can all add up. Luckily, there are some ways to find tickets for a cheaper price and these are the best ways to do so that I know of:
How to buy Broadway tickets for cheap
Going to a Broadway show is a must-do in NYC. They are impressive, beautiful, immersive and iconic. However, with all these adjectives it's no surprise that tickets can cost even well over $100! Don't worry, though, as you can still buy them for relatively cheap! Here's how you can buy Broadway tickets for cheap:
Todaytix: Todaytix is one of the biggest and best websites when it comes to finding discounted Broadway tickets. You can find any show you want on them and on most of them, you'll be able to save something compared to their standard price.
Ticket lotteries: Ticket lotteries are a great way to try and get Broadway tickets at a flat and cheap price. Most times you can even end up getting a front row seat for the price of a back one! The catch here is that it's not guaranteed that you'll get a ticket. So, if you have time and want to play your luck then do it, otherwise, it might not be your best option. I've used it for The Book of Mormons and won a ticket for $45 which was a great price for a really great seat! Usually, each show has its own lottery system but the one I used was Luckyseat.
Rush tickets: Another way to try your luck, if you want and have time, is to get some rush tickets. They are sold on the day of the show and depending on which one you want to watch, you might have to go there early to buy them. It requires time and effort but it can be rewarding.
How to visit NYC landmarks for cheap
Visiting all the landmarks that NYC has to offer can definitely be pricey. Between the EMpire State Building, The Edge, Top of the Rock and museums, there's no shortage of them. If you are planning on visiting more than one of them, I highly suggest you consider buying the Go City Explorer or All Inclusive Pass. This pass gives you access to over 95 attractions and you can save up to 40% compared to buying each ticket individually! Also, it allows you to either skip the queue for many places and/or avoid having to book in advance.
What is the difference between the two passes?
The Go City Explorer Pass allows you to access between 2 and 10 attractions that you want to visit and you have 60 days to use it. It's great if you already know which ones you are interested in. I bought it on Groupon which saved me even more money. I loved this pass because it truly was cheaper then buying the individual tickets and gave me access to The Edge even though the time slot I was interested in was sold out!
The Go City All Inclusive Pass is a bit more expensive and it's "day based" but it gives you access to as many attractions as you want across a period of 1 to 10 days. You can also find it on Groupon which is cheaper than buying it from the actual website.
Go to the taping of a live show as a member of the audience
Let me start by saying that I loooovveeeddd doing this and have been to almost all the shows taped in NYC. It was such a surreal experience to see how they all work, get filmed and to see people like Whoopi Goldber or Drew Berrymore right in front of me! The even better thing is that tickets are free!!
To be part of the audience of a live show you have to:
Go on 1iota and create an account;
Select the city you are visiting, check what shows are being filmed and choose the ones you are interested in.
If the registration is open for the date you want, simply request the ticket(s) you need.
If selected, you will get an email asking you to confirm your attendance. Tickets are given randomly and you might get a Priority or a General ticket. Priority ticket holders will be admitted first but getting a seat is always on a first come first serve base so go there early as queues tend to form very quickly!
Final Thoughts
I hope that you found this guide on how to explore NYC in a weekend useful! I tried to write as much as possible based on my own experiences and opinions but I will definitely keep updating it! And, as always, fell free to share your thoughts and suggestion with a comment!