Toronto travel guide: everything you need to know
Toronto is the largest city in Canada and the capital of Ontario. Located on the shores of Lake Ontario, this city is a vibrant and diverse city that is home to a wide variety of attractions and activities. From cultural events and world-class museums to delicious dining and breathtaking natural landscapes, there is something for everyone in Toronto.
I spent roughly 8 days in this city during my 2 week trip in Canada and it was a pleasant discovery especially because I arrived at the beginning of TIFF (Toronto International Film Festival). It felt sooo cool to be walking around red carpets, tourists, events, getting free things and just living a new adventure.
Now, without further ado, let me start this Toronto travel guide and share with you my suggestions on what to do, where to stay and tips about Toronto.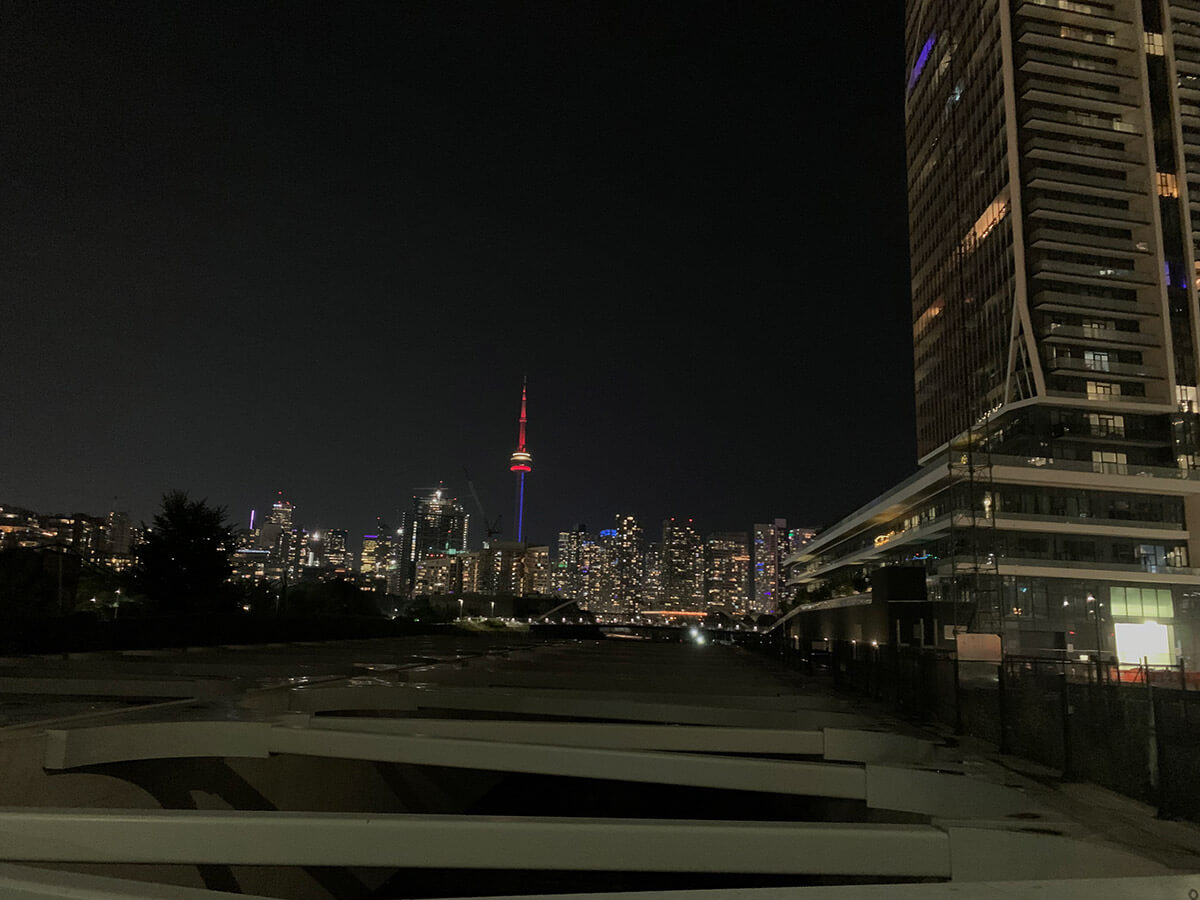 How to get to Toronto
Getting to Toronto is honestly very easy and can also be pretty affordable depending on your location and preferred mode of transportation.
Here are a few options on how to get to Toronto:
By air:
Toronto Pearson International Airport is the main airport serving the city, and is located about 20 km (12 miles) northwest of downtown Toronto. Many major airlines offer flights to Toronto from various destinations around the world. I flew here as I was coming from New York and the flight was relatively cheap and quick.
By car:
Toronto is located along several major highways, including the 401, the 400, and the 404. If you are driving to Toronto from another city or country, you can use these highways to reach the city.
By train:
Toronto is served by several major rail lines, including VIA Rail and Amtrak. You can catch a train to Toronto from many cities across Canada and the United States.
By bus:
Several bus companies offer service to Toronto from various locations around the region. Greyhound and Megabus are two popular options.
Toronto travel guide: where to stay in Toronto
There are many great neighborhoods in Toronto to stay in, depending on your interests and budget. Here are a few popular options:
Downtown Toronto: This is the city's central business district and the most popular area to stay in. It offers a wide range of accommodation options, including luxury hotels, budget-friendly hostels, and Airbnb rentals.
The Annex: Located just north of downtown, The Annex is a lively neighborhood with a mix of residential and commercial areas. It's home to many universities and cultural institutions, such as the University of Toronto and the Royal Ontario Museum.
Leslieville: Located in the east end of the city, Leslieville is a trendy neighborhood known for its independent shops, restaurants, and cafes. It's a great place to stay if you want to experience a more laid-back side of Toronto.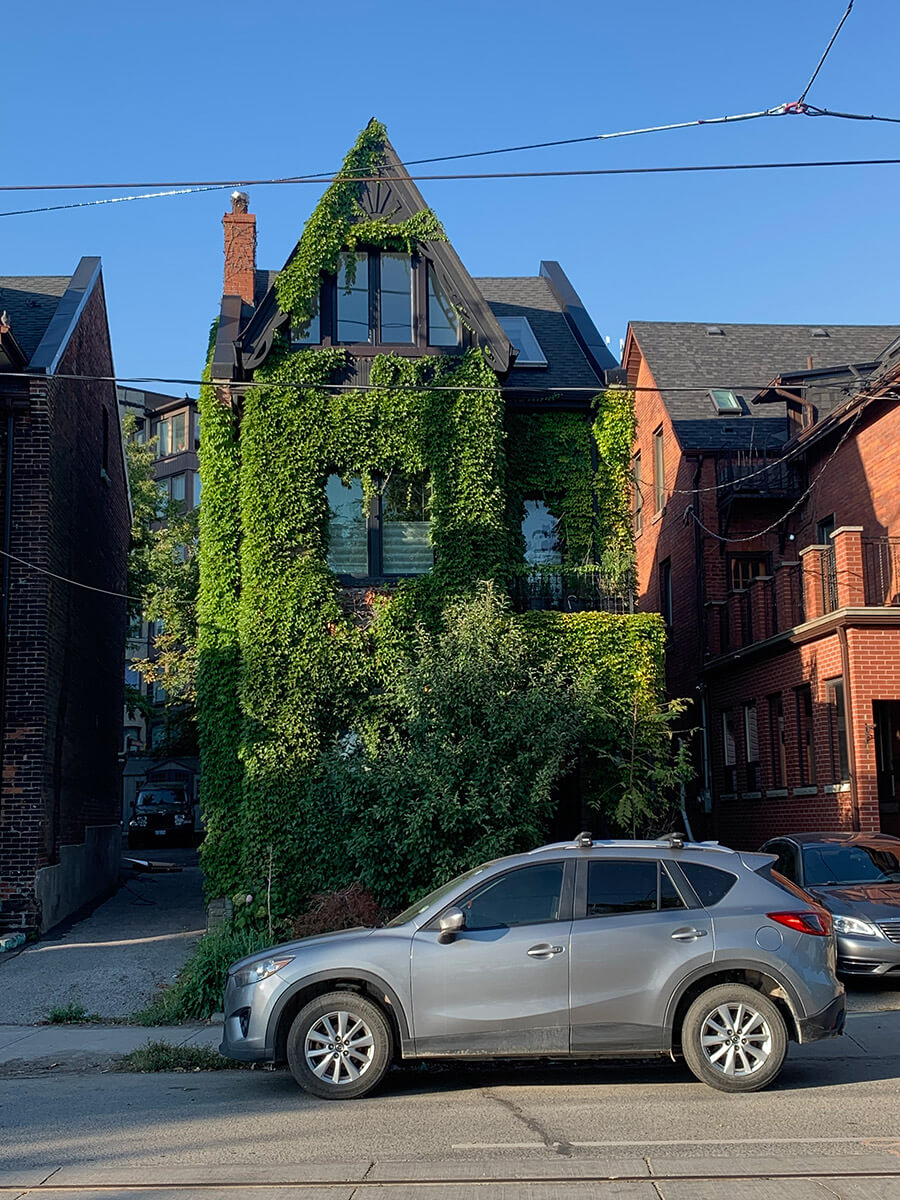 While looking at places to stay in Toronto I first checked Couchsurfing which is one of the tools I use whenever I'm travelling. Being a city on the higher end of prices I wanted to try and get as many nights covered using CS as I could.
I ended up being hosted for 7 out of the 8 days I was there so that was definitely a win! Two of the three people who hosted me were located very close to the CBD which made exploring the city super easy, quick and budget friendly. Moreover, I had complete freedom to come and go as I wanted which is always something I'm super grateful and lucky to have when doing CS. Furthermore, the hosts gave me lots of tips and suggestions on what to do and where to go which is one of the many reasons to why I use this platform.
Speaking of the one night I didn't use CS for, I stayed at The Parkdale Hostellerie which is a niche hostel located on the West Side of the city. It was also one of the most affordable as I only paid US$38 for the night.
Toronto travel guide: where to eat in Toronto
While in Toronto I didn't eat out a lot because I'm still a budget traveller and try to cook as often as I can but the list below is a mix of different restaurants/cuisines that
The Black Hoof – a trendy spot serving up unique, locally sourced meats and charcuterie
Drake One Fifty – a chic restaurant with a modern, globally inspired menu
Bar Isabel – a bustling Spanish tapas bar with a lively atmosphere
The Food Dudes – a food truck serving up gourmet sandwiches and fries
Banh Mi Boys – a popular spot for delicious, affordable Vietnamese sandwiches
Thai Basil – I did actually go here with one of my hosts and it was very delicious and not crazy expensive
Rasa – a trendy Indian restaurant with a modern take on traditional dishes
Tim Hortons: a Canadian staple where you can get hot drink, quick meals and tasty sweets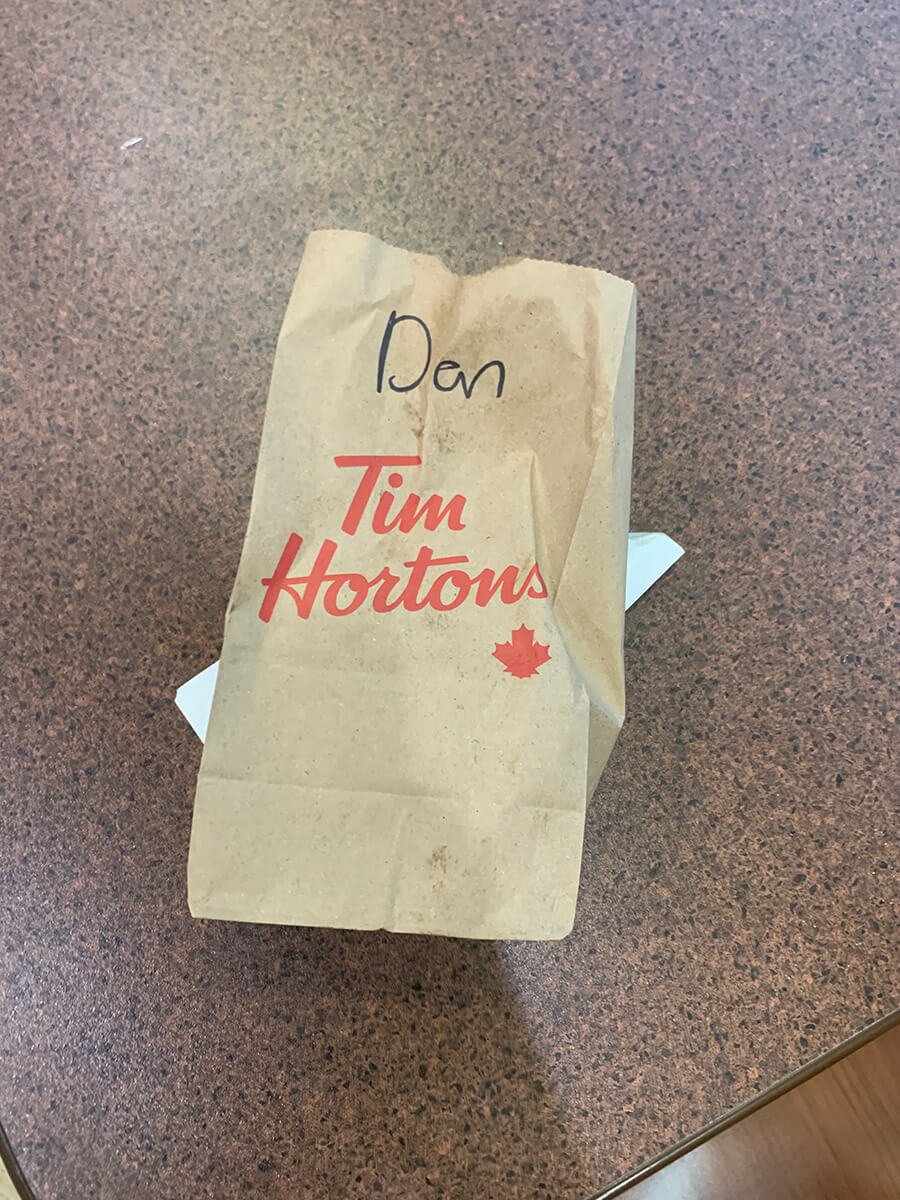 Toronto travel guide: what to do in Toronto
Visit the CN Tower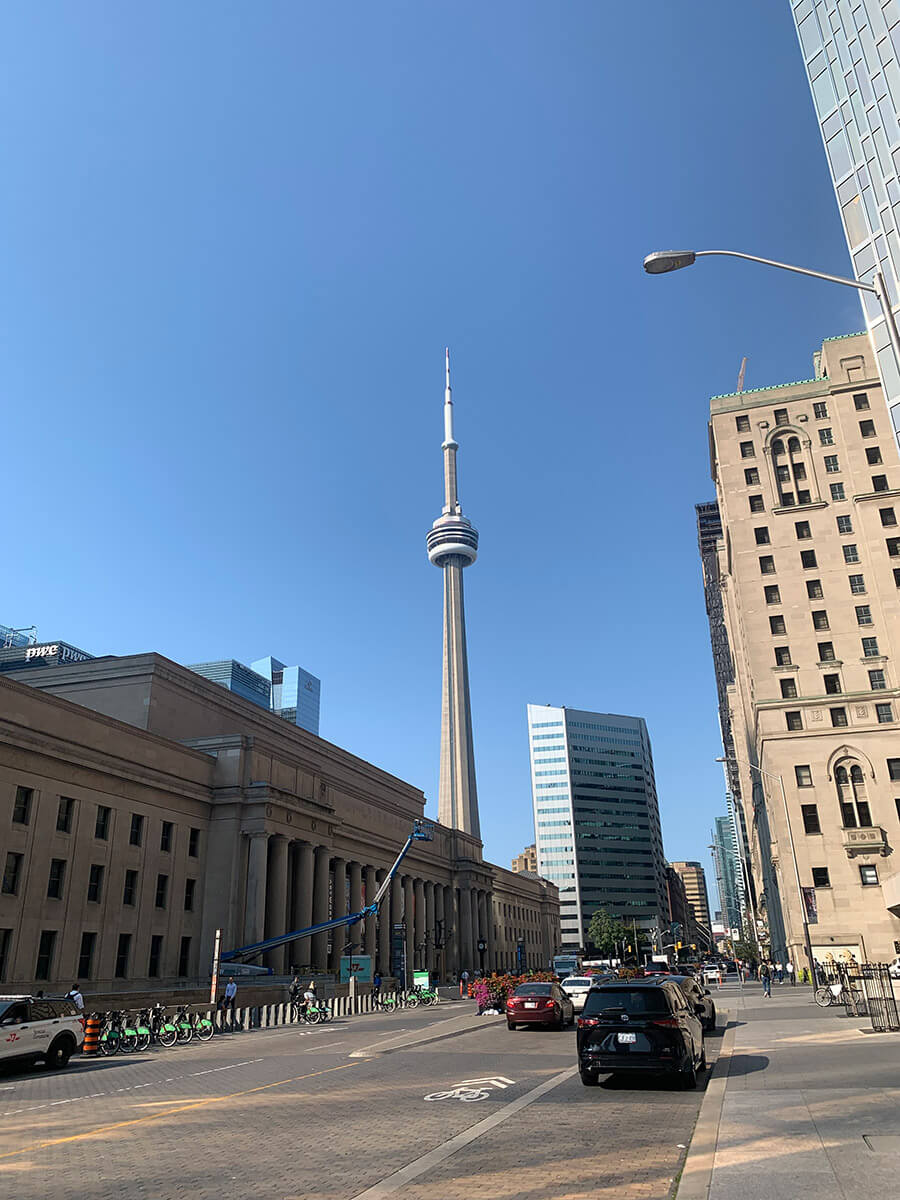 The iconic and memorable Toronto Tower. Standing at a height of 553 meters, the CN Tower offers breathtaking views of the city and the surrounding area. I didn't personally go up the top but it's a great option if you want to have a panoramic view of the city.
Visit the High Park and High Park Zoo
High Park is a beautiful park located on the west side of the city. It's great for walks, rest, enjoy the pond and it also has a free zoo! Don't expect a big zoo with many animals in it but it's a nice option if you are there and in need of some animal time!
Explore the Distillery District
The Distillery District is a historic neighbourhood in Toronto that is home to a variety of artisanal shops, galleries, and restaurants. The district is known for its cobblestone streets, Victorian-era architecture, and lively atmosphere. Whether you want to shop, dine, or just take in the sights and sounds, the Distillery District is a must-visit destination.
Visit the Toronto Islands
Located just a short ferry ride from the city, the Toronto Islands are a peaceful oasis that offers a break from the hustle and bustle of the city. The islands are home to a variety of recreational activities, including bike rentals, beach volleyball, and hiking trails. The islands also offer stunning views of the city skyline and Lake Ontario.
Visit the Royal Ontario Museum
The Royal Ontario Museum is one of the largest and most diverse museums in Canada, with over 6 million artifacts and specimens on display. The museum is home to a wide range of exhibits, including natural history, world cultures, and modern art. A visit to the Royal Ontario Museum is a great way to learn about the history and culture of Toronto and the world.
Pop into Eaton Centre:
The Eaton Centre is a massive shopping mall located in the heart of Toronto. With over 250 stores and restaurants, the Eaton Centre has something for everyone. Whether you are looking for designer clothing, electronics, or home goods, the Eaton Centre has it all.
Visit the Toronto Art Gallery
The Toronto Art Gallery is one of the largest art museums in Canada, with over 95,000 works on display. The museum features a wide range of art, including contemporary, modern, and classical works from around the world. The Toronto Art Gallery also hosts a variety of events and exhibitions throughout the year.
Explore the Toronto Waterfront
The Toronto Waterfront is a beautiful area along Lake Ontario that offers a variety of recreational activities and attractions. The waterfront is home to a number of parks, marinas, and trails, as well as popular landmarks like the CN Tower and the Rogers Centre. The Toronto Waterfront is a great place to relax and take in the beauty of the city.
Enjoy a meal at St. Lawrence Market
St. Lawrence Market is a historic food market that has been a staple of Toronto for over 200 years. The market is home to a variety of food vendors, farmers, and artisans. It's also a great place to try local and international cuisines. The market also hosts a variety of events and festivals throughout
Stop by Kim's Convenience
If you are a fan of the show then you must stop by the actual convenience shop where it's filmed! The shop does actually exist and it's owned by a Korean man.
Explore the town where Schitt's Creek was filmed!
Being a big fan myself of this show, I could not talk about it on this Toronto travel guide! The show was filmed across several locations but the town where the family lived is called Goodwood! It's a rural community about an hour's drive east of Toronto and here you can find Cafe Tropical, Rose Apothecary, Bob's garage and the Town Hall!
Bonus: Visit the Niagara Falls
The Niagara Falls were one of my dream destinations and I was soooo happy that I managed to visit them. You can get to the Niagara Falls from Toronto via car, train or bus. The bus is the cheapest options and I decided to use FlixBus and only paid around $30 return.
You can easily do a day trip there but I highly recommend you spend a night there. The town itself is very strange and it made me think of Las Vegas but the falls are breathtaking!
Whether you visit them in summer or winter, I believe they are very worth it! I stayed at the Days Inn by Wyndham Niagara Falls Near The Falls and paid $60 for a room all to myself which felt like heaven!
While there, you can do a lot of different and great activities. I only decided to do the Voyage to the Falls Boat Tour which takes you right under the main waterfall. Hearing the intense sound of the water falling down and getting a refreshing shower from it was an experience I will never forget!
Finally, if you are there during summertime you will be able to enjoy a beautiful fireworks show above the waterfalls! Speaking of the lights, they are always lit up no matter the time of year.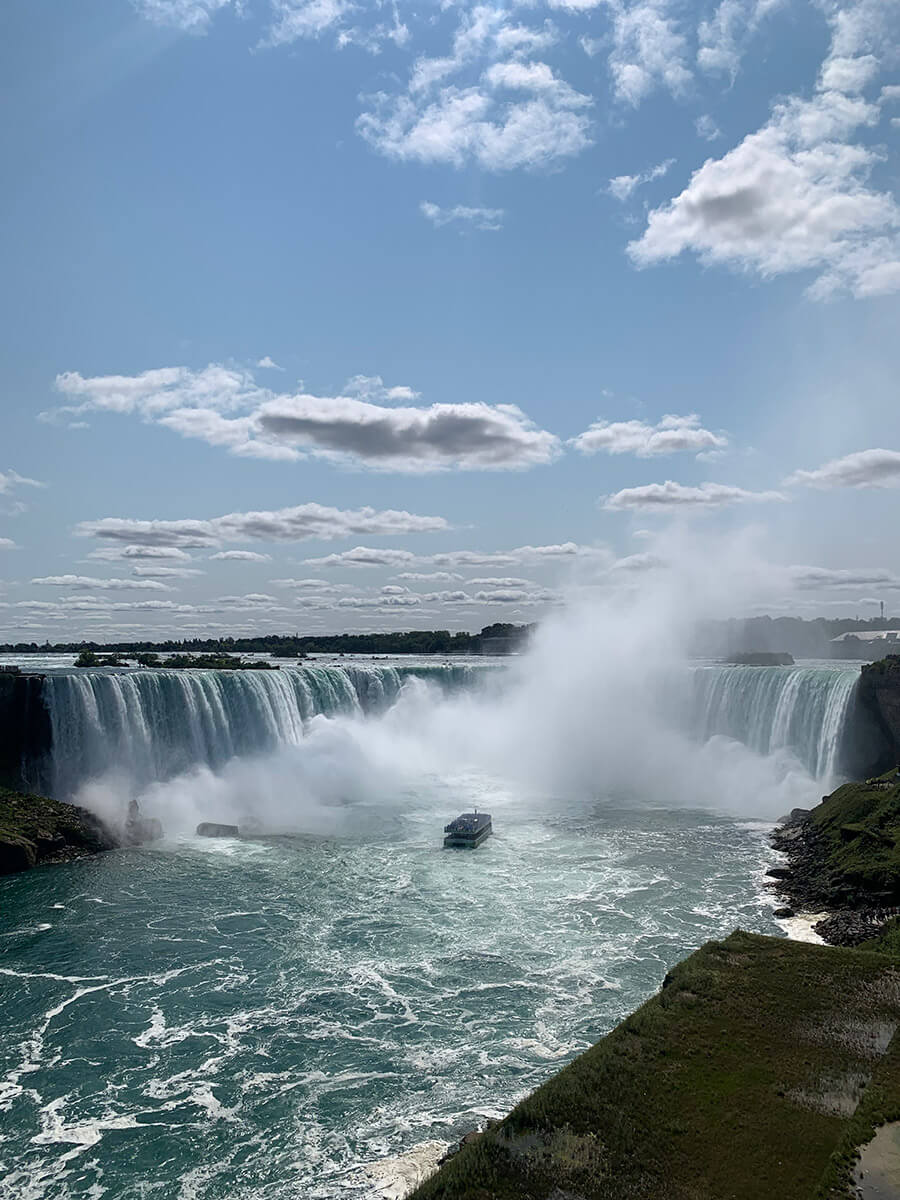 Final Thoughts on Toronto
I admit that Toronto was a pleasant surprise! Coming from New York, it felt a lot quieter, less chaotic and safer. People were very keen to help and seemed very relaxed and happy! I think the fact that TIFF was on showed me a different Toronto I'm very happy for!
Moreover, I believe that the beauty of Toronto is outside the city among its incredible nature. However, I'm grateful for the time spent there and I highly recommend you visit it if you can!
Let me know if you found this Toronto travel guide useful! Also, feel free to share your tips and suggestions about this city!