San Marino travel guide: everything you need to know
Do you know anything about San Marino? Is this country on your bucket list and are looking for a San Marino travel guide? Well, you found it! In this guide, I will walk you through what to do in San Marino, how to get there, how to explore it on a sort of budget and more!
I've always been fascinated by San Marino and the fact that it's not only the oldest republic in the world but also because it's a separate country enclosed within Italy. I know that it's the same as Vatican City but San Marino felt more mysterious to me. Visiting this country is not always easy if you don't have a car, which is why it took me so long to do it. In February I had one of my best friends visiting from Australia who wouldn't stop talking about San Marino.
He REALLY wanted to visit and I did too but I was concerned about the cost of everything (I have a very budget traveller mindset like you might have noticed from How to visit Copenhagen on a budget or New Zealand on a budget). However, we managed to find some pretty good deals and he was willing to cover more of the costs because I wasn't working at the time. We visited San Marino in February which is a very quiet time. We only found a handful of tourists and had the pleasure to live it like a local.
Now, without further ado, let me walk you through this San Marino travel guide on a sort of budget.
San Marino history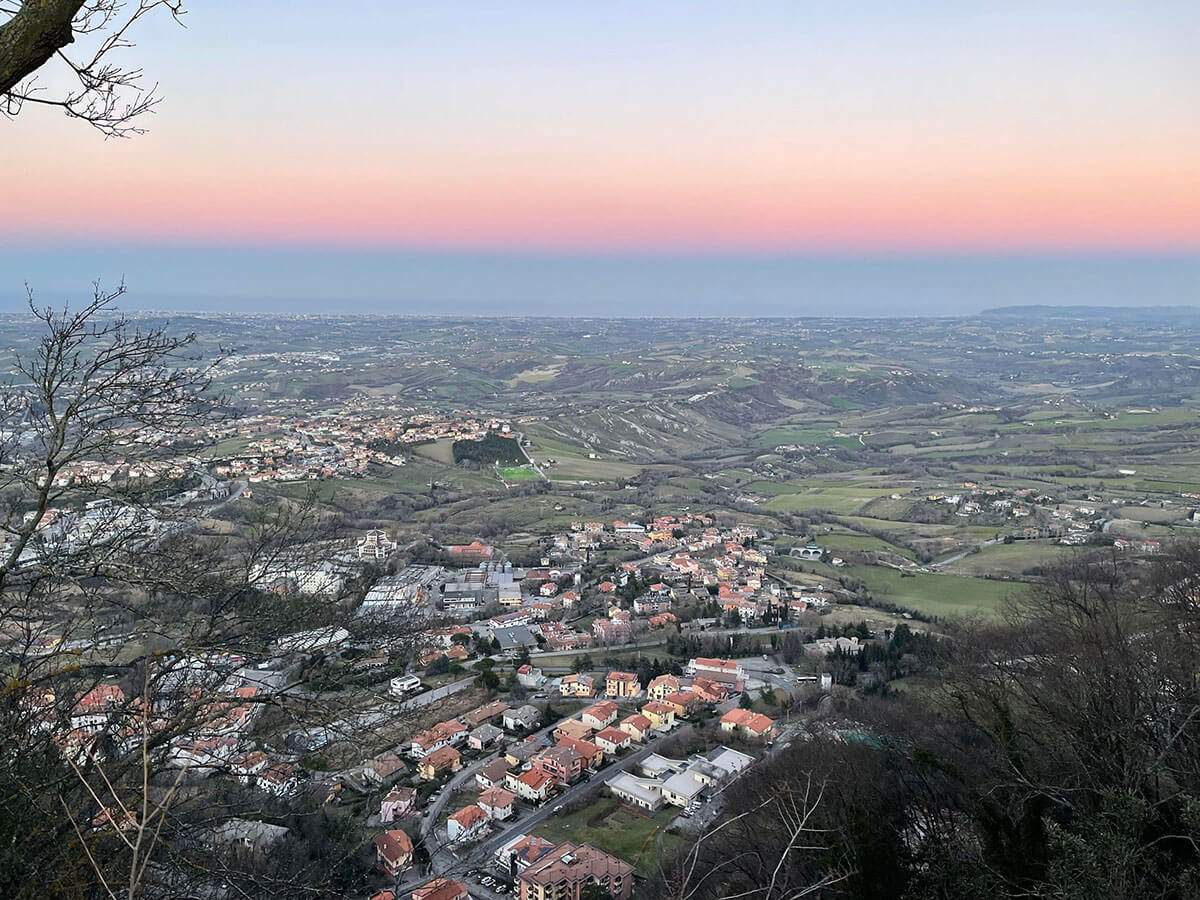 First of all, let's recap some of San Marino's very long history! The Most Serene Republic of San Marino is a landlocked country within Italy. It covers a land area of just over 61 km2 and has a population of 33,562 which makes it the third smallest country in Europe and fifth in the world. Its capital is the City of San Marino located at the top of Mount Titano.
Its name comes from Saint Marinus who was a stonemason from the island of Rab. In AD 301 he founded a monastery at the top of Mount Titano which became San Marino. The country's borders haven't changed since 1463! There have been many times when institutions or countries tried to conquer San Marino but they all mostly failed.
This country is not a member of the European Union although it uses Euros as its official currency. The official language is Italian, its citizens hold the San Marino passport which is quite a powerful one! At the border, there are no formalities with Italy and to visit it you'd need an Italian visa (if you are not an EU citizen).
How to get to San Marino
Getting to San Marino can be tricky if you don't have a car. There are buses that run within San Marino and one from Rimini to the coach terminal but that's about it (this is the timetable of the bus from Rimini).
Having a car will definitely give you more freedom to explore not only this country but also its surrounding areas. Parking is made easy in the City of San Marino with its many carparks.
The closest airport to San Marino is either Rimini or Bologna but I suggest flying to Bologna as you get more choices.
We flew to Bologna and rented a car through Sixt. It was my first time doing so and the process went very smooth and easy. The guy at the front desk was very helpful and he even upgraded our car choice! We ended up getting an automatic Golf with the middle tear insurance that covered us for any damage.
In total, for 2 full days, we paid 186€. We could have paid less but decided to upgrade the insurance to have more peace of mind.
The journey from Bologna Airport to San Marino is around 135km and it takes 1.5 hours as it's a freeway. We had to pay a toll which was around 8€ each way. (Remember to go through either the pay with card or cash lane because we were so stressed the first time! The Telepass lane is reserved for people who have the electronic toll collection device).
Where to park in San Marino
I was very surprised at how organised San Marino is when it comes to parking. There are 13 parking areas scattered around town. The cost to park in San Marino is:
However, a very great thing is that if you are staying in a hotel in San Marino, you can buy a 24-hour parking pass for 4€. This allows you to park in any parking area and you can come and go as many times as you want.
Where to stay in San Marino
Depending on what area of San Marino you want to stay in, you can find different accommodation at different price points. Usually, the cheaper places are located just below the capital while the slightly more pricey ones are in the capital.
We decided to stay at Hotel Rosa which is right in the capital. At first, I was concerned about the cost of it but it was definitely worth it!
Hotel Rosa is a family-owned hotel located very close to the Guaita Tower and the main street full of shops and restaurants. The staff were super friendly and helpful and gave us lots of tips and suggestions. The room was nice and had everything we needed and the view was spectacular! It was hard for me to close the window because I was so in love with it. Moreover, you get free breakfast and they also have on-site parking.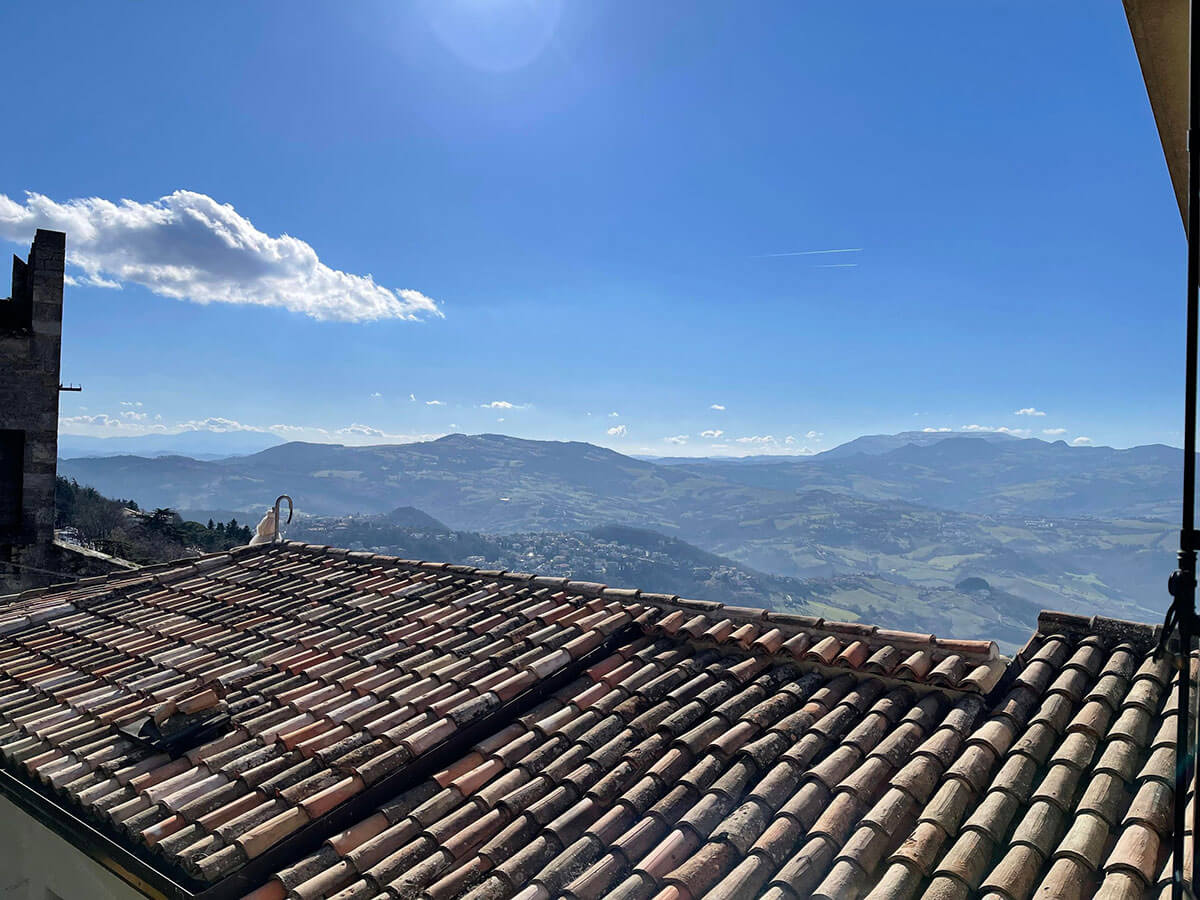 We paid 100€ for two nights which was a very good price for what we got. I'm not sure if it gets more expensive in summer but it was worth it.
Finally, when staying at a hotel in San Marino you get the San Marino card which gives you access to discounts for shops, restaurants and tourist sites.
Where to eat in San Marino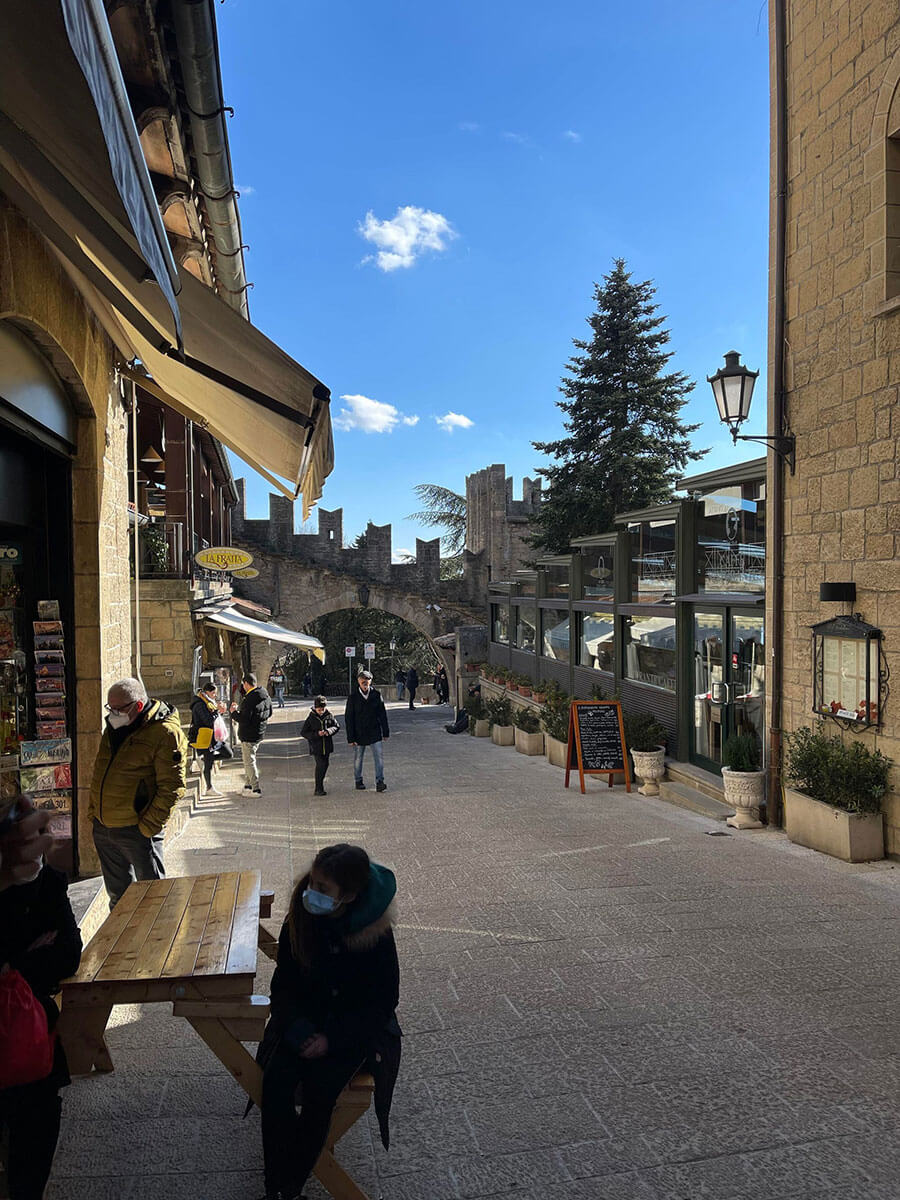 San Marinese cuisine is highly influenced by the one from Emilia Romagna. Being located so close to it, it's no surprise that you can find lots of Emiliani dishes.
During lunch, we would often eat something quick like a slice of pizza or a piadina. For dinner, instead, we tried two different but very local places. Unfortunately, when we were there lots of places were closed probably due to it being low season.
Ritrovo Dei Lavoratori XXVIII Luglio
This is the first restaurant we tried. It was a bit challenging to find and we had to ask for directions but we managed to get there. What I really liked about il Ritrovo Dei Lavoratori XXVIII Luglio was it being very local. When we arrived there was only another tourist couple and the rest of the people were all from San Marino. I really enjoyed looking at them and trying to pick up some unique characteristics.
Food-wise, I didn't find it super tasty. The bread they gave us was plain and the waitress made a rude comment on the fact that we didn't order any wine! Other than that, I had some nice tagliatelle ai porcini while my friend had some pasta with ragu' and meat which he enjoyed.
Ristorante del Ghetto da Ottavio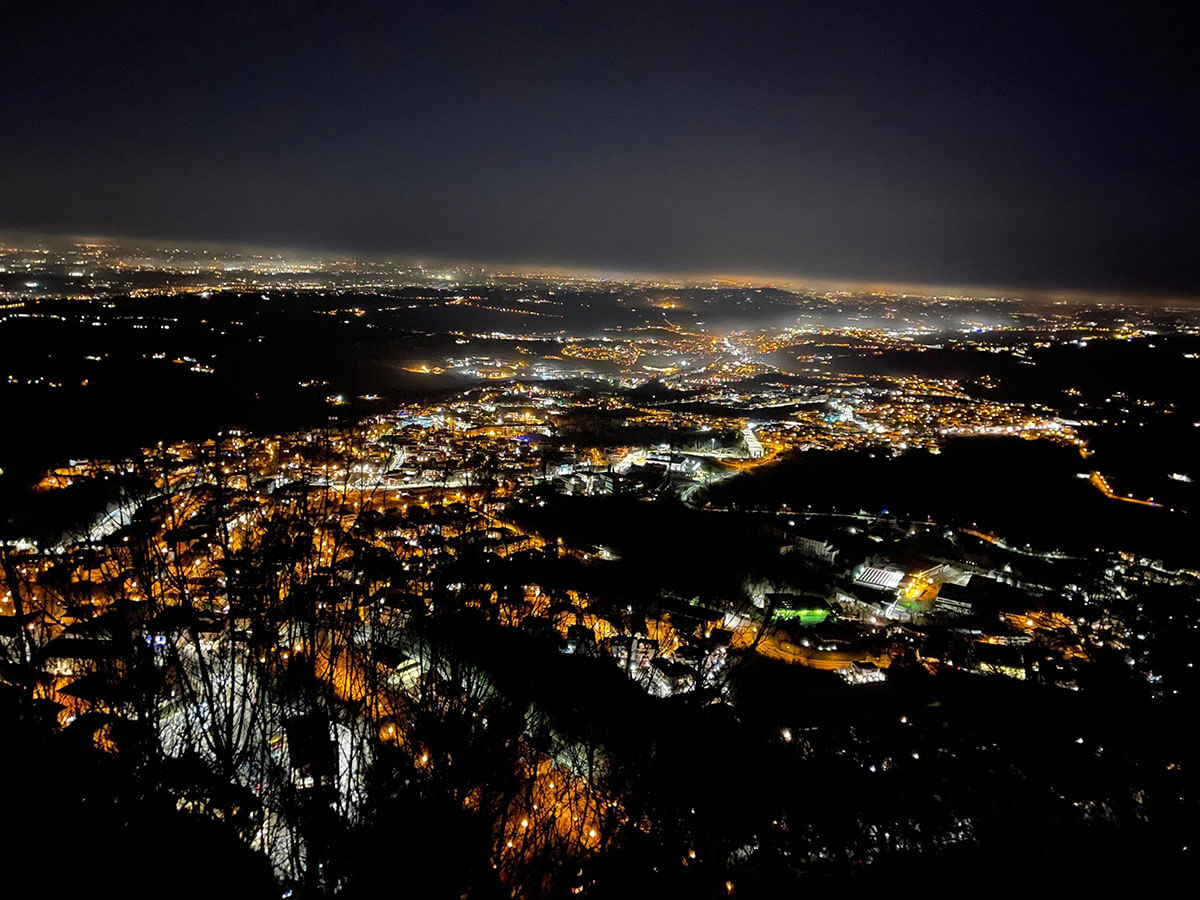 Ristorante del Ghetto da Ottavio is located very close to the border with Italy in the castello (San Marino suburbs are called castelli) of Fiorentino. We ended up going there because that night all the other restaurants were shut! The road to get to it was a bit narrow and tricky but also fun.
Just like the previous restaurant, even this one was packed with locals which were very nice! I had a pizza while my friend had a fish risotto. Moreover, we also had some of their homemade desserts which were also tasty.
The view from outside the restaurant was truly stunning as you were able to see the whole capital very clearly.
What to do in San Marino
Walk, walk and walk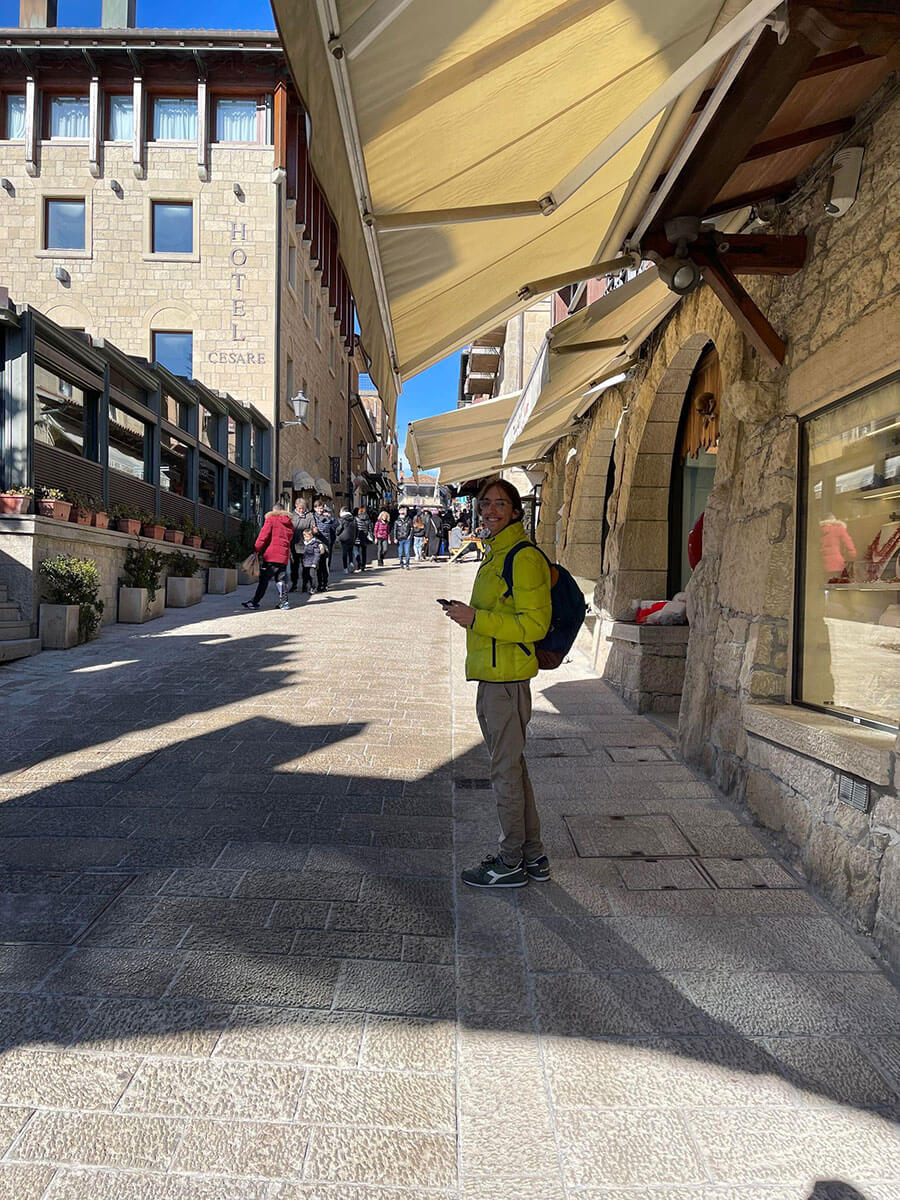 Most of the historical places are located within the capital of San Marino which makes walking a very convenient and easy way to explore them. We loved getting lost in its small and narrow roads and seeing what we would have found at the end of them. From breathtaking lookouts to elegant and unique shops, you'd be surprised at what you can find just by walking.
Passo delle streghe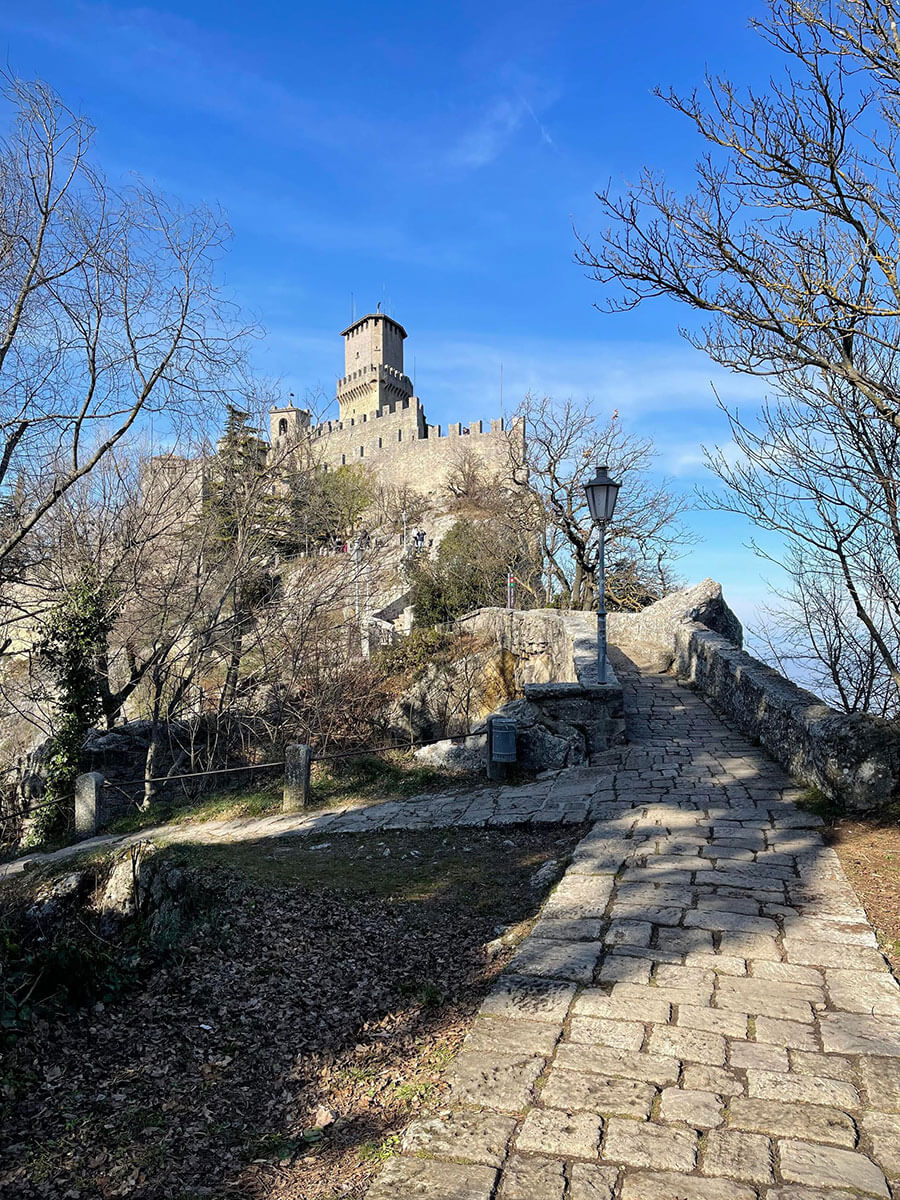 This is probably one of the most famous walks in San Marino and that's not a bad thing because it's beautiful! This walk connects the first tower to the second one and it immediately transports you to medieval times as it was built in the 1200s!
Why is it called the "Witches' walk"?
There are a few legends that try to explain why it's called this way and they all date back to the Middle Ages. The story says that the most beautiful girl in San Marino was a witch and every night she went to the Passo delle Streghe to transform herself into a black cat thanks to the moonlight. Back then black cats were believed to be the incarnation of witches. In addition to this, on this walk, every night dozens of girls used to gather around large fires to dance and perform mysterious rituals. Some people believed that they also were witches. One night, a young man decided to spy on them. As soon as he saw the beautiful girl he fell in love with her. He promised her his love and swore to keep her secret safe. From that night on, he always went to see her and never revealed to anyone what the truth was. Even today, especially on summer nights, you might be able to hear the witches' laughing and singing.
Besides the interesting legend, this walk is beautiful because it allows you to see both the Adriatic Sea, the Emilia Romagna coast and the Valli di Comacchio!
Visit the Three Towers of San Marino
San Marino is famous for its three towers which are also depicted on their coat of arms. They are the Guaita, the Cesta and the Montale.
The Guaita tower
This is the oldest tower in San Marino and the closest to the actual city. It was first used as a prison and then rebuilt numerous times until the 15th century. The Guaita is easily accessible from both the town centre or the Hotel Rosa. Simply follow the Salita alla Rocca walk and you'll get to the tower in no time.
As I mentioned before, if you are staying in a hotel in San Marino you will get the TuttoSanMarino Card. This card allows you to get discounts on participating restaurants, shops and all the museums and other touristy places. It also gives you a 50% discount on the private museums that accept it.
When we visited the first tower we bought the multi-museum ticket at a reduced price of 7,50€. This ticket gives you access to the first and second tower, the Gallery of Modern Art, the Pinacoteca, the Palazzo Pubblico and the Mint Museum.
The Cesta tower
The second tower can be easily reached via the Passo delle Streghe. When we were there it was closed to the public due to work so we didn't visit it.
The Montale tower
Finally, the third tower is a bit further out and can be reached via a 15 min walk but this tower is not open to the public.
Visit the Palazzo Pubblico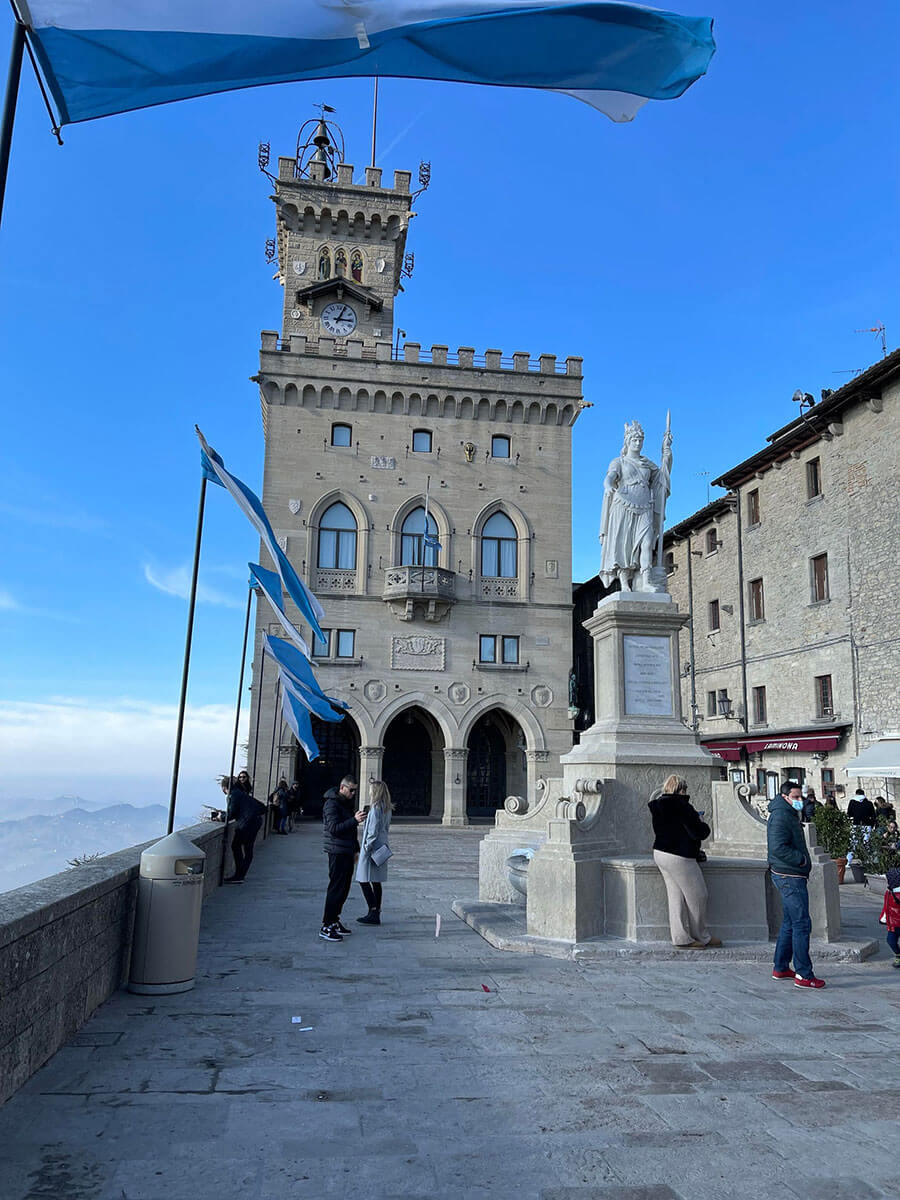 This palace is both the town hall and the government building. This is where official State ceremonies take place and you can visit it every day until either 5, 6 or 8 pm depending on the season.
Visit its countless museums
San Marino is full of very unique museums like the "Museum of Curiosities", "Wax Museum" and the "Vampire's Museum" just to name a few. We didn't manage to visit them but they might be interesting if you have some spare time.
Get a stamp on your passport
Ok, I know that this is a very touristy thing to do but it was fun. Simply stop by the Ufficio del Turismo which is connected to the Mint Museum. There, you can purchase a San Marino stamp that will be applied to your passport for 5€.
Hop on the cableway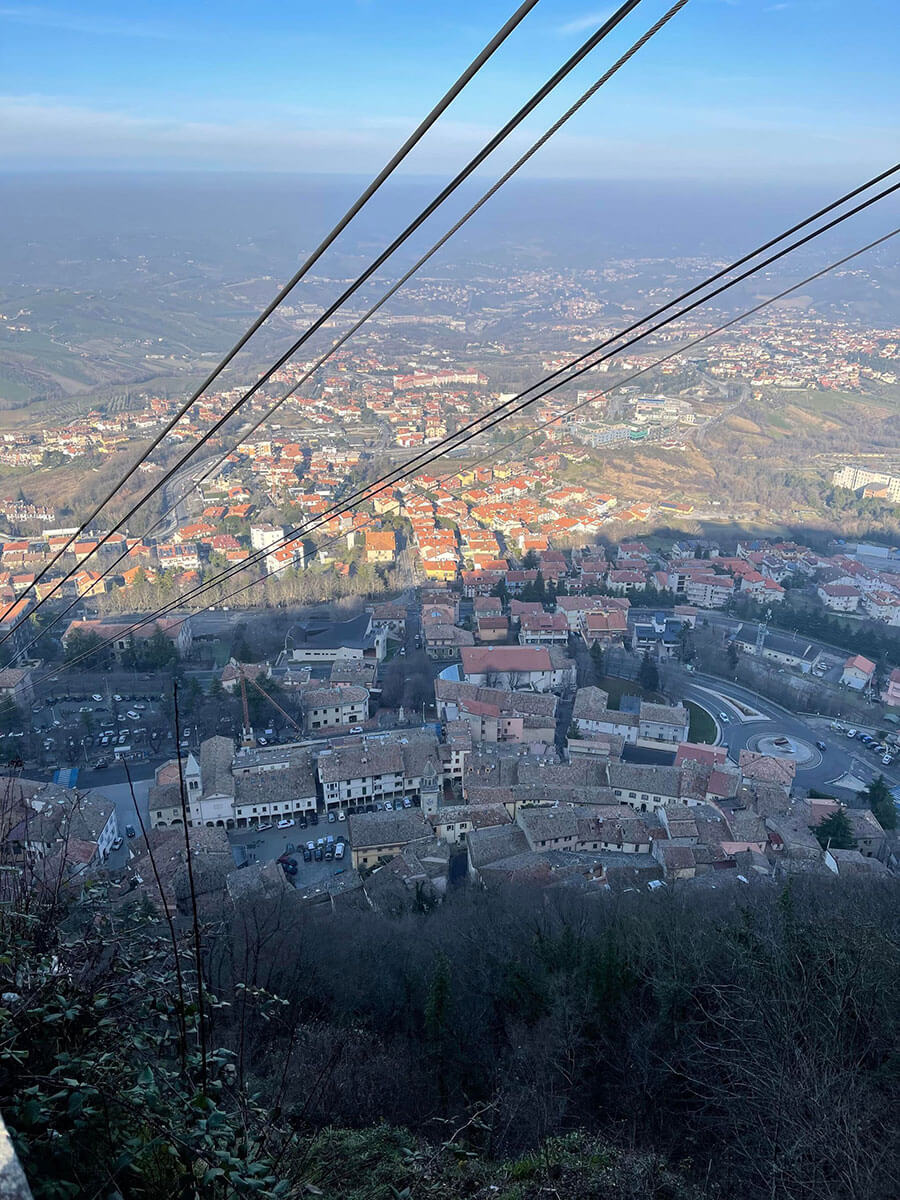 The cableway connects the castle of Borgo Maggiore with the historical city centre. The journey is roughly two minutes and you can get a return ticket for 3,50€.
Explore the surrounding areas
If you have a car and time, I highly suggest you explore the surrounding areas of San Marino, even the Italian ones. We explored places like the Castello of Coriano which I had never heard of before that was stunning. The drive was especially beautiful because we went through small towns and green and lush hills.
Bonus: Explore Urbino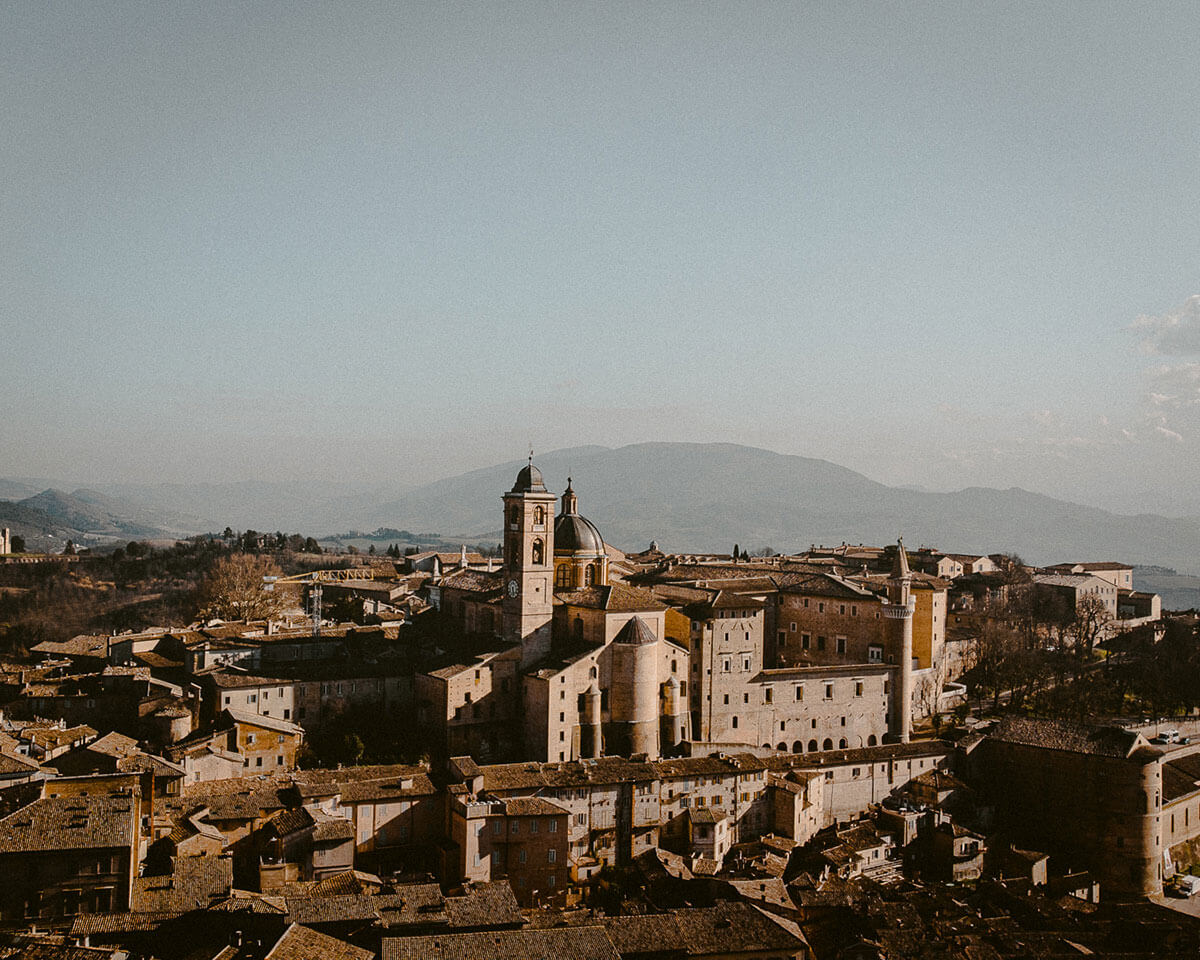 On our last day in San Marino, we decided to visit Urbino. It was a new town for me which didn't really know much about. I knew of its existence but that was about it. I'm now soooo glad we went because I loved it.
Urbino is so beautifully medieval, full of wonderful buildings and lookouts that give you an uninterrupted view of the city and the mountains. It was a Sunday when we were there so not much was open but we enjoyed the peace. We also loved learning more about its long history and finding out that Raphael was from there!
Final Thoughts
Despite being relatively small in size, San Marino is packed with beautiful buildings and natural places. You can find great lookouts, friendly people, historical places and a very relaxed lifestyle. It felt so weird knowing that I was not in Italy while also feeling like I kinda was. I also enjoyed trying to guess what areas were in Italy and what ones were not!
Finally, I'm glad that I got the chance to visit this country! I hope you enjoyed this San Marino travel guide and found it useful! Have you ever been to San Marino?
Pin it for later!