Best things to do in Perth: 3-day Perth travel guide
Are you looking for the best things to do in Perth? Or maybe you just want some quick info about this city and Western Australia? Well, you've come to the right place!
In this comprehensive Perth travel guide, I will share with you everything you need to know to enjoy it fully.
When it comes to Perth, it is often skipped by many travellers. In my opinion, though, this city well worth a visit!
It has a lot to offer from pristine beaches, pleasant weather all year round, a peaceful yet vibrant city, and rich history.
James Stirling founded Perth in the mid-1800s and grew exponentially during the gold rush during the 1890s. Despite its isolation, Perth managed to grow consistently and to become one of the world's most liveable cities.
Also, a fun fact about Western Australia: did you know that it is the oldest land on Earth? Around the state, researchers discovered rocks dating as far back as 4.4 billion years! And most of the land is at least 500 million years old. In addition to this, Australian Aboriginals have lived here for at least 60,000 years. This still blows my mind!
Now that you know this crazy fact, we can continue with this Perth travel guide and talk about the best things to do in Perth! Let's go!
Best ways to get to Perth
Note: Australia is currently closed to non-citizens and non-permanent residents. Check the Australian Home Affairs website for more info about the country's borders.
By plane:
Getting to Perth by plane is by far the quickest and most affordable way. You can find many daily and direct flights from the Eastern side of Australia or even from overseas.
Most specifically, if you are planning a holiday to Australia from Europe you can book a direct flight from London to Perth! To find the best price and flight combination I suggest you use Skyscanner. It often saves me lots of time and money when booking International flights!
If you are flying from within Australia, get ready for the longest domestic flight you can take within the country! In addition to the length of the flight, getting to Perth can be very pricey.
On average, the route Sydney to Perth can cost between $300 to $500 or more! But there are ways to save some on it.
Here comes the secret not so secret of Jetstar deals! If it wasn't for them, I don't think I would have gone to Perth. In fact, it took me almost 5 years of Australian life to get to this city!
Jetstar is always running great sales on domestic flights but what I consider to be their best one is the free return deal. This is what allowed me to book this route for only $130! This price was just too good to leave it behind.
So, keep an eye on the Jetstar deals page because it's both great and also very tempting!
By car:
Driving to Perth is probably one the most incredible road trips you can take. You will go through a wide range of landscapes, small towns, ocean views and the deep red desert.
As amazing as getting to Perth by car sounds, it needs to be well planned. No matter where you start your journey from, it can still take at least a full day of continuous driving to get there! Moreover, many sections of the road can go for miles without towns, petrol stations or a change of scenery.
So, if you want to drive to Perth, make sure to follow some of these tips:
Use a reliable car which is good for long-distance trips.
If you can, travel with someone else.
Stock up with water, food and petrol.
Take your time and stop often for some breaks.
Although I've never driven to Perth myself, it's something I want and will do in the future.
To compare and choose the best car rental, I'd still suggest you use, again, Skyscanner as they often have some very good deals on it!
By train:
Another fantastic option to get to Perth while exploring the country is by train! The Indian Pacific is one of the longest and most beautiful train journeys in the world!
The train connects the Pacific Ocean (Sydney) with the Indian one (Perth) on an incredible 4352km crossing that takes 3 nights. This is a wonderful choice if you don't want to worry about all the issues that might come with driving there.
You will cross the magical Blue Mountains, stop at the charming Adelaide and then travel through the powerful energy of the red desert to Perth.
They offer three different types of cabins with prices starting from $1,800 up to $9,000. You can easily book a ticket for the Indian Pacific through their official website.
When is the best time to go to Perth?
Perth experiences a Mediterranean kind of weather with hot and dry summers and cool and wet winters. I went at the end of April and the weather was truly lovely. So it mostly depends on your preferences because the weather is good all year round.
What to do in Perth Day 1 – Explore the CBD
During your first day in Perth, I'd suggest you explore the city and its beauties. There's a lot to see and most things are close to each other and it's easy to get to them.
The best way to move around Perth is via public transport. You can choose between buses, trains and ferries which are very frequent and reliable.
If you think you are going to use them often or are staying for more than 2 days, then get the SmartRider card. It's a rechargeable card that costs $10 that you can use on any public transport. Plus, it saves you 20% compared to a paper ticket.
Within the CBD there's a free transit zone and you can catch any bus for free and don't need a ticket or a card. Just hop on and hop off. Remember to start and finish the journey within the zone.
Elizabeth Quay
Let's start this Perth travel guide with Elizabeth Quay. The whole area is on the water which is perfect for a relaxing walk.
From here, you can take some ferries or cruises around the river or admire buildings that tell the story of Perth. There's a walk you can take that goes around the area and from the Elizabeth Quay Bridge you get a great view of the skyscrapers.
The Bell Tower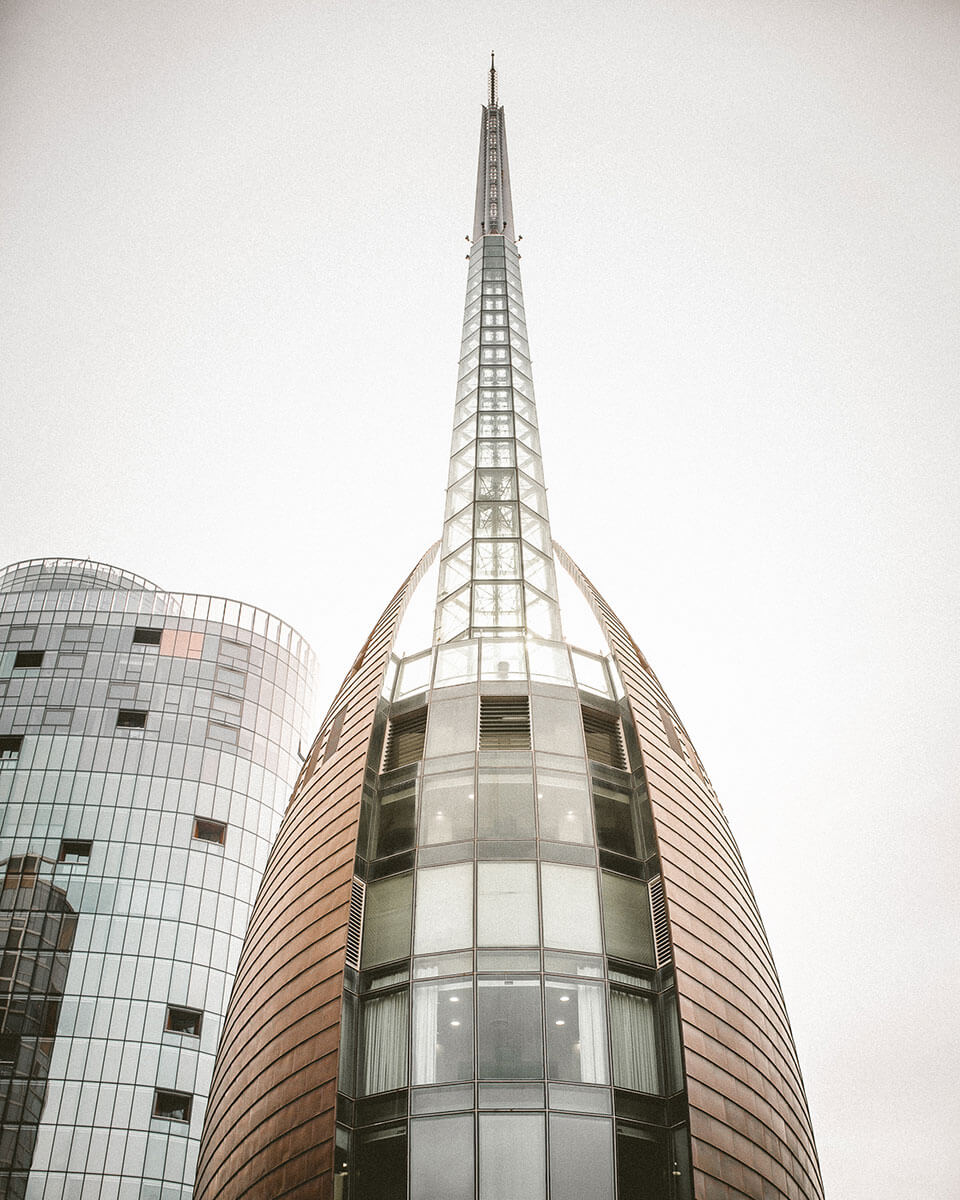 One of the world's largest musical instruments, the Bell Tower is located right next to Elizabeth Quay.
This futuristic-looking building hosts 18 bells with twelve of them tracing back to the 14th century. You can also take a tour of it and have the chance to ring one of these bells!
London Court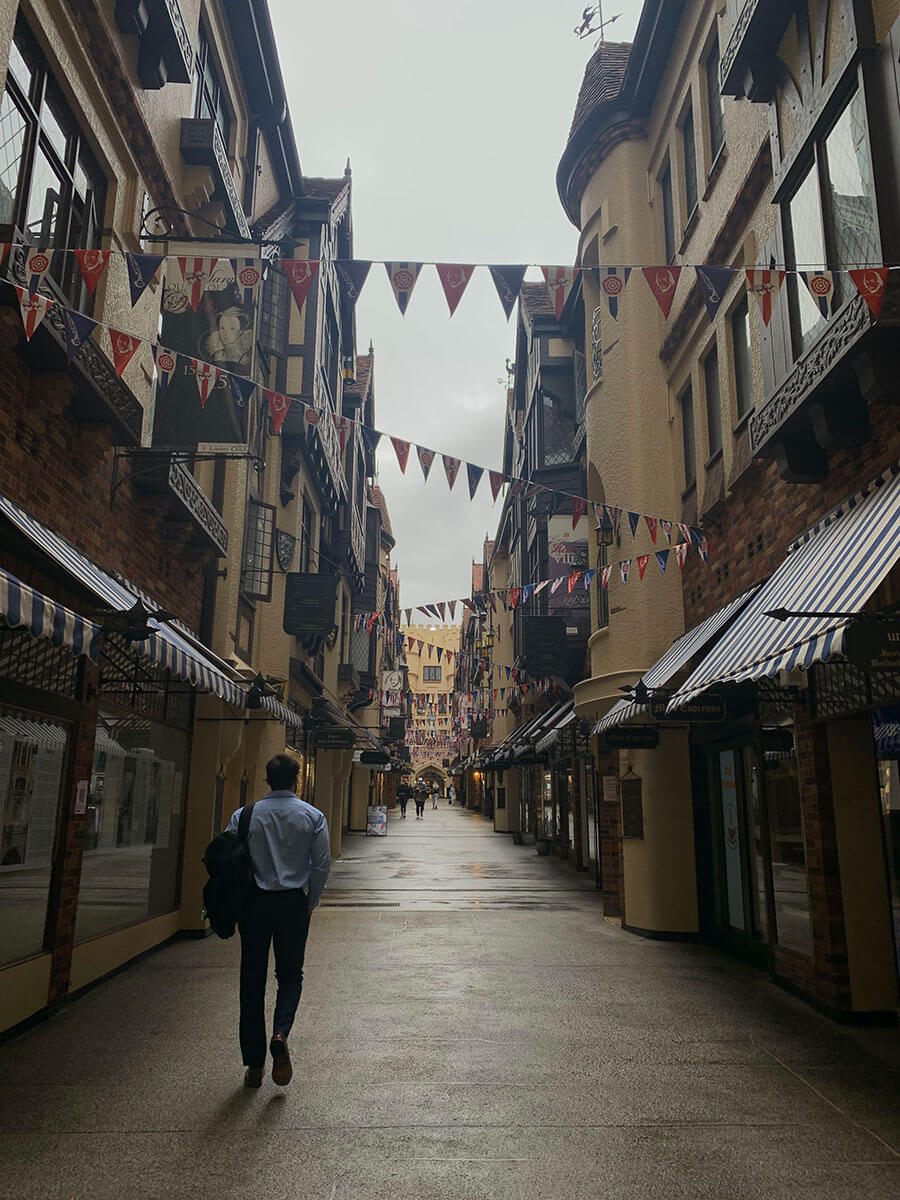 This next place is one of the best and most unexpected things I found while visiting Perth. Still located in the vicinity of Elizabeth Quay, London Court is an arcade designed in a Tudor style that truly looks like London!
From the style of the shops to their names to even the details on the windows, everything is full-on UK inspired.
Blue Boat House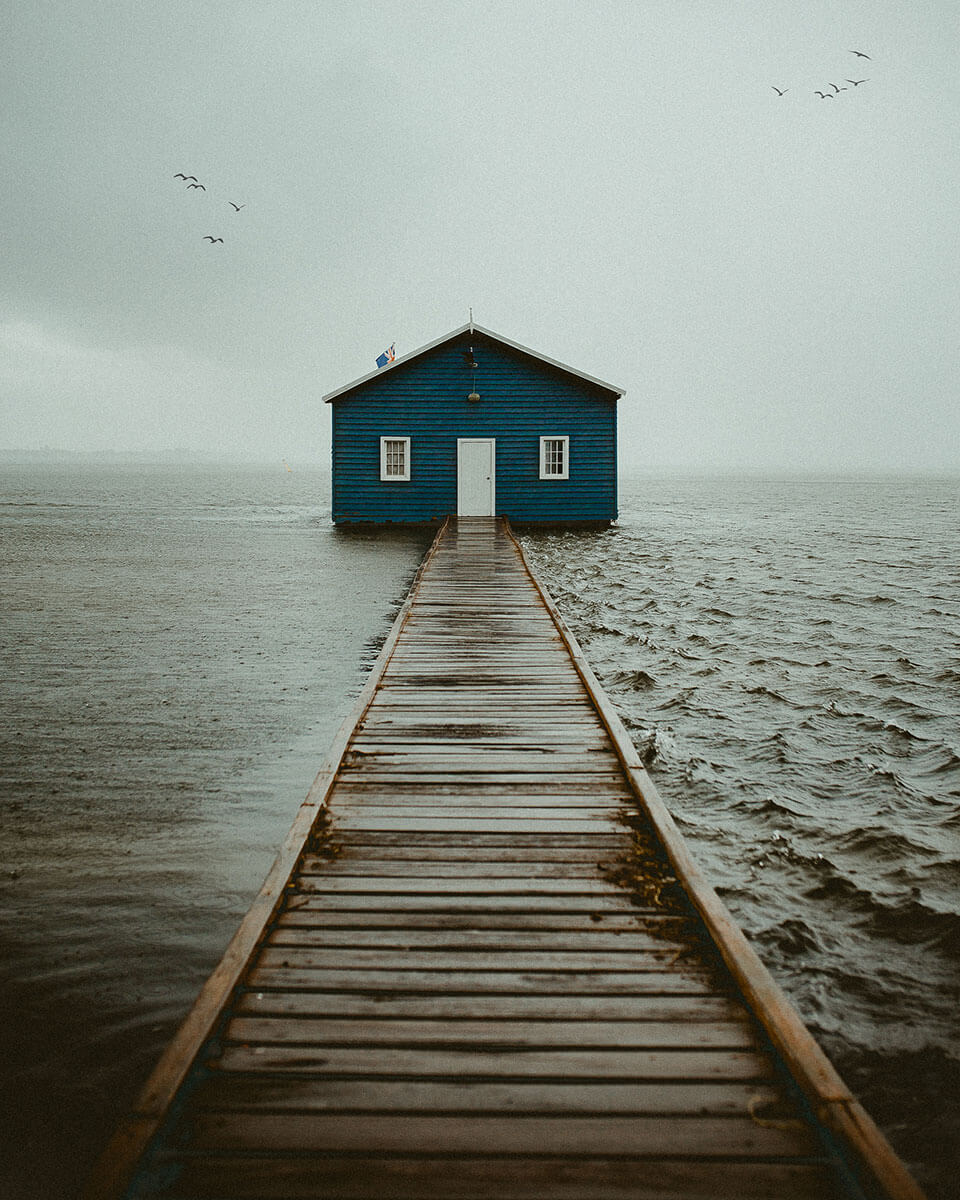 Almost at the end of the Free Transit Zone, you can stop by the Blue Boat House. This historic boathouse became a viral sensation on Instagram and one of the most famous spots in Perth.
It might not look impressive when talking about but its unicity makes it beautiful and special. When I went there there was nobody else, which added to its magic. However, it's a busy spot so get there early if you can.
Old Mill
Located in South Perth, it's an old mill from 1835 and it's part of Mill Point Reserve. You can take a guided tour of it or just sit in the park and enjoy the view of it.
What to do in Perth Day 2 – Rottnest Island
Okay, I'm going to admit that this is the main reason why I wanted to go to Perth. It might be due to my love for quokkas but, for me, a visit to Rottnest Island is truly one of the best things to do in Perth.
Located less than 20km off the coast of the city, the island is a true heaven on Earth. It got separated from the mainland around 7000 years ago and remained untouched for most of this time. What made this island famous worldwide is its cute, smiley and furry inhabitants, quokkas!
Rottnest Island is one of the only few places where you can see them in the wild. This is their home and you can spot them everywhere. However, they are still wild animals so remember not to touch them nor feed them! But you are free to take one or one hundred selfies with them.
How to get to Rottnest Island
Several companies offer daily ferries to the island and back. They can be pricey however, I booked mine on Bookme and it cost me $57 return including the admission fee.
The ferries leave from Fremantle Port but you can also take one that leaves from Perth CBD.
How to move around Rottnest Island
The island itself is not that big, measuring only 11km in length. You can explore the island either by bike, bus or foot.
Exploring it by bike is probably the most relaxing and fun way to do so, especially if you are with other people. You can easily rent a bike on the spot or through the Rottnest Island website. The price is $30 for the full-day hire of an adult bike.
On the island, there's also a very convenient hop on and hop off bus and it's the only one available. The ticket costs $20 and it allows you to get on and off the bus unlimited times. It stops at all the major locations on the island and you can learn much info from the drivers. My friend and I chose this option and it was very convenient.
If you prefer to take your time and explore the island more in-depth, then do it by foot. You would probably need more than one day to explore it all though.
What to do in Rottnest Island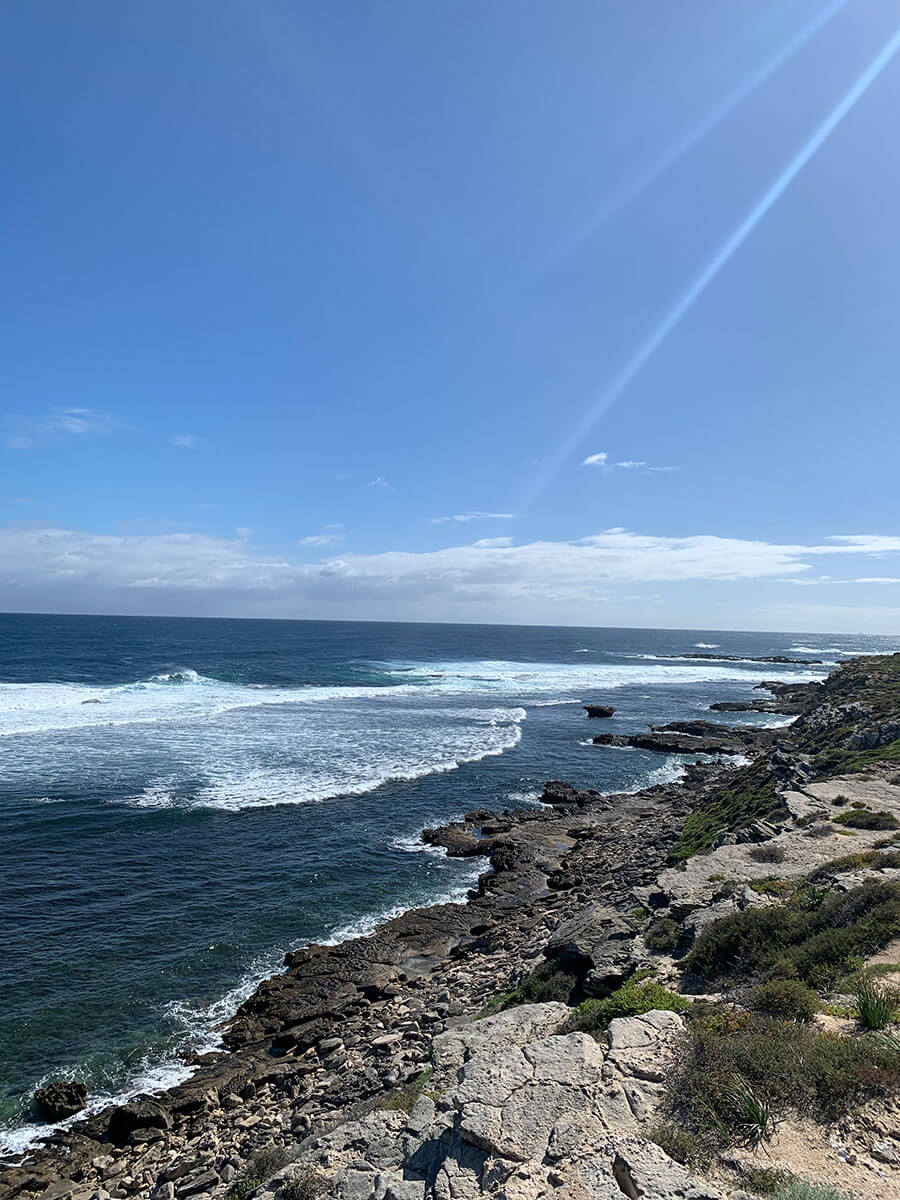 Once you get there, stop by the bakery for a delicious breakfast while admiring the quokkas walking around.
After that, start exploring the countless beautiful areas offered by this place.
If you are into snorkelling, then you won't be disappointed! Beaches like The Basin or Salmon Bay are great for this activity.
Little Parakeet Bay is great if you want to swim and relax with the sound of the ocean. While I was there it was empty which made it even more beautiful.
Head to West End where you can try and spot some dolphins or whales. Next to it, there's Cathedral Rocks Viewing Point which is great for spotting New Zealand Fur Seals.
From Wadjemup Lighthouse you can get a truly breathtaking view of the whole island along with spotting some quokkas.
If you get hungry, you can get a delicious meal from Geordie's Cafe in Geordie Bay.
You can also stay on the island as there are many different types of accommodations. From campsites to luxurious apartments, you can find the perfect place for you.
Finally, spend some time admiring the always happy quokkas. They truly know how to brighten up your day and soul with their unique smile.
Once you are back in the city, stop at Fremantle for the evening.
Admire the sunset from Bathers Beach and then check out one of the many restaurants available next to it or on High Street!
What to do in Perth Day 3 – Nature and Art
The third day of this Perth travel guide is all about nature and art. This city is packed with beautiful parks and museum and they are so worth a visit or more!
For me, one of the best things to do in Perth is spending a full day exploring them. Plus, this is exactly what I did on my third day here.
Kings Park and Botanic Garden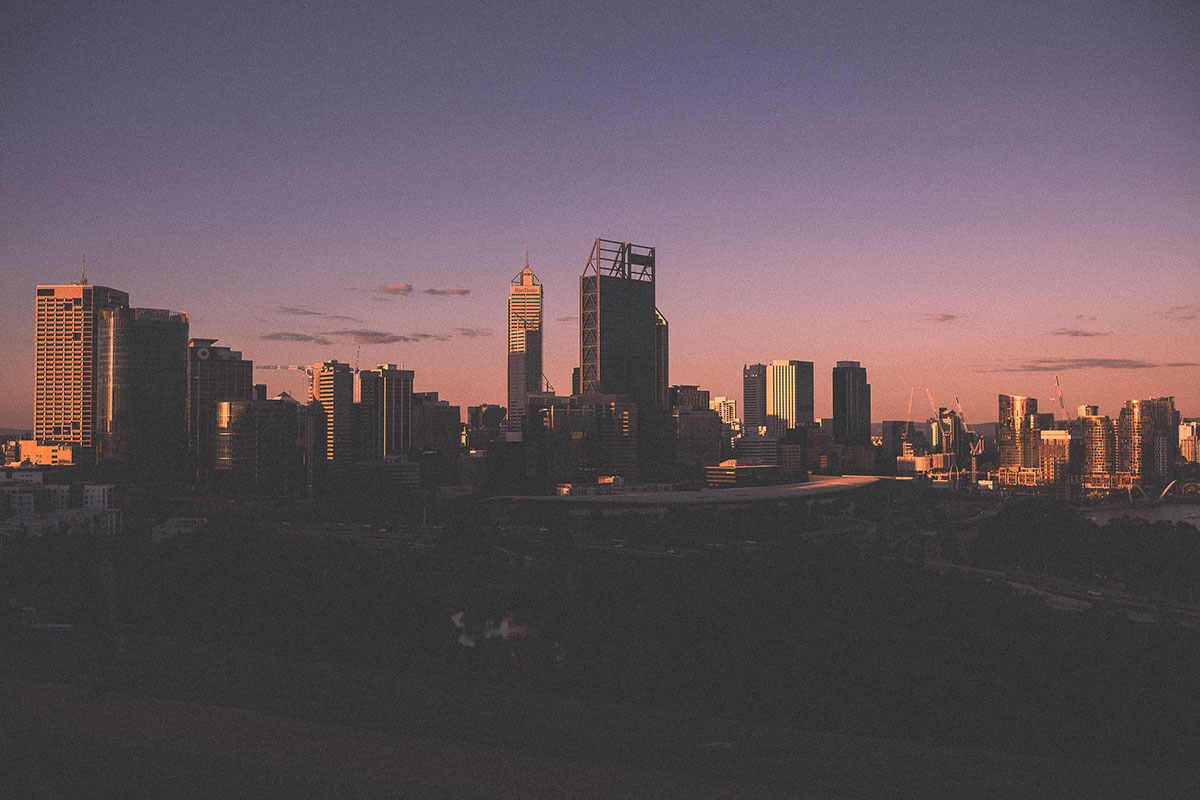 Magical. This is the first word that comes to mind when thinking about Kings Park.
This park is packed with an extensive range of unique plants and so many different Eucalyptus trees I didn't even know existed! Moreover, there are several different tracks you can take to explore them.

Kings Park is located within the free transit zone so it's super easy and convenient to get to. Once there:
Stop by the Giant Boab "Gija Jumulu", a 14 metres high Boab that's 750 years old! The tree travelled over 3200km and it's still rocking it!
Lotterywest Glass Bridge located on the Lotterywest Federation Walkway. It's a glass and steel bridge places 52 meters above the ground with spectacular views of the city.
DNA Tower is a tower that resembles the DNA from where you can get a 360 degrees view of the city.
Sit on the Bellevue Terrace walk for a picnic while admiring the sunset.
Museum of Western Australia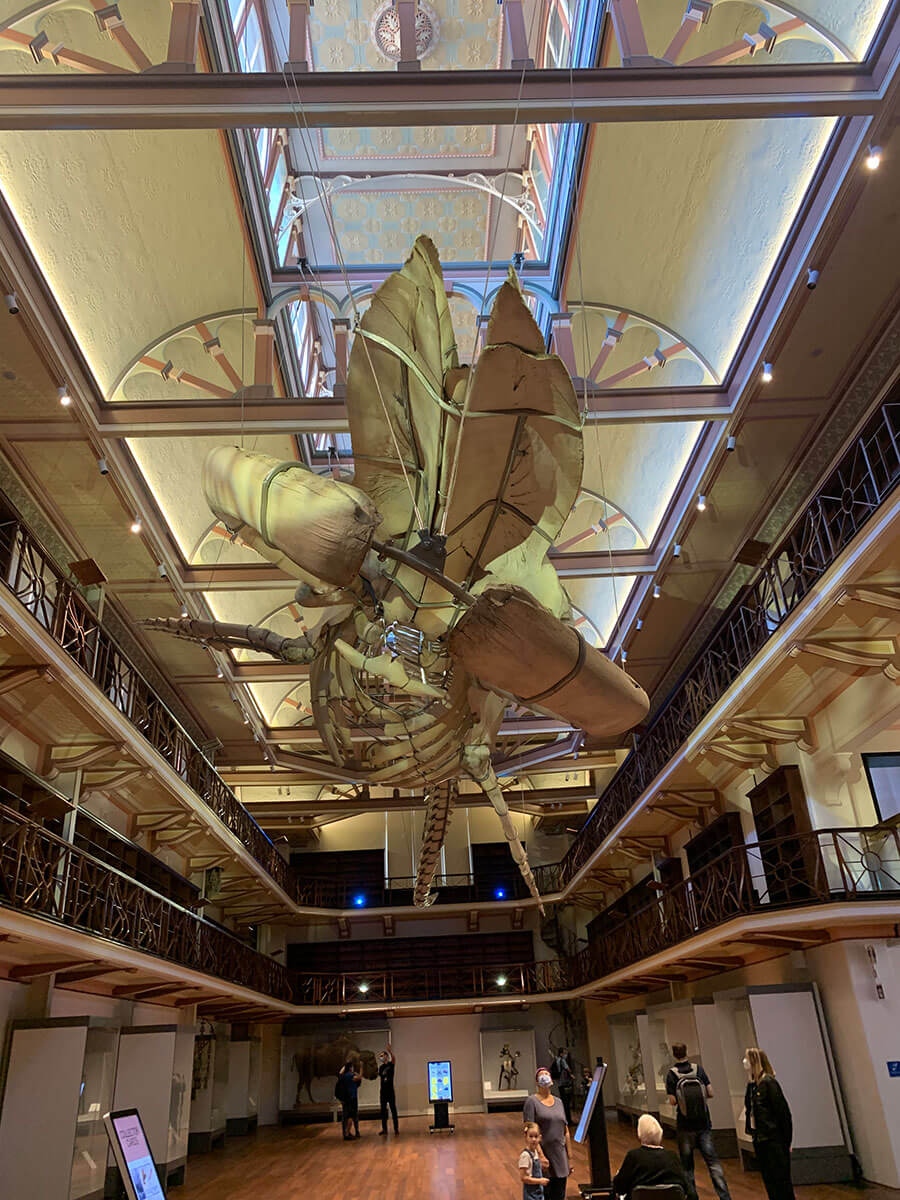 My friend and I probably spent a good 3 hours exploring this museum! There are several exhibitions ranging from the story of the universe to wildlife and, of course, the history of Western Australia. Next to it, there's also the Art Gallery and the state library.
Final Thoughts
I hope that you found this post of the best things to do in Perth useful! For sure, this city has a lot more to offer and I'm looking forward to visiting it again.
Have you ever been to Perth? Is it on your bucket list? Let me know in the comments!
Also, if you are looking at some Australia related posts, have a read at:
Pin it for later!